UTA enters pathway partnership with Weatherford College
New agreement establishes path for Weatherford nursing grads to pursue UTA master's degree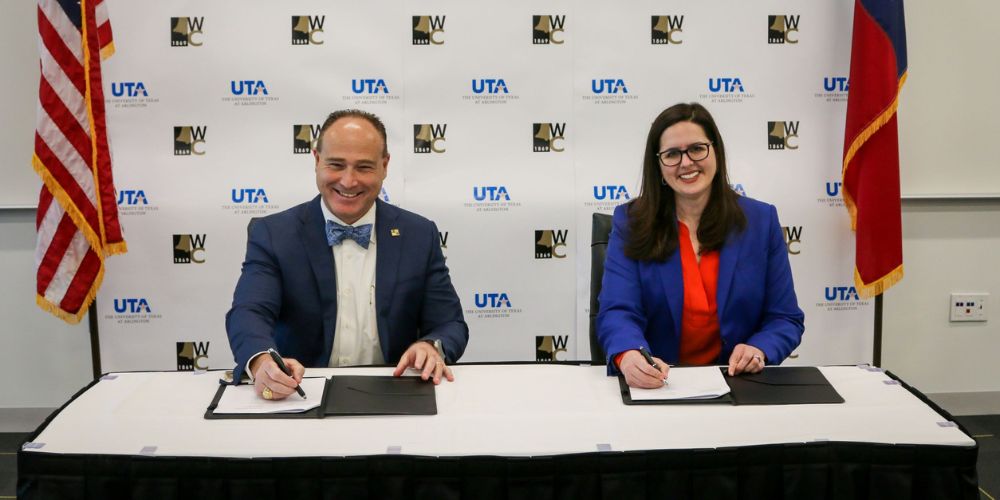 The University of Texas at Arlington has entered into an articulation agreement with Weatherford College to create a direct pathway for students to earn their master's degrees in nursing.
Under the new partnership, graduates from Weatherford College's Bachelor of Science in Nursing program who meet UTA's academic standards will be eligible for early-decision admission during their final undergraduate semester to UTA's MSN or BSN to Doctor of Philosophy in Nursing programs.
Leaders from both institutions marked the occasion during a Jan. 13 signing ceremony.
"Our partnership with Weatherford College is an important step in filling the nursing shortage that impacts Texas and our nation," UTA President Jennifer Cowley said. "We are committed to partnerships that help us in advancing nursing education and are confident that students entering into our nursing program will go on to provide exceptional care in their communities."
A hallmark of UTA's College of Nursing and Health Innovation nursing programs is its longtime embrace of distance learning, which gives students the opportunity to pursue their educational goals without leaving home. Available options include the college's top-rated online accelerated BSN program and variety of online MSN degree plans, including family nurse practitioner, nursing education and nursing administration, among others.
"Our Bachelor of Science in Nursing graduates now have the ability to earn a master's or doctoral degree in nursing without ever leaving Parker or Wise counties," said Weatherford College President Tod Allen Farmer. "This agreement will provide our students seamless access from Weatherford College to UTA to further their educational goals. We're very pleased to open this pathway to UTA and the University of Texas System."