A Maverick first: UTA student earns Google Career Certificate
Power Up + Tech Up program aims to equip transfer students with job-ready skills
A junior data science major has become the first University of Texas at Arlington student to complete a Power Up + Tech Up Google Career Certificate program that's equipping students with job-ready skills.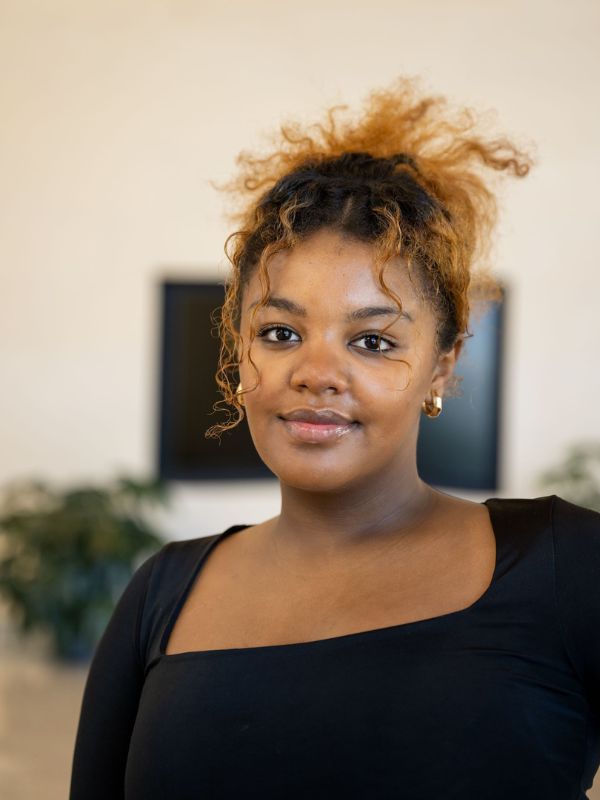 Meti Kebede, who also has a concentration in biology, said her Google Career Certificate could give her an advantage in seeking a job when she graduates in December 2023. The transfer student from Missouri's Drury University said the certificate taught her how to prepare, visualize and analyze data, which is what she wants to do in the health care field.
"Better than preparing and analyzing the data, the certificate course taught me how to scrutinize the data," Kebede said. "I want to work as a data scientist. It gave me a good knowledge of SQL (Structured Query Language) and R programming. The certificate takes students deeper into what they'll need in a job."
Google Career Certificates equip people with job-ready skills in the fields of data analytics, e-commerce and digital marketing, information technology support, automation in python (a programming language), project management and user experience (UX) design. The certificates are available to transfer students at UTA through the university's Power Up + Tech Up program, which has 32 students in its pilot study, said Robin Macaluso, a UTA faculty fellow in the Provost's Office.
"We call it Power Up + Tech Up because we want to empower students from all over the campus to be more confident and prepared in seeking jobs that require these technical skills they will earn in the certificate," said Macaluso, who also is a UTA chemistry professor. "It really does open new career paths. It broadly impacts every job out there."
Macaluso said she wants to ensure that all students know about this certification opportunity and is collaborating with industry partners to form working networks with students who earn certificates.
"So many times, we contain technical expertise to those students in the STEM (science, technology, engineering, mathematics) fields," Macaluso said. "I want all majors to know they can get a lot out of this program. Technology expertise touches all parts of our academic world. These kinds of skills are needed everywhere."
UTA's Power Up + Tech Up program is part of a larger partnership between the University of Texas System and Google that will award up to 10,000 UT System students across eight universities with Google Career Certificates. It is Google's largest university partnership to date.
"Pairing a bachelor's degree with a Google certificate leads to graduates who are both broadly educated and specifically skilled—a winning combination for students and employers," said UT System Chancellor James B. Milliken. "With the Texas population expected to double by 2050 and Texas projected to have the highest net job growth of any state by 2030, UT institutions are proud to be leading efforts to meet our state's workforce and industry demands while positioning our graduates for success and professional growth in the modern job market."
By 2030, over 60% of jobs in Texas will require a postsecondary credential, such as a degree or certificate. Today, more than half of Texans lack the training for these jobs. The Texas Higher Education Coordinating Board aims to close this gap, with the goal of ensuring 60% of working-age Texans receive a degree, certificate or postsecondary credential by 2030.
"Google is proud to work with Texas universities and workforce development organizations to help more students and workers take advantage of the incredible job opportunities created by the state's growing economy," said Grow With Google Founder Lisa Gevelber. "Grow With Google's mission is to expand opportunities for all, and we're thrilled to further that effort by widening access to tech workforce training through the Google Career Certificate program. These opportunities will help close the skills gap for thousands of Texans, better enabling them to gain access to high-growth, high-demand jobs throughout the state."
UT System kicked off the program in December 2022. Available on Coursera, Google Career Certificates can be completed with three to six months of part-time study, with no degree or experience required. To connect people to jobs, the program includes an employer consortium of more than 150 companies—including AT&T, Dell, and Google—that is committed to considering graduates for relevant entry-level roles.