Scientific trailblazers honored by bioengineering peers
Researchers named fellows of American Institute for Medical and Biological Engineering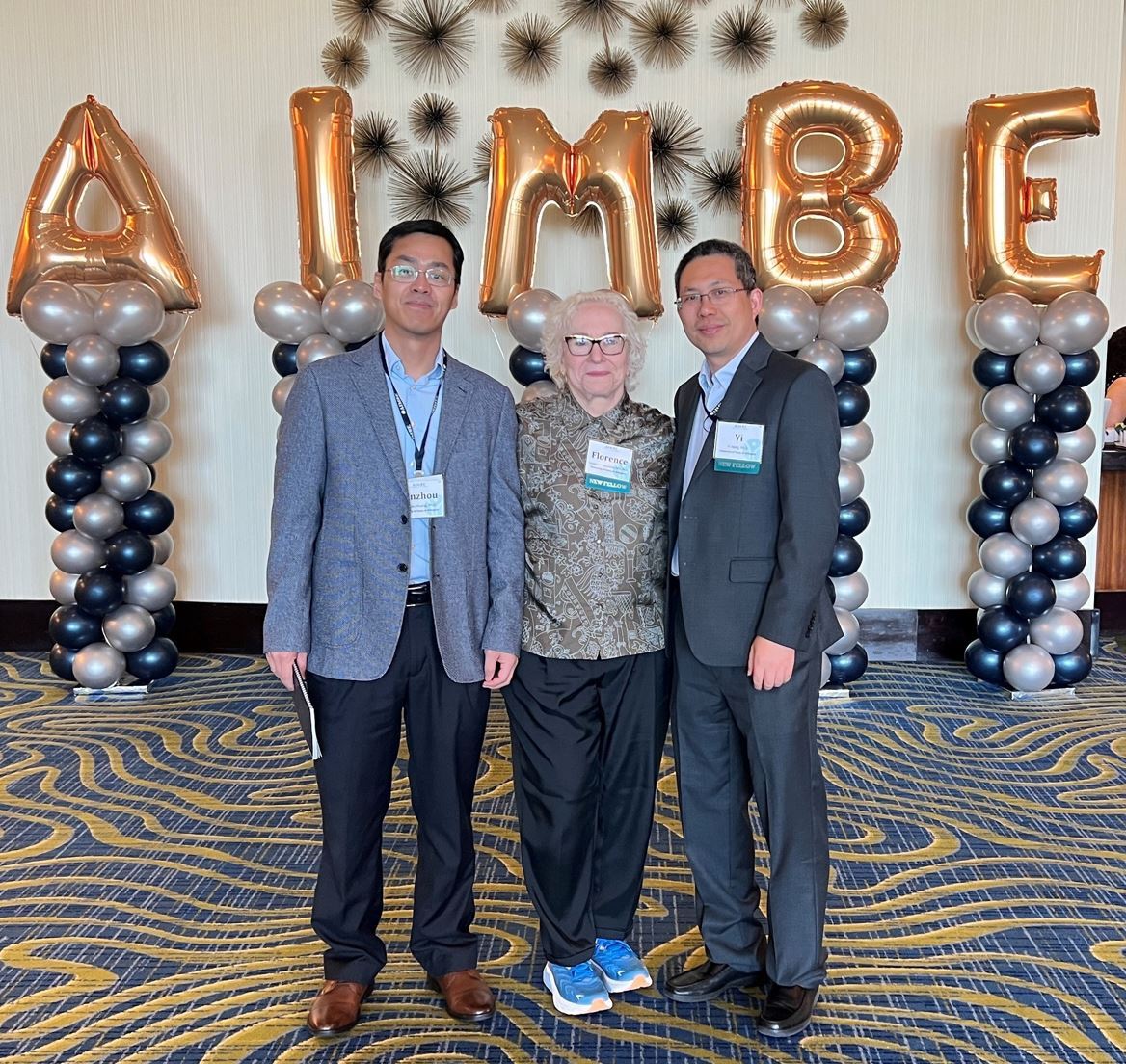 The American Institute for Medical and Biological Engineering (AIMBE) has selected three distinguished University of Texas at Arlington researchers as fellows:
• Florence Haseltine, Presidential Distinguished Professor and executive director of health research;
• Yi Hong, University Distinguished Professor of bioengineering; and
• Junzhou Huang, Jenkins Garrett Endowed Professor of computer science and engineering.
AIMBE selected Haseltine "for lifelong policy/advocacy work ultimately leading to women's inclusion in clinical studies and incorporation of sex differences in biomedical research," according to the citation included with her nomination.
"It is an honor to be named a fellow of AIMBE," she said. "As a result of the work I and others did, manufacturers of orthopedic implants started to produce sizes for women; previously, only sizes that men used were manufactured. Because of that, women often did not do as well post-surgery. They now produce them in different sizes, more appropriate for women as well as men."
Hong was selected "for leading contributions in developing elastic and functional biomaterials for cardiovascular engineering, and children's and women's health care."
"I am honored to join my colleagues as an AIMBE fellow," Hong said. "I would like to thank everyone who helped me during my research journey, and I appreciate the University, college and department providing a supportive environment.
"I will continue to focus on developing new biomaterials and biotechnologies to treat cardiovascular and muscle-relevant diseases, especially for women and children, and I will fully support AIMBE's mission in the field of biomedical engineering."
Huang was selected "for outstanding contributions to innovative machine-learning methods for pathological image and molecular data analysis."
"It is my honor to be elected as an AIMBE fellow," Huang said. "As a computer scientist, I have dedicated my career to developing machine-learning algorithms for image-omics data analytics and computational drug discovery. I am passionate about leveraging the power of artificial intelligence to accelerate the pace of medical and biological engineering research.
"This recognition is a great honor and a testament to the hard work and dedication of my team, collaborators, and mentors who have supported me throughout my career."
Previous AIMBE fellows at UTA include Khosrow Behbehani, Michael Cho, Cheng-Jen Chuong, Hanli Liu, Kytai Nguyen and Liping Tang of the Bioengineering Department and Jean Gao of the Computer Science and Engineering Department.
AIMBE fellows comprise the top 2% of medical and biological engineers in the United States, including some of the most accomplished and distinguished engineering and medical school chairs, research directors, professors, innovators and successful entrepreneurs in the discipline.
Haseltine, a member of the National Academy of Medicine and the National Academy of Inventors (NAI), received her undergraduate degree in biophysics from the University of California-Berkeley and her Ph.D. from the Massachusetts Institute of Technology. She obtained an M.D. from the Albert Einstein College of Medicine and completed her internship at the University of Pennsylvania, followed by a residency at the Boston Hospital for Women (Brigham & Women's Hospital).
While serving as associate professor at Yale School of Medicine, Haseltine completed fellowship training in genetics and in reproductive endocrinology. She then became the director of the Center for Population Research of the National Institute of Child Health and Human Development. She founded the society for the Advancement of Women's Health Research and co-founded the Organization for the Study of Sex Differences. She was named emerita scientist upon her retirement from the National Institutes of Health (NIH). She then designed databases for medical advocacy groups before her recruitment to UTA. Haseltine also received a Lifetime Achievement Award for the Health and Dignity of Women and Girls from the Friends of the United Nations Population Fund.
Hong earned his Ph.D. in material science and engineering in 2005 at Zhejiang University, then worked as a postdoctoral researcher and, later, as a research assistant professor in the McGowan Institute for Regenerative Medicine at the University of Pittsburgh from 2006-12, when he joined UTA. His research focuses on developing functional and bioactive biodegradable soft materials and translational research for tissue repair and regeneration, with emphasis on cardiovascular disease treatment.
He has published more than 100 peer-reviewed papers in the field of biomaterials and holds 12 patents. He received a National Science Foundation (NSF) CAREER Award in 2016, an ABioM-SIG Junior Investigator Award in 2018 from the Biomedical Engineering Society, and an American Heart Association (AHA) Established Investigator Award in 2022. He is also a fellow of the AHA and a senior member of the NAI.
His research has been funded by the AHA, NSF and NIH.
Huang earned his Ph.D. degree in computer science at Rutgers University. His major research interests include machine learning, computer vision, medical image analysis and bioinformatics. He earned an NSF CAREER Award in 2016 and has also won four Best Paper Awards from key conferences in his field. His research projects are supported by federal and state agencies and companies such as Google, Amazon, IBM, Samsung, XtaiPi and Nokia. Prior to UTA, he was the director of the machine learning center at Tencent AI Lab.
- Written by Jeremy Agor, College of Engineering