Mavericks from all over share goal of world-class education
Inaugural Lotus Laureate Celebration fetes UTA's AAPI graduates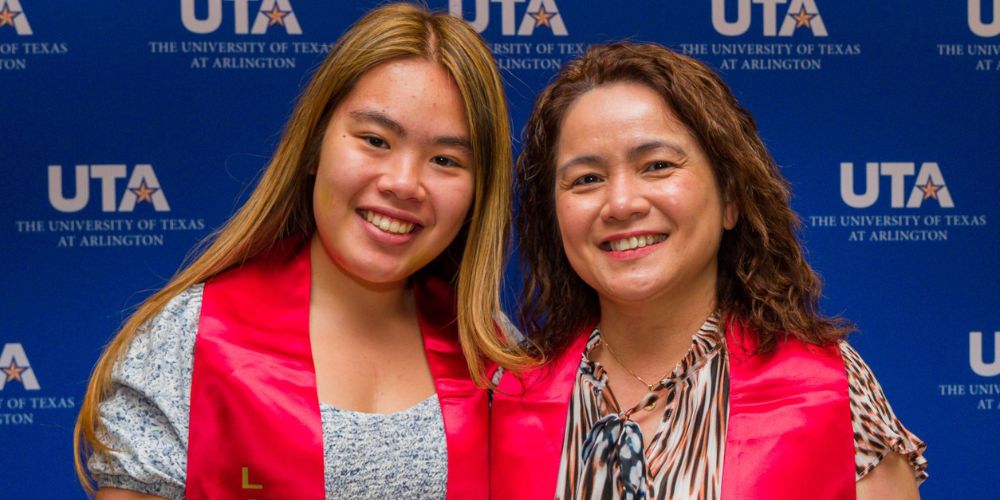 The University of Texas at Arlington hosted its inaugural Lotus Laureate Celebration, which recognized and honored the university's Asian, Pacific Islander and Desi American graduates.
To commemorate their achievements, the graduates received red stoles with gold writing—two colors that have significance in their cultures.
"Some of you have grown up here in the U.S., and many of you have come from far away, leaving behind everything you've known. But you all came here with one goal in mind—to receive a world-class education," said Nilakshi Veerabathina, professor of physics and Lotus Laureate committee member. "As you continue your individual journeys, may you continue to bloom like the lotus flower and spread your knowledge and strength everywhere you go."
UTA is designated by the U.S. Department of Education as both a Hispanic Serving Institution (HSI) and an Asian American, Native American, Pacific Islander-Serving Institution (AANAPISI), and it has the fifth-most ethnically diverse undergraduate population in the United States, according to U.S. News & World Report.
Chi Helm and her daughter Nguyen 'Mimi' Pham were two of the many students at UTA who left their home in search of the American dream. They immigrated to the U.S. five years ago from Vietnam. When they got here, they had to basically start over, but they both encouraged each other to pursue college degrees. On May 12 at Globe Life Field, they graduated together.
"I'm very proud of my daughter, that she has achieved her goal, and that she will continue achieving her future goals," said Helm, who earned a bachelor's degree in university studies. "I'm also very happy with my education in America. When I was young in Vietnam, I had a dream that someday I would have a higher education in America, and I feel very happy that I was able to achieve that."
Pham said her mom's journey has inspired her to continue pursuing her own goals. Throughout the past four years, her mom gave her unconditional support. She attributes her own success to her mom.
"I'm very proud of my mom, and I admire how she has not only been a great student, but a great wife and mother," said Pham, who graduated with a Bachelor of Science in exercise science. "She has straight As and still does so much for our family; it's impressive! She inspires me to become a better and strong woman like her."
The mother-daughter duo may have graduated, but their list of goals and aspirations is far from complete. Pham will begin her doctoral program in physical therapy at UT Southwestern this summer. Helm said her next goal is to work for a government agency and be an interpreter to help those in the Vietnamese community in pursuit of their own dreams.
Helm said she hopes her own story encourages others to follow their dreams.
"Do whatever you like to do with your life," she said. "You can start at any time, because life is a long journey and there is always time to achieve your goals."