UTA awards $200K to help researchers bring ideas to market
Commercialization Gap Funds help inventors advance intellectual property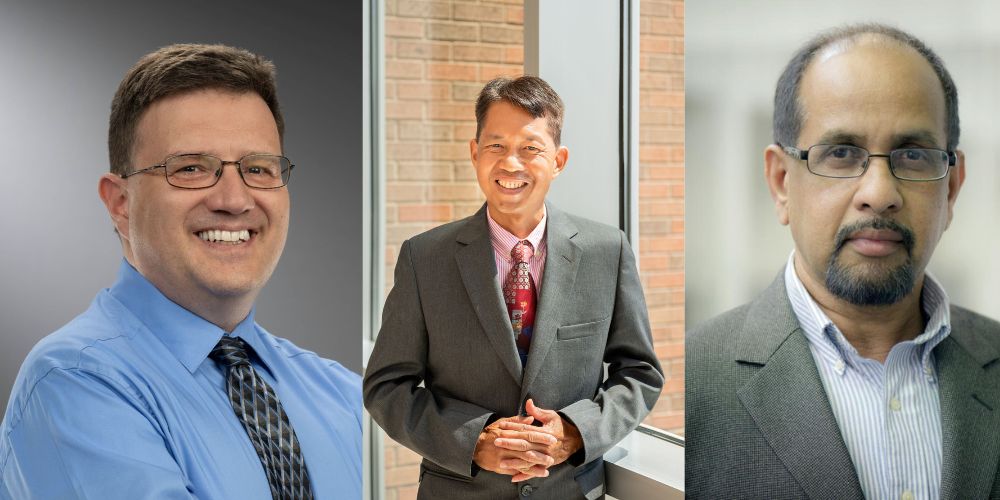 From left, Georgios Alexandrakis, Wei Chen and Muthu Wijesundara

The Office of the Vice President for Research and Innovation at The University of Texas at Arlington has granted three Commercialization Gap Fund (CGF) awards totaling more than $200,000 to help faculty members further develop new technology.
The CGF program, established in 2022 in part with funds from the state legislature, helps faculty take concepts from their labs to the marketplace.
"UTA is committed to fostering a culture of innovation, entrepreneurship and commercialization of discoveries by our community of scholars," said Kate C. Miller, vice president for research and innovation. "The purpose of these vital CGF grants is to advance research relating to early-stage technology in order to grow the number of UTA technologies. Our goal is to increase the ability of faculty to further develop and license their technologies through private investments or public funding."
The three award recipients are:
Bioengineering Professor Georgios Alexandrakis received $60,000 to further develop and commercialize his technology to create a scalable nanosensor for ultra-sensitive quality control of therapeutic nanoparticle preparations. The goal of these nanosensors is to provide quality control in the production of biologics, nanoparticles and virus-based therapeutics to ensure consistent treatment outcomes. Alexandrakis established a startup, Adavance Nanolytics Inc, and plans to test this technology in a biomanufacturing facility with a goal of making it available for widespread use.
Physics Professor Wei Chen received $65,534 for his project on copper-cysteamine nanoparticles as an efficient heterogeneous Fenton-like catalyst for PFAS treatment. (PFAS are chemicals that resist grease, oil and water.) Thanks to population growth and urbanization, approximately 2 million tons of wastes are discarded every day into water sources. As a result, toxic PFAS chemicals are found in the drinking water of major cities in the U.S. and around the world. When consumed, PFAS can accumulate in the blood, kidneys and liver, leading to health effects such as high cholesterol and cancer. Chen's research will test a new treatment method for removing PFAS from water and explore ways to scale up this technology for production and commercialization.
Muthu Wijesundara, principal research scientist of the biomedical technologies division at The University of Texas at Arlington Research Institute, received a $83,177 award for his proposal to develop "smart seat" cushion manufacturing and operation refinement for people who use wheelchairs. Sitting-acquired pressure injuries are a complication found among people with conditions such as spinal cord injuries, spina bifida, stroke and amyotrophic lateral sclerosis. Due to prolonged sitting, people who use wheelchairs are at risk of pressure injuries such as ulcers, which cost the U.S. health system an estimated $10 billion to treat annually. Wijesundara's technology would help individuals who use wheelchairs by automatically modulating interface pressure using real-time data to reduce risk of pressure ulcer prevalence, with the goal of finalizing a manufacturing process to bring this tool to market.
"Our faculty have so many great ideas, many of which have been patented," Miller said. "The idea behind these grant funds is to help our researchers further develop their innovative technology to prove up those concepts so that they can ultimately be licensed and produce income for the inventory and the University."