Homecoming
A week of events filled with unique Maverick spirit!
Embrace the Maverick Spirit: Homecoming Countdown
November 6-12, save the date! Join us as we gear up for an unforgettable Homecoming celebration.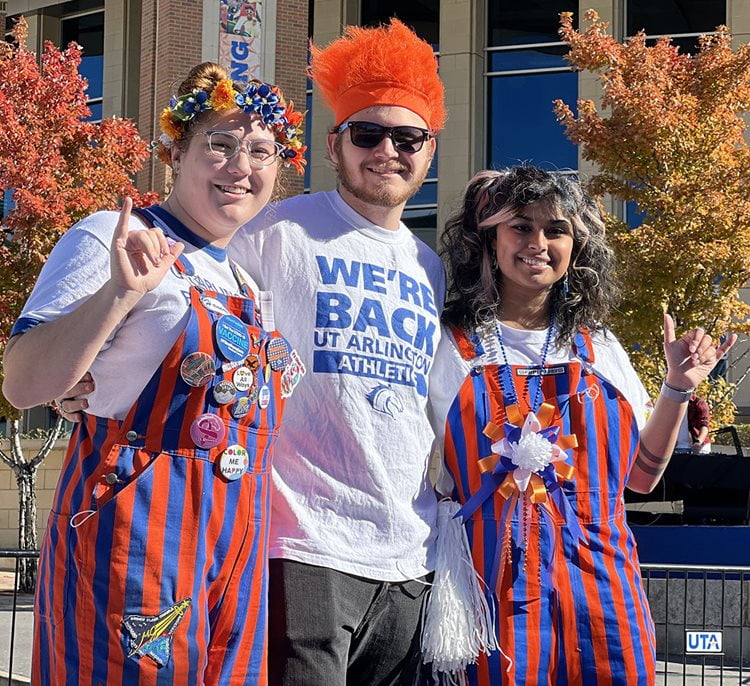 Maverick Tradition
UTA's Homecoming is November 6-12, as we plan to celebrate with Maverick pride all week. The week's events will have something for everyone and showcase our spirit and support for our athletic teams. Additionally, many events showcase our diverse traditions here at UTA, including the Parade and Street Festival, The Bash, Coronation of the Homecoming King and Queen, 5K Walk, Run, and Roll, Maverick Chili Cook-Off, and more.
Homecoming Week Events 2023
UTA Homecoming Theme – "Hollywood"
Date

Time

Event

Location

Organization

Sun, Nov 05

TBD**

Decorate Downtown

Downtown Arlington

UTA Ambassadors

Mon, Nov 06




9:00AM - 2:00PM

Chalk the Mall

UC Mall

Student Organizations

11:00AM - 1:00PM

Paint Your Ride

TBD

FLOC

5:00PM - 7:00PM

MavSwap

CPC Student Section

UTA Ambassadors

7:00PM - 9:00PM

Men's Basketball

College Park Center

Athletics

Tues, Nov 07

11:00AM - 2:00PM

Mum Mania

Central Library

UTA Libraries

Wed, Nov 08




11:00AM - 12:00PM

National First Gen Celebration

Red River

Transition Programs & Services

12:00PM - 2:00PM

Chili Cook-Off

Palo Duro/BB

Campus Recreation

4:00PM - 6:30PM

CDC Open House

Career Dev Center

CDC

7:00PM - 10:00PM

Hump Night

Bluebonnet Ballroom

FSL

8:00PM - 10:00PM

Saarang Dance Party

Rio grande, UC

ARL




Thurs, Nov 09




8:30AM - 1:30PM

HC Golf Tournament

Tierra Verde Club

MAC

11:00AM - 2:00PM

MavSwap

UC Mall

UTA Ambassadors

4:00PM - 5:30PM

Global Grounds

Palo Duro

Global Engagement




Fri, Nov 10




11:30AM - 1:30PM**

Faculty/Staff Mixer

MAC

Staff Advisory

1:00PM - 2:00PM

Maverick Leadership Trainers

UC 180TH

Student Leadership Center

5:00pm - 7:00PM

Women's Basketball + Coronation

College Park Center

Athletics

Halftime**

Coronation

College Park Center

Student Activities

6:30PM - 8:30PM

Homecoming Street Festival

Spaniolo Drive/UC Mall

EXCEL Campus Activities

8:00PM - 11:00PM

Homecoming Bash

Brazos Park

EXCEL Campus Activities

Sat, Nov 11




10:00AM - 12:00PM

HC 5K

MAC

Campus Recreation

12:00PM - 3:00PM

Homecoming Tailgate

Spaniolo Drive/Moritz

Student Activities

3:15PM - 4:15PM

Parade and Pep Rally

Spaniolo Drive

UTA Ambassadors

5:00PM

Men's Basketball

CPC

Athletics

5:00PM - 7:00PM

SA Alumni Reception

CPC Hospitality Suite

Involvement and Engagement

7:00PM

NPHC Step Show

Bluebonnet Ballroom

F&SL

Sun, Nov 12

2:00PM - 6:00PM

Home Run for the Heart

Allan Saxe Field

Pi Kappa Alpha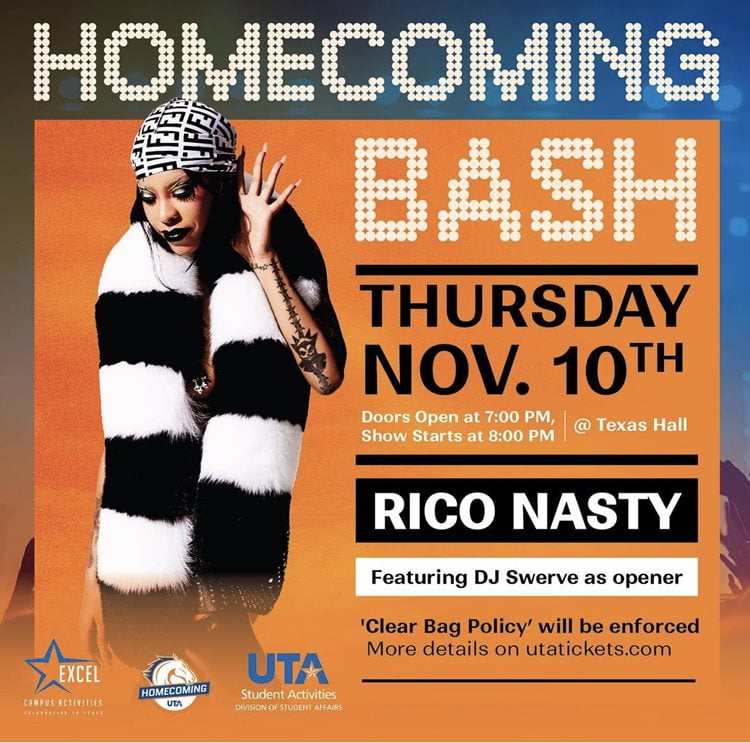 Last Year's Bash Performer was...
Rico Nasty came to UTA for the 2022 Homecoming! UTA hosts the biggest party in town for one night every year during Homecoming! Join in on a Homecoming tradition you won't want to miss. Our 2023 Bash performer will be announced soon! Tickets will be available shortly after.
Welcome Home Alumni
There are so many events to participate in for our Maverick Alumni. Here are just a few:
Homecoming 5K
This year's Homecoming route is a scenic one throughout the UTA campus. Both walking and running entries are accepted. All proceeds will go to the UTA Emergency Assistance Fund.
Street Festival
Celebrate Homecoming at the annual Street Festival, featuring a variety of exciting activities. Get into the Maverick Spirit and enjoy fun games, complimentary food and drink, a live DJ, street performers and more!
Register for the 2023 Homecoming 5k
Sports
Women's Basketball
The UTA Lady Mavs basketball team will be ready to start their season with a bang at Homecoming weekend! Come out to College Park Center Friday, Nov. 10th to support our Women's Basketball team!
Men's Basketball
Make some noise for the UTA Maverick men's basketball team under new coach KT Turner during this year's Homecoming on Saturday, Nov. 11th! Buy your tickets!
UTA Tickets
Homecoming Highlights from 2022