New Maverick Orientation Safety Plans
To keep yourself and others safe, UTA is employing the following requirements for all new students and their guests during face-to-face New Maverick Orientation programs.
SAFETY INFORMATION FOR NEW MAVERICK ORIENTATION
TESTING
UTA

requires

that every attendee present a negative COVID-19 test result from within 72 hours of arrival at orientation. In lieu of this requirement, an attendee may opt to present their vaccine card to waive the testing requirement.
International students: Vaccination records should be emailed to covidvaccine@uta.edu to be reviewed and verified by UTA Student Health Services no less than 3 days prior to your orientation session.
FACIAL COVERINGS (MASKS)
All students and guests will be encouraged to wear a facial covering (mask) that covers your nose and mouth. Attending large, indoor, public gatherings has been linked to increased risk of COVID-19 transmission. Wearing a mask will help protect you and other new Mavericks attending orientation.

SOCIAL DISTANCING
All orientation participants are encouraged to maintain social distancing at their own comfort level. Our meeting rooms will be designed for students and their guests to be seated side-by-side or seated 6 feet away from others on all sides.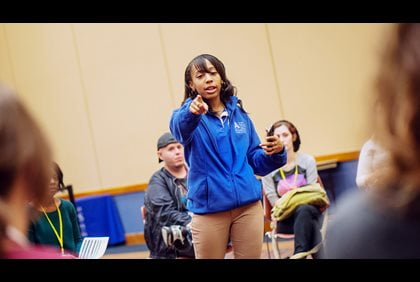 STAGGERED CHECK-IN AND LUNCHES
To reduce crowds at New Maverick Orientation, students will be assigned a check-in time between 7:45-9:15 a.m. Please look for your assigned check-in time on your Final Confirmation email sent three days prior to your orientation session. This email is delivered to your UTA email address and your personal email address on file. Additionally, orientation participants will be split into two shifts for lunch to maintain social distancing in our Connection Cafe. We encourage students and guests to pack a snack in case our lunch schedule does not match yours.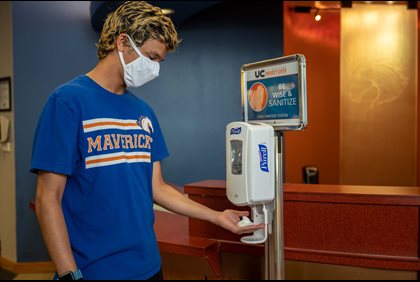 HAND SANITIZER AND CLEANING
Orientation participants will have access to hand sanitizer throughout the program. Additionally, the UTA Office of Facilities Management will be cleaning and sanitizing rooms utilized for orientation between sessions. Orientation participants may want to bring a package of cleaning wipes to sanitize surfaces between cleanings.