EXPORTING WITH THE EXPERTS, VIRTUALLY
The College of Business is holding its annual Exporting with Experts program and delivering it virtually this March. The UTA program was developed and has been championed by management professor Deepak Datta since 2016. This year, management professor Abdul Rasheed is taking the helm in leading virtual sessions. "The Exporting with the Experts Program is a collaborative initiative led by the North Texas District Export Council, University of Texas at Arlington, and the U.S. Commercial Service Dallas-Fort Worth Office to enhance students' knowledge and understanding of important international trade topics with an emphasis on the mechanics of exporting through combing educational training with experimental learning," Jessica Gordon, Director of U.S. Commercial Service Dallas-Fort Worth, a division of the International Trade Administration of the U.S. Department of Commerce said.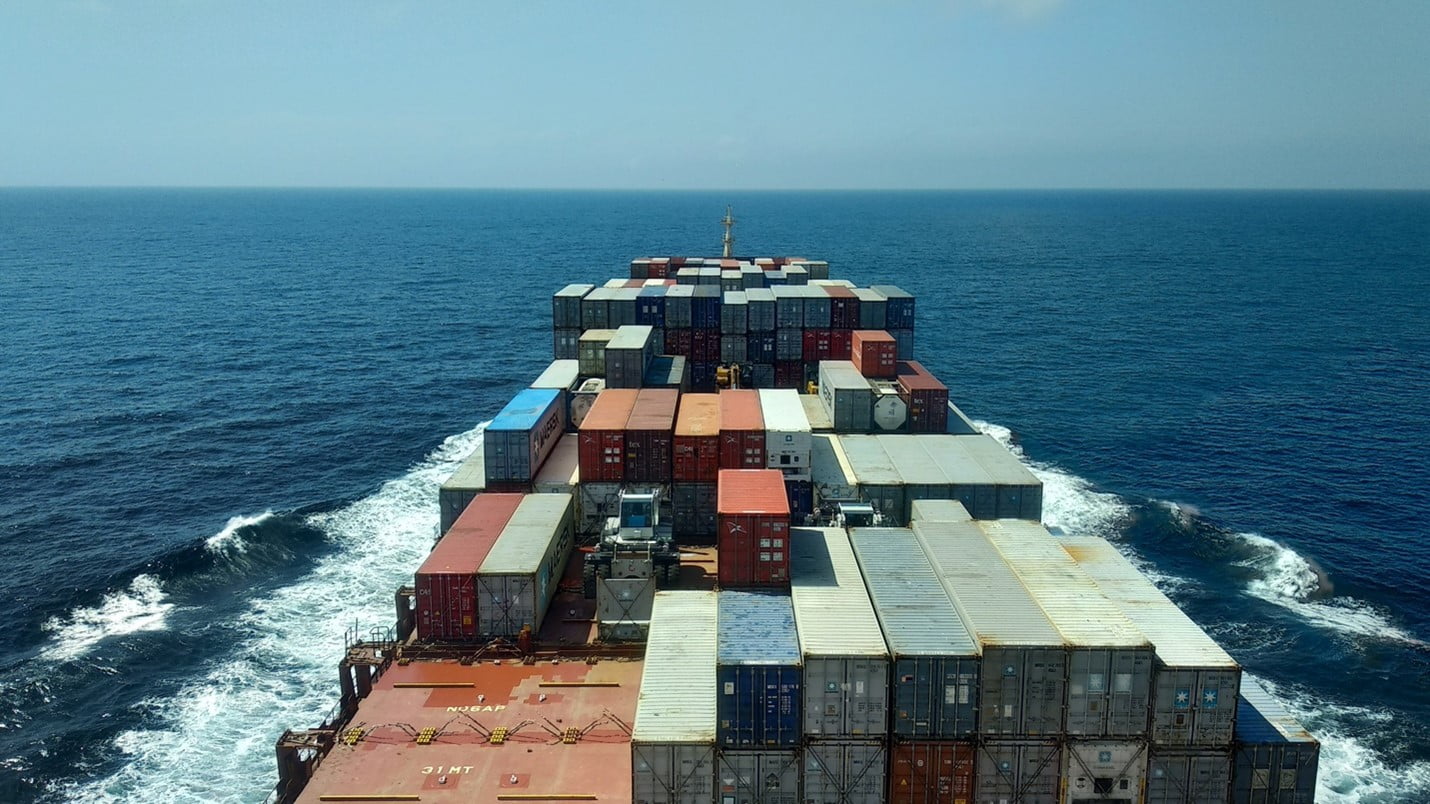 During the program, students identify an industry with an exportable product or service, choose a firm in that industry and then identify a country where the firm can export its products/services. Their challenge is to prepare a detailed export market entry strategy and plan for a foreign market, built on what they've learned in the online workshop and in international business classes that they have taken at UTA. Each team will be required to make a professional presentation (20 -25 minutes) to DEC and U.S. Department of Commerce facilitators.
"Exporting opens a world of opportunities for U.S. small and medium-sized companies, and through participating in the program, students have an opportunity to be a part of that journey. Through participating in the program, students gain real-world, real-life experience by creating export plans that local exporters can implement to expand into a new export market(s). It's a win-win opportunity for both the student and company program participants," Gordon said.
Exporting with Experts offers students a chance at scholarship money via the competition and also gives them an opportunity to earn a certificate from the U.S. Department of Commerce and valuable insights from the experienced speakers. The challenge requires extensive research on the target country's marketplace, company pitched and by identifying best practices in the industry.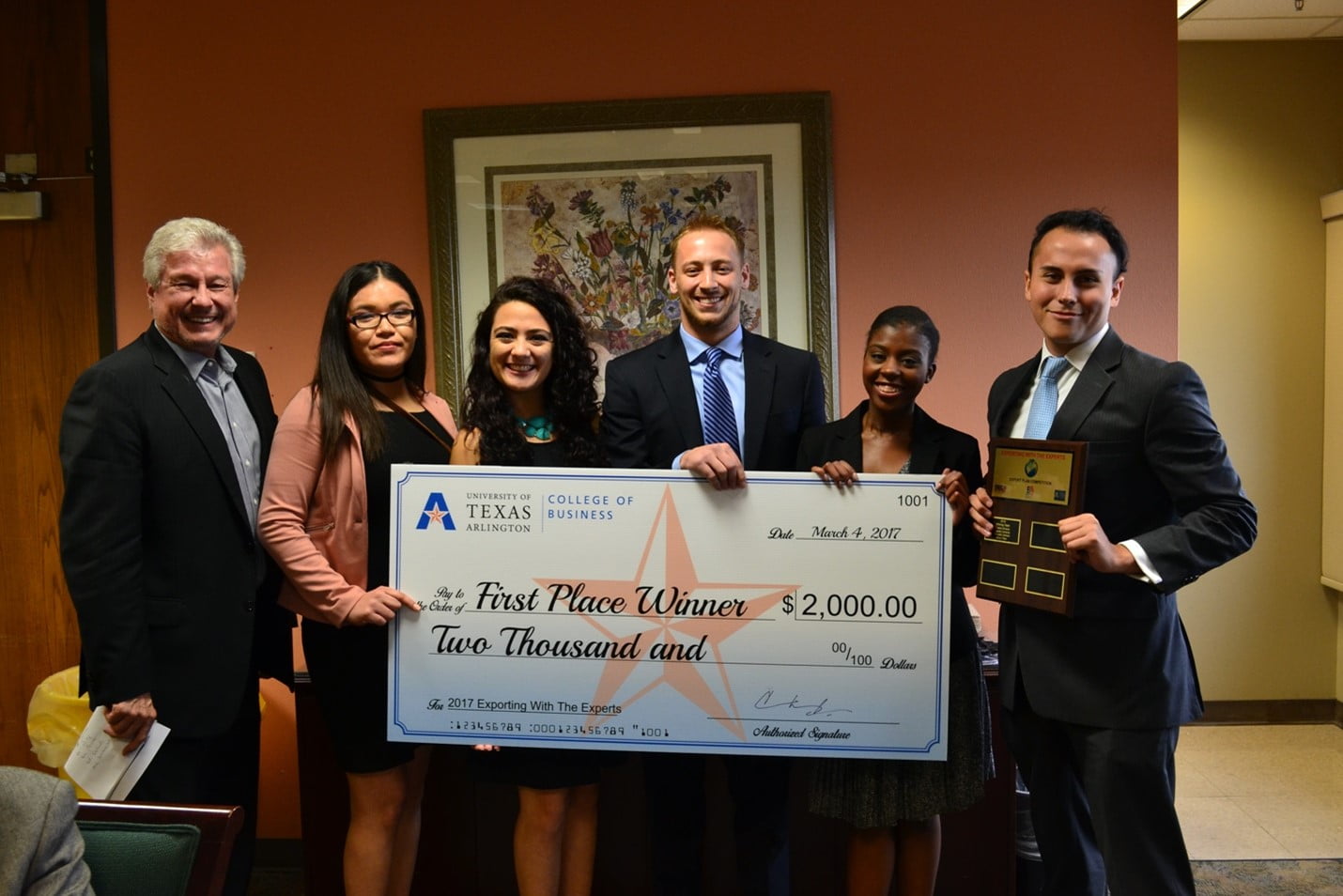 According to the Office of the Texas Governor, Texas has been the top state in international trade and exporting state for the past 19 years, with exports bringing in $279.3 billion in impact to the economy in 2020. UTA has one of the largest programs of this kind in the DFW metroplex. The region is at the heart of a vibrant economic center, as trade in foreign markets is an industry that Texas's economy heavily relies on.
The 2021 program features an impressive cadre of national and international exporting experts, featured in the bios that follow.
Susan Anthony
Susan Anthony is an Attorney-Advisor in the USPTO's Office of Policy and International Affairs (OPIA), where she is a member of the Trademark Team. Within OPIA, Susan is the lead on Trademarks for the Africa and China Teams and handles the ICANN and Internet Governance Forum (IGF) portfolios. Her work also includes issues involving traditional cultural expressions and educational outreach to the federally recognized American Indian and Alaska Native tribes, including a branding program to increase protection and promotion for traditional and contemporary arts and crafts, and she serves as the USPTO's Tribal Affairs Liaison to the U.S. Department of Commerce. Susan has over 35 years' experience and expertise in almost all facets of intellectual property protection and enforcement, both domestic and international. Before joining the USPTO, Susan worked in the corporate and private law firm sectors in trademarks and copyrights, both counseling and litigation, and served as a member of the Board of Directors of the International Trademark Association (INTA).
Richard Cole
Richard Cole is the Deputy Director of the International Patent Legal Administration (IPLA), United States Patent and Trademark Office (USPTO), Alexandria, Virginia. Richard has been a member of the USPTO's international legal team since 1995 and handles matters relating to the Patent Cooperation Treaty (PCT), as well as other international agreements, at the USPTO. He is directly involved with the development of the USPTO policy on PCT matters, the development of U.S. statutes and regulations relating to the PCT, and the implementation of the PCT and the related statutes and regulations in the United States. Before joining IPLA, Richard was a Primary Patent Examiner with 10 years of examining experience in the fields of Heat Exchangers and Illumination. Richard is a graduate of the University of Maryland where he received a Bachelor of Science degree in Mechanical Engineering in 1985.
Greg Chalkley

Greg Chalkley is currently the Executive Director, Global Trade Services at Maxim Integrated in Dallas TX, serves as Chair of North Texas District Export Council, and is on the board of directors for Chalkley Farms Inc a family farm in Indiana.
Greg has the responsibility for trade compliance operations and strategies across Maxim's global operations in over 14 countries. Before this responsibility at Maxim, he held multiple positions in Texas Instruments and International Harvester in the areas of Logistics, Contracts, and Business Services, Distribution, and Trade Compliance.
Greg earned a BS degree at Indiana University in 1977 and completed an MBA in 1990 at Amber University. He has served on the Board of Directors for the Council of Supply Chain Management, and Executive Advisory Board for the University of North Texas' Marketing and Logistics Department as well as serving as a mentor for graduate students at UNT and UTD.
Greg is married and has 3 children and 4 grandchildren.
Harry M. Dombroski

Harry M. Dombroski is the dean of The University of Texas at Arlington's College of Business. A UTA alumnus, Harry returned to his roots to bring his unparalleled business acumen to the College of Business. A longtime senior officer with Hunt Consolidated Inc., one of the largest privately held companies in the nation, he had a distinguished career in several key roles.
During his tenure as an executive with Hunt, Harry was responsible for almost all aspects of the company's financial and administrative functions including accounting, financial reporting, data management, planning and analytics, hedging, insurance, treasury, information systems and land administration. Harry was continuously promoted to strategically problem solve in areas needing improvement, being named Vice President in 1993 and a Senior Vice President in 1999. Notably, as the executive in charge of Hunt's data analytics activities from 2003 – 2015, Harry significantly expanded Hunt's capabilities to improve efficiency, reduce costs and provide decision-makers with more timely and actionable information.
Harry holds a Bachelor of Business Administration from The University of Texas at Arlington. He is a Certified Public Accountant with the State of Texas. He has served on The University of Texas at Arlington's Business Advisory Board since 2007, holding several positions, most recently as President of the Advisory Board. Harry has also served as a member of the University's Advisory Council since 2014 and was solicited by the University's President to serve as Chair of the President's Executive Advisory Council. The University's College of Business invited him to be commencement speaker in 2008, presented him with the Distinguished Alumni Award in 2011 and honored him on National Day of Philanthropy in 2015.
Married with two grown children and three granddaughters, Harry is an avid sports fan and enjoys spending time with his family, traveling with his wife, Jan, and entertaining friends
Mel Drews
Mel Drews is Vice President – Business Development, Global Accounts.
Mel is a veteran of 30+ years in the logistics industry with experience in air, ocean, road freight, and warehousing. He has had Global Account responsibility for the 9+ years he has been with Agility, with previous experience as a shipper, carrier, and forwarder. During his time as a forwarder, he has held operations, P/L, and sales positions including managing multinational industrial accounts. Mel is based in the Agility DFW office in Coppell, Texas.
Elyse Eriksson, MBA, MCA, CGBP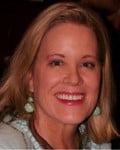 Export Connector & The Riddle of the Exporter™
A lifelong entrepreneur, Elyse Eriksson has explored a wide variety of business ventures. Early in her career, Elyse owned two manufacturing companies. She started and successfully expanded these companies, handling all aspects including importing and exporting. She also developed an internet-based company, creating branding and marketing plans, intellectual property protection, and outsourcing production to China. Elyse obtained the Certified Global Business Professional (CGBP) designation while working as the Director of International Training and Business Management Counselor at the International Trade Center SBDC in Dallas, TX.
Currently, as the CEO of Export Connector, Elyse connects exporters to key resources and offers The Riddle of the Exporter™ training. The Riddle of the Exporter™ seminar and workbook teaches an export 8-step process. It has been presented throughout the continental U.S, Guam, Saipan, and Puerto Rico. Elyse received a B.S. in Design from the University of Texas, Austin, a Masters in Civic Affairs, and an M.B.A. in International Management from the University of Dallas in Irving.
Jessica Gordon

Jessica Gordon is the Director of the U.S. Department of Commerce's U.S. Commercial Service Dallas-Fort Worth Office where she leads a team of industry-focused international trade specialists to assist small to medium-sized North, East, and West Texas companies grow their businesses through launching an export business or increasing their sales in target markets around the globe. In addition to heading the U.S. Commercial Service Dallas-Fort Worth Office, Jessica serves as the Executive Secretary of the North Texas District Export Council (NTDEC)
Career Experience and Achievements:
Jessica has experience in market entry development, market research formulation, and analysis, trade event development and coordination (i.e. seminars, workshops, training, trade missions), strategic planning, leveraging diversity, conflict resolution, coaching, leading change, and building coalitions.
Prior to assuming the director position at Commercial Service Dallas-Fort Worth, Jessica served as an international trade specialist at the U.S. Commercial Service office in Jackson, MS
In 2012, Jessica was selected to lead the U.S. Commercial Service's Trade Americas Central America Sub-team. The Trade Americas' Central America Team brings together colleagues, both domestic and international, and resources of the U.S. Commercial Service offices in Costa Rica, Honduras, Guatemala, and El Salvador and State Department sections at U.S. Embassies in Belize and Nicaragua
From 2012-2016, Jessica served as the Deputy Team Leader for Ships/Shipbuilding for the U.S. Commercial Service's Global Marine Technology Team
Jessica has received several awards for her leadership and outstanding performance toward the advancement of the U.S. Commercial Service's mission, including Quarterly Star Awards, the Director-General Award for Collaboration, the Director-General Award for Leading Change, and the Lola Gulomova Award for her service to local communities.
Lawrence P. Howorth

Lawrence P. Howorth is the President and Founder of Howorth International LLC. a multinational Interim and Fractional Management and Advisory Services firm based in Dallas Texas, USA. Lawrence has over 40 years of multinational business experience in multiple industries. A private investor and business mentor, Lawrence has held senior executive-level positions including CEO, President, COO, CFO in several multinational organizations as well as interim, project, and fractional executive management positions through his practice. He has co-founded two multinational start-up companies and has developed and managed businesses in over 25 countries.
Also, Lawrence is the Director, Mayor's Office of International Business, Richardson Economic Development Partnership and the VP, International Business Development, Richardson Chamber of Commerce, City of Richardson, TX, an Adjunct Professor, International School of Business, Dallas College, Dallas, TX and the President and Founder of an affiliated company, Better World Products LLC, an international procurement, logistics, and distribution company.
A Canadian and USA Citizen, Lawrence is a graduate of the University of Saskatchewan (Canada), College of Commerce and a CA/CPA (a member of the Chartered Professional Accountants of Canada), and alumni of KPMG. He is a frequent panelist and speaker on multinational business development, growth, business structuring, entrepreneurship, and various subjects at the University of Southern California, IBEAR Program, California State University, Long Beach, and various conferences and has participated as a speaker/mentor with the Brazilian IBMEC Executive MBA program through the California State University, Irvine, as well as the Congress Six Sigma in Brazil.
Lawrence has been appointed by the Secretary of Commerce as a Member of the District Export Council of North Texas (past Chair) and currently active in several organizations including the International Business & Trade Advisory Committee, Dallas College, Dallas, TX, Business Management Advisory Committee, Collin College, Frisco, TX as well as a Director of the Japanese America Society of Dallas/Fort Worth.
Over the years, Lawrence has been active in several organizations including a mentor in the Independent Study and Mentorship Program for the Frisco, TX Independent School District, OCTANE (supporting the development of biomedical and information technology in Orange County, CA), the Tech Coast Angeles (investor and mentor for early/mid-stage medical device, biotechnology, information technology, consumer products, and other organizations & member of the TCA Board of Governors and Executive committee), Forum for Corporate Directors, Education Committee, including Chairing the development of the first Survey of Corporate Directors, Orange County, CA), Director, National Academy Foundation Board of Directors, Co-Chairman, Advisory Board of Directors, OneOC (previously the Center for Social Enterprise, Volunteer Center), Orange County, CA and most recently a member of the Board of Directors and Founding Chair of the International Business Council, Frisco Chamber of Commerce, Frisco,
Ali Khan

Ali Khan is a Global Product Sales Specialist with a 25+ year career with a broad range of Engineering, Manufacturing, ERP, and International Sales and Marketing experience with Astec Industries Inc. Ali worked as Director of Marketing and Sales for India, the Middle East, and Africa for 15 years and expanded sales by developing strategic partnerships in many countries in the region including a licensing partnership in India. Ali currently serves as Treasurer on the US Department of Commerce North Texas District Export Council.
Astec Industries Inc. is a public listed company that manufactures more than 100 products from rock crushing and screening plants to hot mix asphalt (HMA) facilities, concrete plants, milling machines, asphalt pavers, and material transfer vehicles. Most of these machines are made in Astec Owned factories in the USA, Canada, Brazil, South Africa, and Northern Ireland. As a Global Sales specialist, Ali specializes in training international partners and customers on product applications.
John Kim

John Kim is an International Trade Specialist based out of the Dallas Fort Worth U.S. Export Assistance Center and focuses on expanding exporting markets for a variety of companies in the Advanced Manufacturing, ICT, Environmental Technology, and Chemicals and Plastics industries. Before this role, Kim worked at the Library of Congress as a Senior Researcher in the sectors of Aerospace and Defense. Outside of work, Kim serves in the U.S. Army Reserves as an Officer for the 354h Civil Affairs Brigade and enjoys spending time with his wife and 1-year-old son, Matthew.
Derrick Kyle

Derrick Kyle is an Associate with Torres Law and assists clients with all facets of global trade, including matters related to export controls governed by the International Traffic in Arms Regulations (ITAR)
Export Administration Regulations (EAR), and the Nuclear Regulatory Commission. He also assists clients with other international trade and cross-border transaction matters including those governed by customs, sanctions, and the Committee on Foreign Investments in the United States (CFIUS) laws and regulations.
Mr. Kyle has experience in export classification, preparing export licenses, investigating, and completing voluntary self-disclosures with U.S. government export agencies, and developing export compliance manuals and programs. On the import side, Mr. Kyle has experience classifying products within the Harmonized Tariff Schedule, completing prior disclosures with U.S. Customs and Border Protection (CBP), and submitting protests with CBP, and obtaining favorable results for clients. Mr. Kyle has experience assisting clients understand the application of CBP partner government agency (e.g., Food and Drug Administration) regulations.
Matt Lapin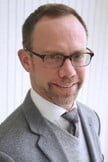 Matt Lapin is a Washington, D.C.-based Of Counsel with Torres Law and focuses his practice on export controls, sanctions, customs, anti-corruption, and corporate compliance. Mr. Lapin advises clients on all elements of export controls compliance concerning the International Traffic in Arms Regulations (ITAR), the U.S. Export Administration Regulations (EAR), the various embargo and sanctions programs administered by the Office of Foreign Asset Controls (OFAC).
Mr. Lapin also advises clients on compliance with the Foreign Corrupt Practices Act (FCPA) and other anti-bribery laws, including developing compliance programs and processes and providing training for clients, conducting due diligence, and conducting internal investigations.
Rob Lewin
Logistics and supply chain Professional
In 2020 became my fortieth year of experience as a logistics professional working for companies in various industries, including logistics providers (BAX Global, DHL & Seko), Oil & Gas (Arco International Oil & Gas), Telecommunications (DSC / Alcatel), and High Technology (EDS). My last job ending in July 2019I was as Director of Worldwide Logistics by Flowserve, a leading manufacturer and aftermarket service provider of comprehensive flow management products and services.
I was born in Rhodesia (Zimbabwe) and after completing my military service, Joy, and I and one son moved to Israel in 1978 where I began my career in Logistics with Burlington Northern Airfreight (BAX). In 1983 I immigrated to the USA with my wife and two sons 1983.
I have had many unique experiences throughout my logistics career including shipping Dolphins from Miami Sea World to Israel Sea World, shipping 40 containers of Cow patties from Amarillo Texas to Germany (as part of a University experiment), and rats to Jakarta so one of his companies ex-patriots could continue her biological degree by correspondence.
Professional Associations
Council of Supply Chain Management Professionals (CSCMP) – DFW Board Member 2000-2018 & Past President 2002-2003, National Advisor 2004 – 2008 South West National Management Association – Past President 2003 University of North Texas Marketing and Logistics Advisory Board 2002 - Juvenile Diabetes Research Foundation (JDRF) Board member 2002 – 2007 Junior Achievement of Dallas – Board Member 2008 – 2010
North Texas Commission - Logistics Development and Marketing Committee Member 2008 - 2018 Chairman 2012 – 2018 North Texas Commission: Board Member 2015-2020
Awards & Speaking Engagements
EDS Community Services Award 2002
National Management Association – Silver Knight Management Award 2003 Council of Logistics Management – Practioner of the Year Award – 2003 Juvenile Diabetes Foundation Volunteer award in 2005
Junior Achievement Volunteer of the Year Award 2008
Texas Logistics Executive Forum – Speaker 2003 & 2009 Business Excellence Online – Published 2008 Supply Chain Brain – Published executive briefing 2009 & 2013 Guest lecturer – Richland College, UNT, JJ Pearce High School Spirit of Flowserve Award for Collaboration – 2010, 2014,2015,2016,2017,2018
Javier A. Mazon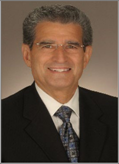 Javier A. Mazon Senior International Business Executive. President and founder of Group Lamerica LLC. A 50+ year career that has encompassed a broad range of operating, C- suite, BOD, external affairs, and leadership positions, involving both international and U.S. domestic operations & management responsibilities. Javier's background includes successful, international executive positions with Texas Instruments, Oki Electric, and the other U.S., and South American companies. He is fluent in English, Spanish, and Portuguese.
His company, Group America, is a leading provider of professional consultative and business operations services for clients seeking to strategically expand their businesses into Latin America and/or North America. As the company's chief executive officer, he is responsible for all aspects of the business. In his direct work for clients, he specializes in international expansion strategy, forming new businesses, market-entry initiatives, developing public/private sector relationships, and establishing in-country operations.
Business Affiliations. Richardson Texas Chamber of Commerce (CoC); International Business Resource Center/ Executive Committee & Advisory Board: US Department of Commerce North Texas District Export Council; Executive Committee Irving Texas Chamber of Commerce (CoC); Advisory Board University of Texas, Dallas - International Executive Committee
Tony Scanio

Tony Scanio is the 1st Vice-Chair of the North Texas District Export Council. He joined CHRISTUS Health in early 2015 after several years as International Regional Sales Manager for the orthodontics division of a Fortune 300 company. He has conducted business in Spanish, Portuguese, Italian, and English and has specific experience in international sales, sales management, trade show management, and export regulations. A NASBITE Certified Global Business Professional (CGBP) specializing in the areas of Global Business Management, Global Marketing, Supply Chain Management, and Trade Finance, Tony is responsible for numerous analytics, operational, and logistics projects in the Latin American operations of CHRISTUS Health. He graduated from Texas Tech University with BBAs in International Business and Marketing and minors in Spanish and Music. He is a 2012 graduate of the Professional MBA program at Texas Christian University.
Arteaga-Haid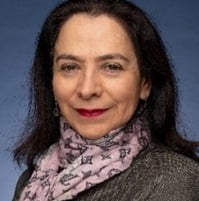 Mrs. Arteaga-Haid is an entrepreneur, international business expert, and community supporter for minorities and Women in Mexico and Texas.
With more than 35 years of experience in cross-border business relations between Mexico and the United States, she was one of the first few Trade Commissioner of Mexico in Georgia and Texas representing the Mexican Bank for Foreign Trade for almost 20 years, covering more than 16 states of the United States promoting Trade and Investment between Mexico and the United States.
From 2008 to 2017 Ms. Arteaga-Haid was a founding partner and Managing Director of Dienst International consulting service company in Dallas, Texas, helping Latin American and U.S. companies to expand and do business internationally. She is currently an active member of the North Texas Export Council appointed by the U.S. Department of Commerce. Regarding her community evolvement, she was one of the founders and President of a non-profit organization in Dallas -AMEP, educating Women from Latin America to start their own business. In her mentoring activities she created a "Business immersion program for the U.S. market" designed for Mexican High School and University students interested in international and cross border business, she has mentored more than 230 students.
She is currently working for the Dallas College as a Director of Workforce and Advancement, previously she collaborates as a Managing Director of the Office of Global Economic Development connecting the District resources with International organizations, foreign companies, investors, and global companies. She has been a member of several International Chambers as well as the District Export Council for more than ten years, besides other community groups to assist immigrants and refugees. She holds a bachelor's degree in Political Science, with the mayor in Public Administration and International Trade from Universidad Iberoamericana -UIA in Mexico City. And several post-graduate studies in Europe, United States, and Mexico in Finance, International Trade, International Treaties and Compliance, e-commerce, marketing, among others.
Abdul A. Rasheed

Abdul A. Rasheed is Eunice and James L. West Distinguished Professor of Strategic Management and International Business at the University of Texas at Arlington where he has been teaching for the last 33 years. He obtained his Ph.D. from the University of Pittsburgh in 1988 and his MBA from the Indian Institute of Management, Calcutta in 1981. Professor Rasheed's areas of research interest include strategic decision processes, environmental analysis, outsourcing, franchising, foreign market entry, international comparisons in strategy and governance, and implications of financial market integration for firm strategies. Dr. Rasheed's research has appeared in leading journals in Management.
Professor Rasheed's primary areas of teaching interests are strategic management and international business. Professor Rasheed has considerable experience in teaching abroad. He served as a Visiting Senior Fellow at the Nanyang Technological University in 1998-1999. He has taught in the DBA program of Hong Kong Polytechnic University. He has also taught in UTA's Executive MBA Programs in China and Taiwan. Before joining academics, Dr. Rasheed spent a decade working in senior positions such as Manager, Indian Bank, Finance Executive, Crompton Greaves, Bombay, India, and Executive Assistant to the General Manager, Bank of Bahrain and Kuwait, Bahrain.
Student and Alumni Events