Jason Shelton named new director of UTA Center for African American Studies
The University of Texas at Arlington has named Jason Shelton, an associate professor in the Department of Sociology and Anthropology and expert on the sociology of religion, race and class, as director of the University's Center for African American Studies. His appointment takes effect Jan. 1, 2017.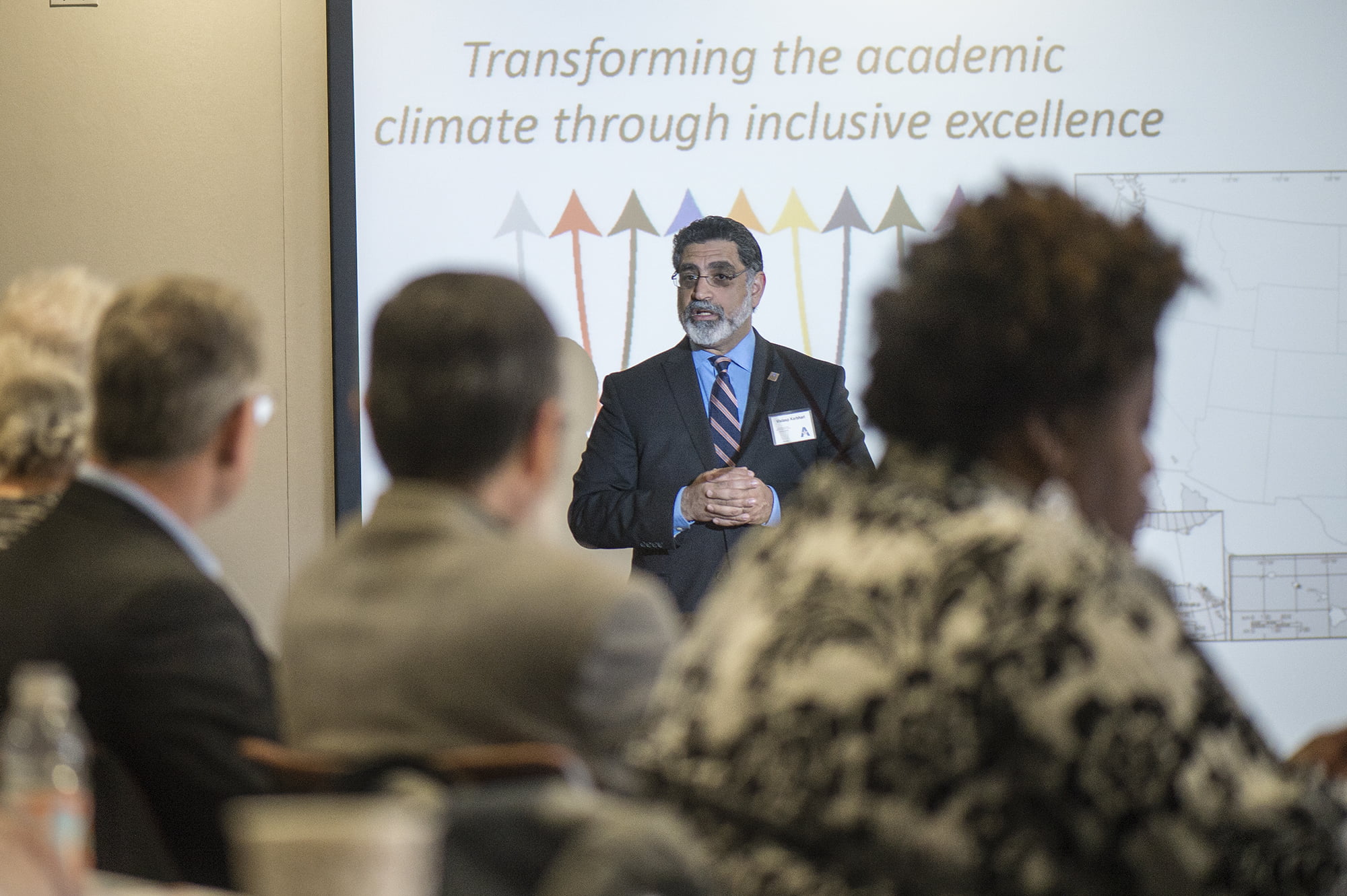 Shelton joined UTA in 2008 as an assistant professor and has served as a faculty affiliate of the Center since its founding in 2012. He is a heavily sought-after speaker and media commentator on black middle class culture and ideology, racial and ethnic attitudes, the sociology of religion, and the debate over race versus class.
Previously, he served on the faculty of Miami-Dade College, the College of Wooster and Rice University. Shelton earned his undergraduate degree in sociology from Kent State University. He holds master's and doctoral degrees in sociology from the University of Miami.
"Dr. Shelton distinguished himself early on as a very strong candidate to lead UTA's Center for African American Studies," said Ron Elsenbaumer, interim provost and vice president for academic affairs. "He has visionary leadership as demonstrated by his teaching, research activity, mentoring and engagement with students, faculty, staff and others within and outside of the African-American community."
Elsenbaumer noted that Shelton also shares a vision for helping to improve the health and human condition of all people, as well as developing strategies for building more sustainable urban communities, two core themes of the University's Strategic Plan 2020: Bold Solutions | Global Impact.
Shelton was selected after a national search that attracted distinguished candidates from across the country. He succeeds W. Marvin Dulaney, interim CAAS director, former History Department chair, and associate professor emeritus.
"I am honored to accept this role for a number of reasons," Shelton said. "First, it provides a major opportunity to impact people's lives in a way that takes the classroom beyond the traditional boundaries and into the community. Second, it serves as a platform for conducting and sharing research that furthers our understanding of the contemporary African American experience, as well as our nation's past, present and future."
Shelton is the author of several published articles and the book, "Blacks and Whites in Christian America: How Racial Discrimination Shapes Religious Convictions (2012)," which was honored by the Southern Conference on African American Studies with the prestigious C. Calvin Smith Award. The book also earned honorable mention from the American Sociological Association's Section on the Sociology of Religion.  
The Center for African American Studies was established in August 2012 and is the only center of its kind in North Texas, and one of only three in the state. The Center builds on UTA's status as one of the most diverse universities in the nation. The Center's mission is to enlighten, inspire and empower students, faculty and community stakeholders to create progressive, collaborative solutions that drive social change within the African-American community, specifically, and the broader society generally.
Among its signature events and initiatives are its CAAS Opening Lecture, Evening of Arts and Letters, and annual CAAS Conference. Guest speakers have included noted and respected leaders, such as state Sen. Royce West, D-Dallas, New York Daily News justice writer Shaun King, and Bernice King, minister, attorney and daughter of late civil rights leader Martin Luther King Jr.
"The work of the Center for African American Studies is vitally important in terms of helping the community, state and nation better understand social and cultural perspectives in our quickly changing world," said Sen. West, a UTA alumnus. "I commend my alma mater for the work that it is doing and offer my sincerest congratulations to Dr. Shelton."
Shelton's vision for advancing the Center for African American Studies includes three major goals:
Increasing the number of students in the African American Studies minors program;
Ensuring that the Center has a meaningful impact on campus, and;
Establishing a Department of Diversity Studies.
The AAST minor is a comprehensive, interdisciplinary program that prepares students for critical thinking and discourse on race and contextual factors, social consciousness and awareness and civic engagement. Visit www.uta.edu/caas/ for more information.
About The University of Texas at Arlington
The University of Texas at Arlington is a Carnegie Research-1 "highest research activity" institution of about 55,000 students in campus-based and online degree programs and is the second-largest institution in The University of Texas System. U.S. News & World Report ranks UTA fifth in the nation for undergraduate diversity. The University is a Hispanic-Serving Institution and is ranked as the top four-year college in Texas for veterans on Military Times' 2017 Best for Vets list. Visit www.uta.edu to learn more, and find UTA rankings and recognition at www.uta.edu/uta/about/rankings.php.
For more on the Strategic Plan, see Strategic Plan 2020: Bold Solutions | Global Impact.