UTA, Botanical Research Institute of Texas partner to spur discoveries, job creation
Two of Tarrant County's leading research institutions have formed a distinctive partnership with an eye on future job creation and greater sustainability through discoveries in plant and environmental sciences.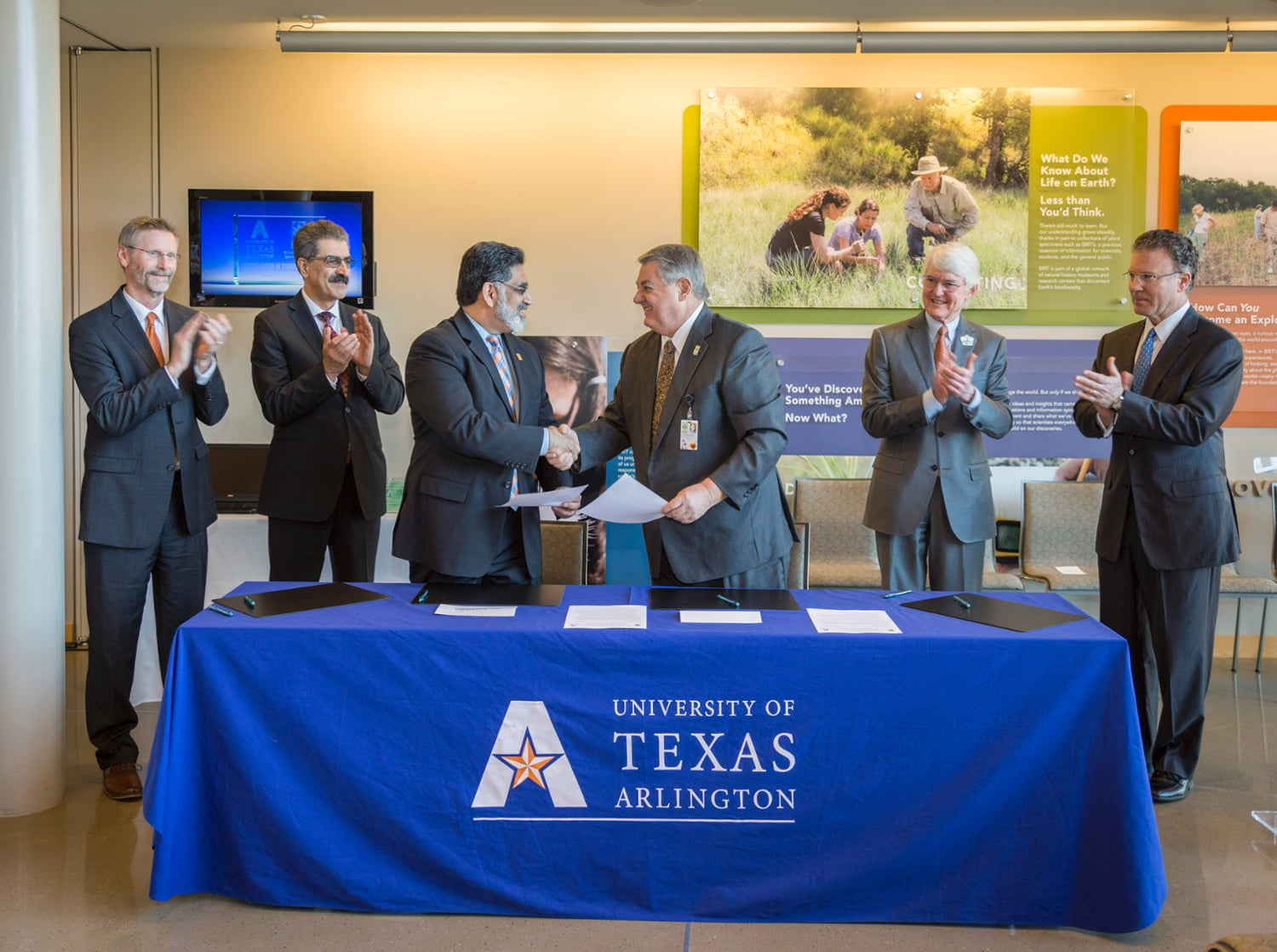 The University of Texas at Arlington and The Botanical Research Institute of Texas or BRIT announced they are collaborating to offer expanded research opportunities for graduate level studies. The research jointly conducted by UTA students, faculty and BRIT scientists could lead to higher crop yields, disease-resistant crop varieties, cheaper food, new biofuels and an improved understanding of the earth's plant biodiversity.
Advancements achieved by this enhanced research capacity will lead to job growth in the fields of environmental and plant science and sustainability.
UTA and BRIT cemented the agreement at the signing of a memorandum of understanding on Monday, Jan. 30.
"This is a significant step in furthering of collaboration between UTA and leading institutions in the metroplex," said Morteza Khaledi, dean of UTA's College of Science. "This affiliation will enable our faculty and students to access one of the United States' largest collections of plant specimens which is housed at BRIT while creating new opportunities for our renowned faculty to work with BRIT scientists to contribute to advances in emerging scientific fields."
The strategic visions of UTA and BRIT are similarly aligned. The institutions share a deep commitment to solving critical environmental challenges faced not just in the emerging megacity both call home but also on a global scale.
Building sustainable urban communities while mitigating global environmental impact are key points of UTA's Strategic Plan 2020 Bold Solutions|Global Impact. And while BRIT is dedicated to finding sustainable solutions for a changing environment, it is also working to train future plant scientists.
"Our collaboration with UTA is a perfect example of BRIT's focus on the future through the critical impact of botany on science and society. Because of this forward-thinking relationship, hundreds of biology students will now have access to one of a kind research and exceptional field staff, as well as more than a million plant specimens through our herbarium," said Ed Schneider, president and executive director of BRIT.
He added, "As BRIT approaches its 30th anniversary, we are keenly focused on how we can make plants more approachable for all people. The findings that will undoubtedly arise through our partnership with UTA will touch thousands of lives through the coming years."
UTA President Vistasp Karbhari said this agreement signifies another step in leveraging the strengths of our metroplex.
"This is what urban research institutions do," Karbhari said.  "As Tarrant County's Carnegie Classification R-1 University, we are building partnerships and designing collaborations with partners like BRIT to leverage the strength of the community. This partnership means not just new opportunities for students, but the potential for discovery that can impact Texas and beyond."
The University's College of Science's graduate programs in biological sciences, chemistry, mathematics, physics and psychology are included on U.S. News and World Report's 2017 "Best Graduate Schools" list.
About The University of Texas at Arlington
The University of Texas at Arlington is a Carnegie Research-1 "highest research activity" institution. With a projected global enrollment of close to 57,000, UTA is one of the largest institutions in the state of Texas. Guided by its Strategic Plan 2020 Bold Solutions|Global Impact, UTA fosters interdisciplinary research and education within four broad themes: health and the human condition, sustainable urban communities, global environmental impact, and data-driven discovery. UTA was recently cited by U.S. News & World Report as having the second lowest average student debt among U.S. universities. U.S. News & World Report ranks UTA fifth in the nation for undergraduate diversity. The University is a Hispanic-Serving Institution and is ranked as the top four-year college in Texas for veterans on Military Times' 2017 Best for Vets list. 
About the Botanical Research Institute of Texas
BRIT is a non-profit, international research and education center that conserves and protects plant specimens, studies living plants, and teaches about their importance to the world. The institute is located in Fort Worth, Texas, and provides a forum to convene conversations about critical environmental issues.
BRIT's scientists and educators work together in achieving the organization's two-fold mission of conservation and education. Its scientists travel the globe investigating habitats, finding rare and endangered plant species, and understanding the interactions between humans and the environment. BRIT educators create new ways to turn information into knowledge through outdoor discovery, discussion, and experiential learning for both students and teachers. 
BRIT is open to the public Tuesday through Friday from 10 a.m. to 4 p.m. and on the first Saturday of each month from 9 a.m. to noon. Admission is free. For more information, visit www.brit.org.