UTA, Grand Prairie School District partner to add hundreds of new bilingual and ESL teachers to local classrooms
The University of Texas at Arlington and the Grand Prairie Independent School District are partnering to offer high school students a streamlined path to a four-year degree in education along with a teaching certificate, which not only cuts down on the time and cost needed to obtain a college degree, but also addresses a chronic shortage of bilingual and English as a Second Language, or ESL, teachers in local classrooms.
UTA and Grand Prairie ISD today announced the formation of the Education & Leadership Preparatory Program, which is focused on recruiting and enhancing a teaching workforce that will serve the community.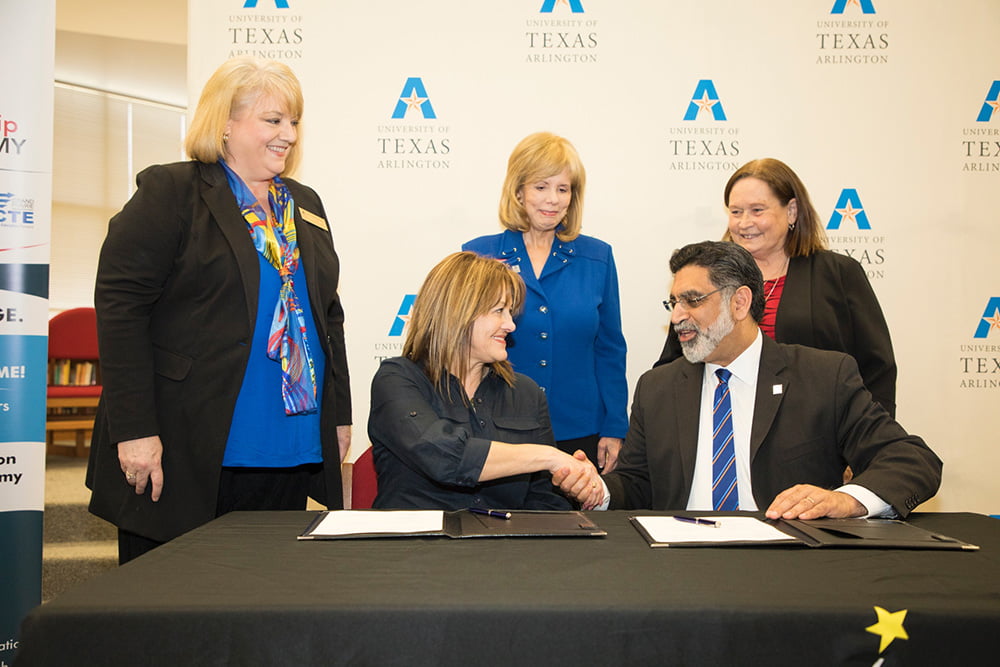 This two-year program allows high school students who meet specific requirements to take UTA courses for dual credit during their junior and senior years. The dual credit courses are from UTA's core curriculum as well as from the University's College of Education.
Once program participants complete their high school curriculum and seamlessly transition to UTA, they will continue coursework with a focus on bilingual and ESL education and have a paid teacher aide position within Grand Prairie ISD. After obtaining their college degree and receiving their teacher certification, Grand Prairie ISD will offer them a pending contract to become a full time educator.
"The best and brightest should be in our classrooms," said Teresa Doughty, Dean of UTA's College of Education. "This program is built to attract energetic and talented students to the teaching profession. They will be workforce ready when they graduate, and they will go on to make an immediate and lasting impact as highly effective teachers in Grand Prairie schools."
The Education & Leadership Preparatory Program will accept 100 students per year at the outset.
Students at Grand Prairie High School, South Grand Prairie High School, and Young Women's Leadership Academy are eligible to participate. Applicants will be judged based on essay entries and an interview process. The program will launch during the 2017-2018 school year.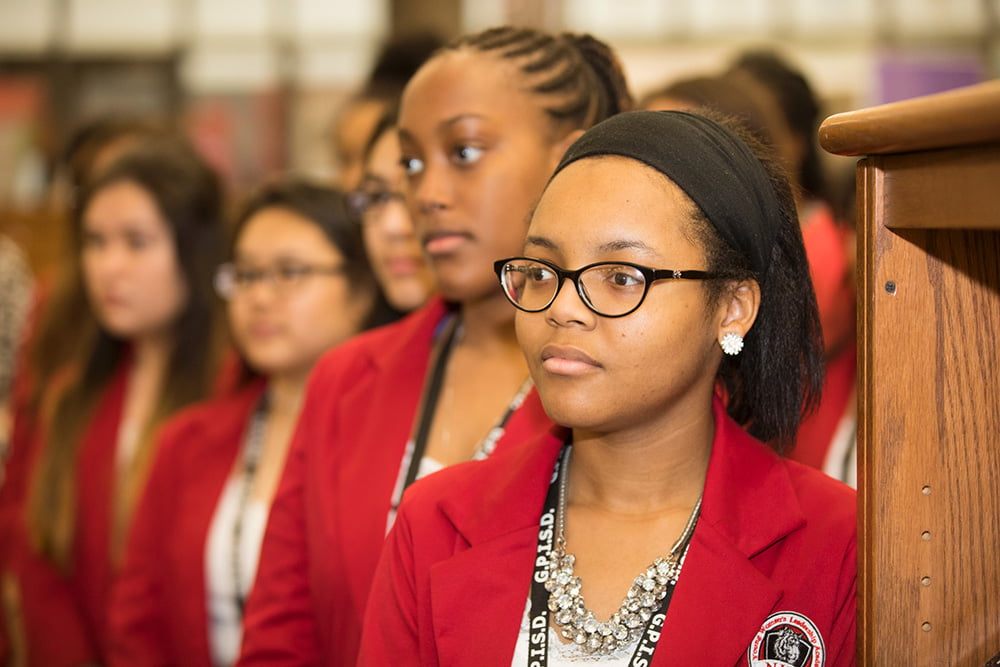 "I applaud this kind of innovative collaboration," said state Rep. Rodney Anderson, R – Grand Prairie.  "UTA and Grand Prairie ISD have found a way to create a seamless path from a high school degree to a college degree to a meaningful career in one of society's most important professions. There is a shortage of quality teachers in Texas and this is a smart way to address that critical issue." 
UTA's College of Education elementary teacher preparation program recently ranked 24th nationally, placing it in the nation's top 3 percent of programs, according to the National Center for Teacher Quality. 
According to a 2016 report from the Houston-based Center for Research, Evaluation, and Advancement of Teacher Education, attrition rates of UTA graduates are the lowest among North Texas teachers. That report found that more than 82 percent of UTA-prepared teachers remain in the classroom after five years, above the state average of 72.5 percent.
Grand Prairie ISD Superintendent of Schools Susan Simpson Hull said, "We are grateful to have a strong partner in UTA. The impact of a great teacher in the classroom is powerful. This program allows us to build leaders who will guide and mold the next generation of scholars in Grand Prairie ISD." 
UTA President Vistasp Karbhari said, "Our talented and dedicated faculty are focused on not only providing a high quality education to our students, but also ensuring that we proactively address the critical needs of our community. This program innovatively brings together the expertise of two highly ranked institutions, Grand Prairie ISD and UTA, to help meet a critical need for highly skilled teachers. I am pleased that UTA continues to forge new paths in being of service to the community."
In addition to addressing a critical workforce need and creating a seamless path, the program also has the potential to lower the cost to degree, as students will follow a prescribed sequence of classes that reduces, even eliminates, the prospect of excess or unusable course credit hours. It also presents a clear path to a job with full time benefits upon graduation. As the model 21st century urban research university, UTA is committed to providing a high quality education at an affordable cost while transforming the student experience. That is at the very core of the University's Strategic Plan 2020 Bold Solutions|Global Impact. 
About The University of Texas at Arlington
The University of Texas at Arlington is a Carnegie Research-1 "highest research activity" institution. With a projected global enrollment of close to 57,000, UTA is one of the largest institutions in the state of Texas. Guided by its Strategic Plan 2020 Bold Solutions|Global Impact, UTA fosters interdisciplinary research and education within four broad themes: health and the human condition, sustainable urban communities, global environmental impact, and data-driven discovery. UTA was recently cited by U.S. News & World Report as having the second lowest average student debt among U.S. universities. U.S. News & World Report lists UTA as having the fifth highest undergraduate diversity index among national universities. The University is a Hispanic-Serving Institution and is ranked as the top four-year college in Texas for veterans on Military Times' 2017 Best for Vets list.