Movin' Mavs win national championship
The University of Texas at Arlington Movin' Mavs wheelchair basketball team defeated the University of Wisconsin-Whitewater 76-52 to win the teams' eighth national championship title at the National Wheelchair Basketball Association Intercollegiate Championship Tournament.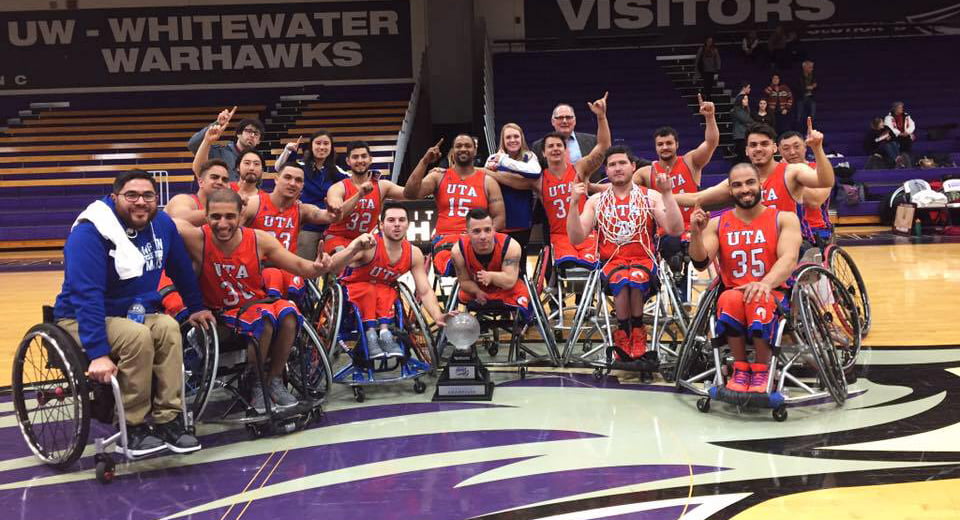 This is the team's first championship win in eleven years and the first under Head Coach Doug Garner. Garner was named head coach in 2008 after the passing of the program's founder and coach Jim Hayes.
"There are always high expectations for us to represent UTA at the national level," Garner said. "Our Championship title this year will continue to give us the motivation to demonstrate UTA's support and commitment to all of our student-athletes in the Maverick family."
Garner brings a passion to his coaching and is personally invested in each of the student-athletes. He says it's an honor to work with students who believe in the program and worked from day one to bring home the championship trophy. 
Sophomore Adryan Powell was recognized as Player of the Game after putting up 22 points and 8 rebounds.
Freshman Clarence McCarthy added 13 points and 8 rebounds along with junior Ian Pierson's double/double with 11 points and 12 assists. The Movin' Mavs scored 68-44 over Alabama in the semi-finals on Friday, and 76-34 over Auburn on Thursday.
The Lady Movin' Mavs concluded their stellar regular season, taking home second place after a 57-48 loss to the University of Alabama. The Lady Movin' Mavs team entered the season as this year's No. 1 seed after winning the 2016 championship title.
Sophomore kinesiology major Abby Dunkin said the team suffered injuries this year, but she and her teammates are already thinking ahead. "Next year, we're going to use this game as motivation and work towards hopefully having a different outcome this time next season," Dunkin promised.
Several men's and women's Movin' Mavs players were recognized with national awards during the tournament:
Academic All American
Sara Hermansen
Josie Aslakson
Emilee Hilbish
1st Team All American
Rose Hollerman
Josie Aslakson
Fabian Romo 
2nd Team All American
Mikila Salazar
Abigail Dunkin
Ricardo Lucien
All Rookie Team
Sydney Davis
Daisuke Mitsumoto
The teams will rest during spring break but plan to get right back to work with off-season training. Both teams are also focused on developing team leaders both on and off the court. 
About The University of Texas at Arlington
The University of Texas at Arlington is a Carnegie Research-1 "highest research activity" institution. With a projected global enrollment of close to 57,000, UTA is one of the largest institutions in the state of Texas. Guided by its Strategic Plan 2020 Bold Solutions|Global Impact, UTA fosters interdisciplinary research and education within four broad themes: health and the human condition, sustainable urban communities, global environmental impact, and data-driven discovery. UTA was recently cited by U.S. News & World Report as having the second lowest average student debt among U.S. universities. U.S. News & World Report lists UTA as having the fifth highest undergraduate diversity index among national universities. The University is a Hispanic-Serving Institution and is ranked as the top four-year college in Texas for veterans on Military Times' 2017 Best for Vets.
###