UTA graduate programs ranked among nation's best
Graduate programs in each of The University of Texas at Arlington's eight schools and colleges are ranked among the nation's best according to 2018 assessments by U.S. News and World Report, a recognized leader in higher education rankings.
"These rankings are a strong affirmation of UTA's growing international stature and are a testament to the outstanding work of our talented faculty, staff and students," said UTA President Vistasp Karbhari. "Through our leading-edge research, nationally-recognized faculty, and innovative programs, UTA is changing the Texas landscape, providing a more educated citizenry, and filling the workforce needs of today and the future while also leading in research and scholarship."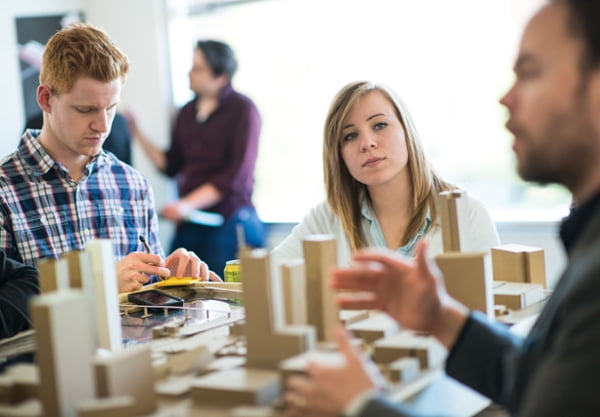 More than twenty UTA graduate programs are ranked, including seven in the College of Engineering, which is on a steep upward trajectory.  The College achieved its highest ranking ever -- 73 among 198 doctoral-granting universities.  The College now has two graduate programs ranked in the top 50 – Industrial Manufacturing/Systems Engineering at 44 and Aerospace/Aeronautical Engineering at 48.  Programs in Computer Engineering, Civil Engineering, Electrical/Electronic/Communications Engineering and Mechanical Engineering are all listed in the top 100.
Nine College of Engineering faculty members are National Academy of Inventors fellows, and two are members of the National Academy of Engineering.  Engineering-related research expenditures reached a record $45.3 million across the UTA campus in 2016.
"Rankings are a direct reflection of the hard work of our faculty and staff, the quality of our students and the investment by the University in our programs.  It is gratifying to see our ranking improve for the third year in a row, because it demonstrates that we are doing the right things and providing a top-quality education," said Peter E. Crouch, dean of the College of Engineering.
UTA's College of Education also moved up to 112 in the U.S. News graduate program rankings. Previously, the College was ranked 120 among doctoral-granting universities.
"The College of Education is having a direct impact on the lives of Texans, as our skilled graduates are teaching and leading in school districts across the state," said Teresa Doughty, dean of the College of Education.  "This ranking affirms the hard work being done by our talented faculty and staff, who are dedicated to preparing the next generation of educational professionals. I am honored to work with them."
State Rep. Rafael Anchia, D-Dallas said, "UTA is clearly among the best of the best.  For graduate programs in all eight of the University's schools and colleges to be included in the gold standard of education rankings is impressive. UTA's impact on Texas can be seen in the graduates it produces in these key high demand fields who are ready to enter the workforce and be productive citizens."
U.S. News and World Report considers evidence of excellence in faculty and students as well as reputation through surveys of peers to compile its annual rankings. 
About The University of Texas at Arlington
The University of Texas at Arlington is a Carnegie Research-1 "highest research activity" institution. With a projected global enrollment of close to 57,000, UTA is one of the largest institutions in the state of Texas. Guided by its Strategic Plan 2020 Bold Solutions|Global Impact, UTA fosters interdisciplinary research and education within four broad themes: health and the human condition, sustainable urban communities, global environmental impact, and data-driven discovery. UTA was recently cited by U.S. News & World Report as having the second lowest average student debt among U.S. universities. U.S. News & World Report lists UTA as having the fifth highest undergraduate diversity index among national universities. The University is a Hispanic-Serving Institution and is ranked as the top four-year college in Texas for veterans on Military Times' 2017 Best for Vets list.