UTA appoints a world renowned researcher and distinguished scholar as Provost and Vice President for Academic Affairs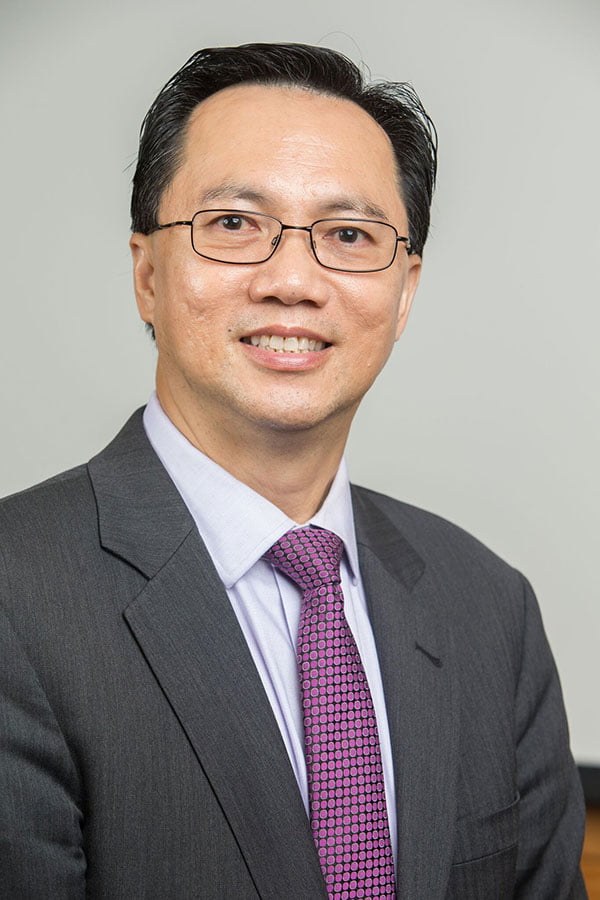 Dr. Teik C. Lim, Dean of the College of Engineering and Applied Science at the University of Cincinnati (UC), will be the next Provost and Vice President for Academic Affairs of UTA, announced today by President Vistasp Karbhari.
Dr. Lim, whose appointment takes effect June 30, 2017, is an experienced leader, accomplished scholar and innovator. Since 2012, Dr. Lim served as the 19th Dean of the College of Engineering and Applied Science at the University of Cincinnati, overseeing significant growth in enrollment, reputation, faculty size, corporate partnerships, research funding and endowments. A strong believer in collaboration, Dean Lim established a unique UC Simulation Center funded by P&G that now supports 75 research students from 5 colleges at the University of Cincinnati and was replicated at 3 other global sites, and strengthened the partnership between the College of Engineering and Applied Science, the College of Medicine and Cincinnati Children's Hospital through an interdisciplinary biomedical engineering initiative. 
Lim also enhanced the University's global engagement programs including the establishment of a signature professional dual Master's degree with international partners in Europe and Asia, and the Joint Engineering Co-op Institute in partnership with Chongqing University in China – the first such mandatory co-op program in the country for engineers. As an advocate for entrepreneurship, he not only strengthened the highly regarded UC cooperative education program, but also significantly enhanced it to focus on the innovation economy.
"The selection committee was extremely impressed with Dr. Teik C. Lim's depth of experience and established record of devising innovative ways of addressing conventional challenges in a university environment," said Duane Dimos, Vice President for Research at UTA and chair of the search committee. As dean, Dr. Lim focused on substantially enhancing student success at the undergraduate and graduate levels though programmatic and curricular advances, increased the emphasis on innovation and entrepreneurship in engineering instruction, and strengthened interdisciplinary research through the establishment of data analytics and water research clusters.
He led the expansion of the college's Emerging Ethnic Engineering (E3) program to promote minority student participation and success in STEM fields. He also directed a faculty hiring campaign that focused on diversity and multidisciplinary skills, resulting in close to 50 new teaching and research faculty over 3 years, substantially increasing the College's representation of women and underrepresented faculty.
"The Committee selected Dr. Lim from a deep pool of distinguished candidates" said search committee member Teresa Doughty, Dean of the UTA College of Education. "Dr. Lim's success in leading interdisciplinary and collaborative initiatives and his expertise in so many areas in which UTA is already excelling, particularly in championing diversity of student body and faculty, made him the ideal selection to contribute to our continued upward trajectory."
"I'm thrilled to welcome Dr. Lim to UTA and would like to thank the search committee for recruiting an exceptional scholar, researcher, and advocate of collaboration and global engagement," said President Vistasp Karbhari. "His dedication to excellence and student success along with his proactive and highly successful record in engagement with the corporate world and with the local and global community make him the ideal candidate to continue our drive to ever higher levels of excellence."
Lim will work in close partnership with the President to provide overall leadership for the campus. As Provost and Vice President of Academic Affairs he will oversee academic administration and student success programs, and direct reports will include the Deans of the academic units and other areas.
"We are most indebted to outgoing Provost Ron Elsenbaumer for his many years of excellent service to The University of Texas at Arlington," said Karbhari. "His contributions have been key to the tremendous progress we have made and will leave a lasting impression on this great university."
"UTA's aspiration to become the Model 21st Century Urban Research University, an institution on the move, and the excellent team President Karbhari has assembled are what attracted me to this position," said Dr. Lim.  "The University already has all the necessary elements to achieve its ambition – enrollment growing by leaps and bounds; a very diverse student body; and a campus situated in a thriving, dynamic and very large Dallas-Fort Worth metroplex with strong global connections. I believe my experiences position me well to collaborate with the deans and faculty effectively, and to support UTA's commitment to access and excellence."
Peter E. Landgren, Interim Senior Vice President for Academic Affairs and Provost at UC, noted that while the loss of an accomplished colleague to another institution is always sad, "It is joyous when someone of the interdisciplinary and interpersonal talents as Teik C. Lim is recognized for greater leadership potential. I know I speak for many at the University of Cincinnati in thanking Dean Lim for advancing the College of Engineering and Applied Science in multiple ways, and wishing him the best in his new role as Provost at UTA."
Dr. Lim earned his Bachelor of Science in Mechanical Engineering from Michigan Technological University, his Master of Science in Mechanical Engineering from the University of Missouri-Rolla, and his Ph.D. in Mechanical Engineering at the Ohio State University.
He worked as a Project Engineer and Senior Engineer at Structural Dynamics Research Corporation before joining The Ohio State University Center for Automotive Research as a research scientist. He taught at the University of Alabama beginning in 1998 as Associate Professor before joining the University of Cincinnati in 2002, where he advanced from Associate Professor, Professor and Department Head of Mechanical Engineering to Associate Dean for Graduate Studies and Research and, ultimately, Dean of the College of Engineering and Applied Science. He served as Chair of the Council of Deans in 2015-16.
Dr. Lim is a Fellow of ASME – the American Society of Mechanical Engineers, and of SAE – the Society of Automotive Engineers, from which he received numerous research and teaching awards such as the Arch T. Colwell Merit Award in 2003 and the Ralph R. Teetor Educational Award in 2002. He was also recognized with the Thomas French Alumni Achievement Award in 2010 and GearLab Distinguished Alumnus Award this year from his alma mater, The Ohio State University.
About The University of Texas at Arlington
The University of Texas at Arlington is a Carnegie Research-1 "highest research activity" institution. With a projected global enrollment of close to 57,000 in Academic Year 2016-17. UTA is one of the largest institutions in the state of Texas. Guided by its Strategic Plan 2020 Bold Solutions|Global Impact, UTA fosters interdisciplinary research and education within four broad themes: health and the human condition, sustainable urban communities, global environmental impact, and data-driven discovery. UTA was recently cited by U.S. News & World Report as having the second lowest average student debt among U.S. universities. U.S. News & World Report lists UTA as having the fifth highest undergraduate diversity index among national universities. The University is a Hispanic-Serving Institution and is ranked as the top four-year college in Texas for veterans on Military Times' 2017 Best for Vets list.