UTA, Arlington ISD create new pathway to baccalaureate
The University of Texas at Arlington and the Arlington Independent School District signed an agreement today that provides a seamless transition to a four-year university degree for traditionally underserved high school students currently enrolled at Arlington Collegiate High School, located on Tarrant County College's Southeast Campus. ACHS students can already earn an associate's degree from TCC Southeast which requires, in general, 60 hours of course work taken through dual credit offerings while they are in high school.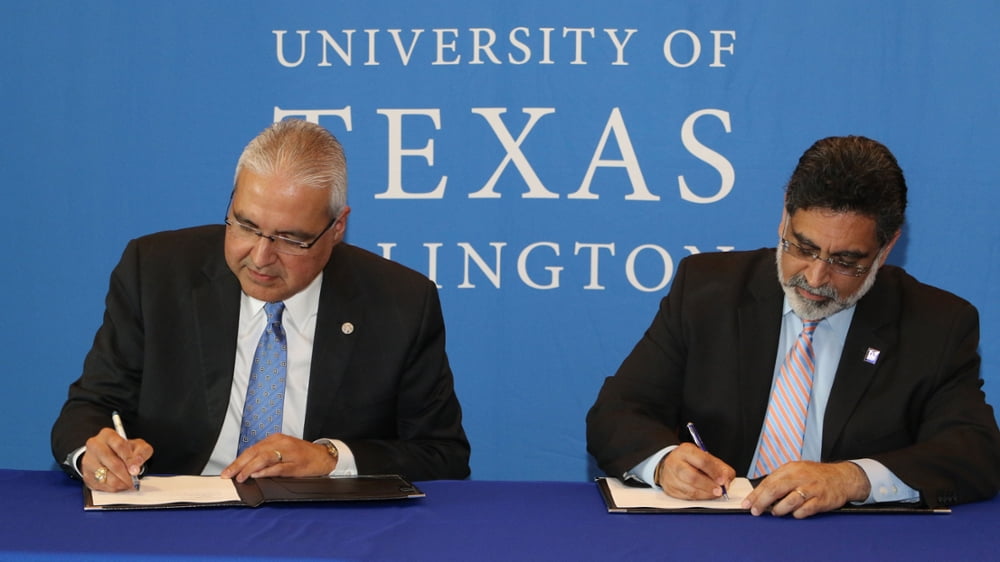 Through the newly-instituted ACHS Lion Scholars program, students who are within six hours of completing their associate's degree can also begin taking classes toward a bachelor's degree at UTA. The AISD will pay for the students' UTA tuition at dual credit rates, along with textbooks and other required fees, until they obtain their high school diplomas. Once students graduate from high school, the University will review their status to determine their eligibility for scholarships that could offer up to $10,000 in tuition assistance.
"UTA and AISD are breaking down barriers to a four-year university degree," said state Rep. Chris Turner, D-Arlington.  "We need to see more partnerships like this, where highly ranked and nationally respected public institutions find innovative ways to make college degrees at the highest level of quality more accessible and more affordable."
An initial group of students from the high school today signed commitment documents at the ceremonial event, agreeing that they will earn their associate's degree through TCC and continue to UTA to achieve a bachelor's degree through the program. UTA will provide the students with peer mentors and offer continued advising on the ACHS campus to ensure a smooth transition, and will provide each student with a specific degree plan mapping out the exact classes they need to take to complete their degrees, reducing the risk of excess credit hours which can drive up the cost of college.  Click here to watch a video of the ceremony.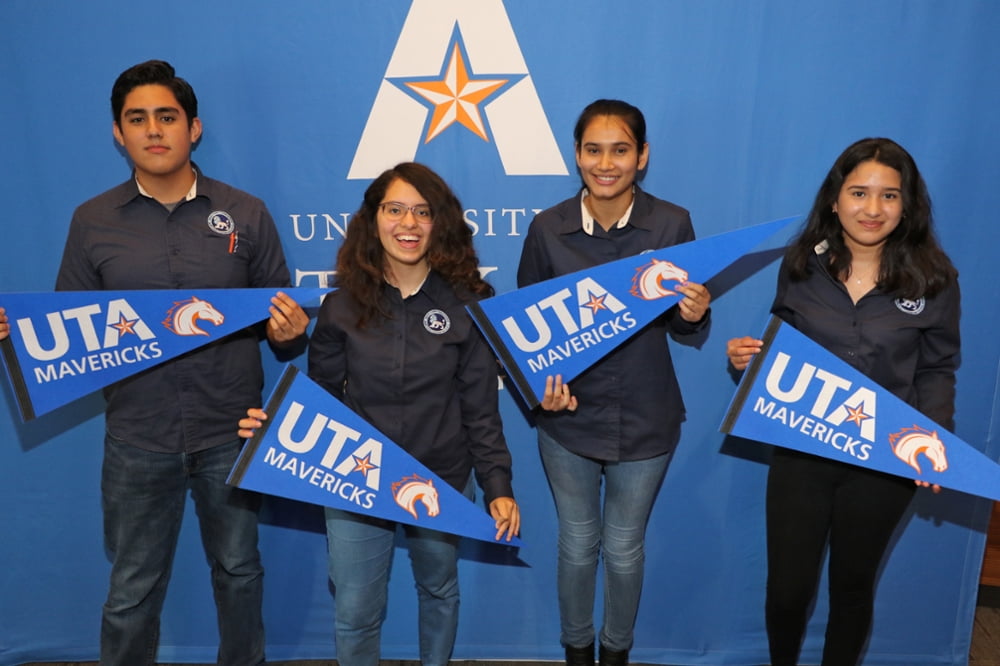 "Serving our local and global communities by providing the highest quality education at an affordable cost is at the very heart of our mission as the model 21st century urban research university," said UTA President Dr. Vistasp Karbhari. "We are proud to partner with the Arlington Independent School District to establish the ACHS Lion Scholars Program, which offers a seamless path to a four-year degree to students who may not have dreamed a college education was obtainable. This partnership will provide the Arlington and Texas economies with highly-educated graduates who will be immediately employable." 
"This partnership will ease the transition to a four-year university for Arlington Collegiate High School students," said Arlington ISD Superintendent Dr. Marcelo Cavazos.  "A degree from The University of Texas at Arlington is incredibly valuable and can change an entire family's social and economic trajectory. Helping our students acquire a bachelor's degree can impact generations of Texans to come."
The ACHS student body is diverse, with the majority coming from traditionally underserved populations.  Most are first-generation college students. 
This partnership contributes to UTA's Strategic Plan 2020 Bold Solutions|Global Impact, which lays forth a clear path to achieving unprecedented community engagement and transforming the student experience while impacting the state of Texas and the world.
Click here to listen to a report about this partnership from WBAP 820 AM.