UTA leaders and alumni among D CEO's Dallas 500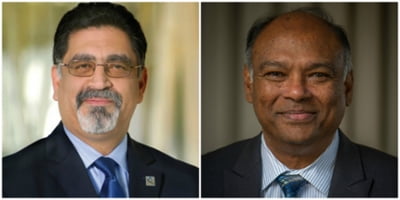 Chandra Subramaniam, the interim dean of The University of Texas at Arlington's College of Business, and UTA President Vistasp Karbhari have been named to the 2018 Dallas 500, a list of the 500 most powerful business leaders in North Texas.
Subramaniam, who has been the interim dean since June 2016, and Karbhari made the list in the Education category.
Karbhari also was on D CEO's 2017 list.
Other categories include: The C-Suite, Leading Industries, Banking & Finance, Real Estate, Professional Services, Technology, Healthcare, Arts, Sports and Leisure, Nonprofits and Government, and Living Legends.
In addition to Subramaniam and Karbhari, several UTA alumni were named to the list, including: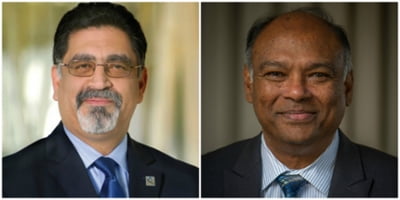 Kelcy Warren, Chairman and CEO, Energy Transfer Partners. He built the company into a multi-billion-dollar pipeline giant.
Keith Cargill, President and CEO, Texas Capital Bank. He unveiled a mobile banking vehicle in 2017 that is being used for financial education and disaster recovery.
Scott Jones, DFW President, Regions Bank. He has added dozens of banking locations in recent years.
Fred Perpall, CEO, The Beck Group. Perpall is responsible for driving firm strategy, communicating the company's vision and managing growth.
Royce West, Managing Partner, West & Associates. West has been a Texas state senator since 1993.
Lillie Biggins, President, Texas Health Harris Methodist Fort Worth. She was inducted into the Texas Women's Hall of Fame in 2014.
Robert Earley, President and CEO, JPS Health Network. JPS has been recognized as one of the best places to work in healthcare.
Allison Thompson, Director of Economic Development, City of Cedar Hill. Thompson is responsible for growing Cedar Hill, a city in southwest Dallas County.
Betsy Price, Fort Worth Mayor. Reelected to her fourth term in office in 2017, Price says she is focused on jobs, education, fighting crime and improving mobility.
Chandra Dhandapani, Chief Digital and Chief Technology Officer, CBRE. She is building a product roadmap for CBRE's 70,000 employees.
Kelvin Sellers, General Counsel and Director of Internal Audit, Interstate Batteries. Sellers started as tax counsel at Interstate Batteries and worked his way up to his current position.
Subramaniam said he is honored to be included on such a prestigious list of individuals and the recognition is rewarding.
"This is an area with so much talent," Subramaniam said. "To be included with these titans of business, industry and education is humbling. I am thankful."
David Mack, associate dean for communications and executive education in UTA's College of Business and executive director of the Goolsby Leadership Academy, said Dr. Subramaniam stepped up when the previous dean took another position.
"Dr. Subramaniam has done so much better than anyone else I can think of," Mack said. "He is a positive, forward-thinking and enthusiastic leader with an incredible work ethic. We are very lucky that he was there for us."
Before becoming interim dean, Subramaniam was chair of the College of Business' Department of Accounting.
Under his tenure, the College of Business has earned a number of distinctions, including:
UTA's Executive MBA program ranked 21st among Global MBA rankings, 16th in the United States and first in Texas among CEO magazine's North American MBA rankings.
According to Value Colleges, UTA ranked in the top 50 best value dual MBA and Health Management degrees of 2016.
The college was named an outstanding business school, according to The Princeton Review. The education services company profiles the school in the new 2017 edition of its annual book, "The Best 294 Business Schools."
The college was showcased in CEO Magazine as a top business school. The magazine's rankings use criteria such as learning environment, class size, tuition, fees, faculty, delivery methods, international diversity and gender make-up.