UTA pilot program blends interactive, hands-on interventions for new moms, babies
UTA researchers believe a combination of maternal, infant and home assessments, education, and use of an interactive, hands-on intervention taught to the mother can aid in infant development, strengthen relationships between mother and infant and subsequently reduce depression and post-traumatic stress disorder in mothers of pre-term babies.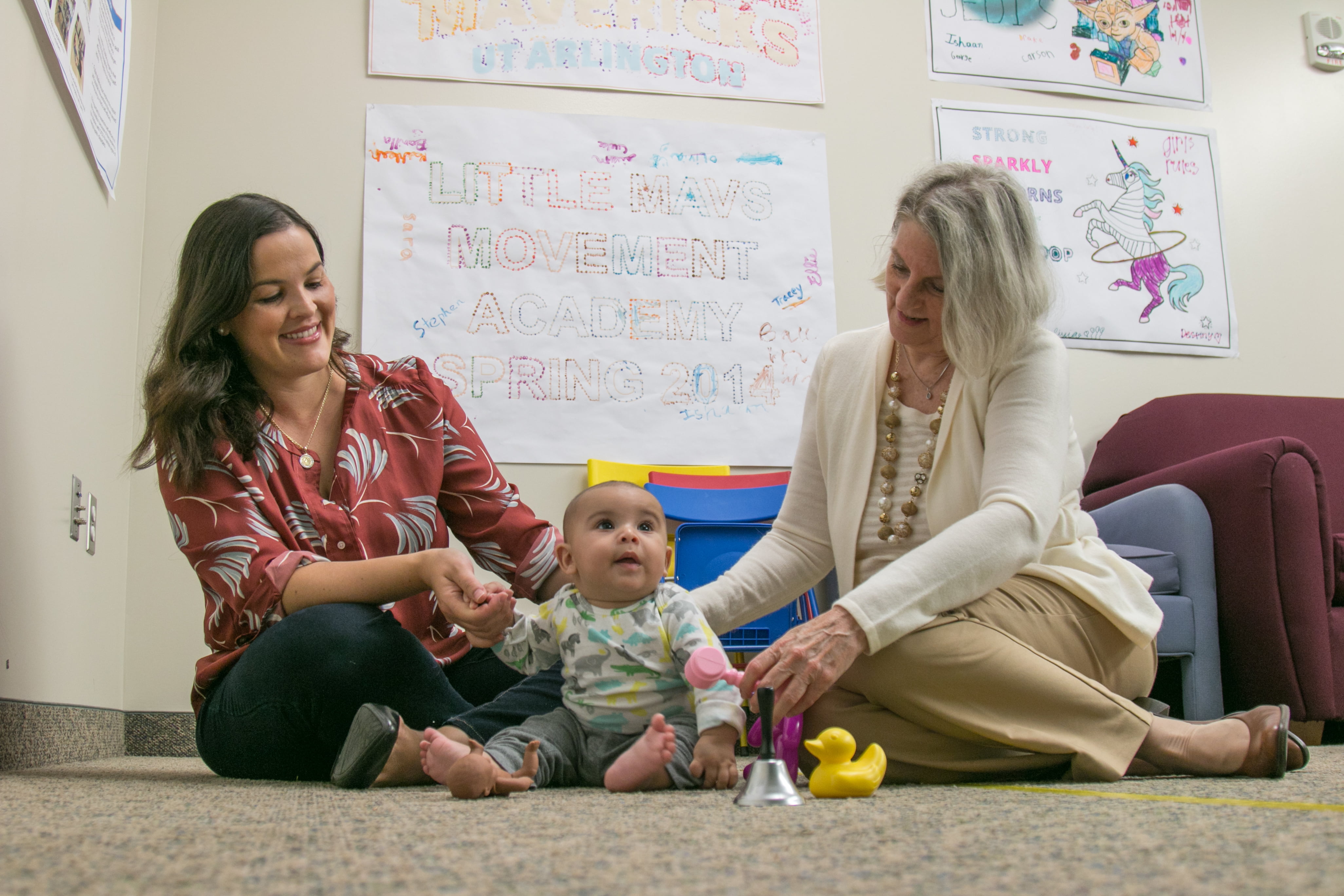 The researchers are working on a pilot intervention that will test 40 new mothers of premature infants in the neonatal intensive care unit at John Peter Smith Hospital. The interventions will continue over a 12-month period with a final assessment at 18 months following birth. Improvement of the infants' developmental skills, attachment and the mothers' mental health will be the key measurements of success. The Philip and Carolyn Evanson endowment is funding part of the pilot program.
Initially, Cheryl Anderson, an associate professor emeritus of nursing at The University of Texas at Arlington's College of Nursing and Health Innovation, and Priscila Caçola, an associate professor of kinesiology at the college, published current information in this area in an article in the American Journal of Maternal Child Nursing.
The article noted that mothers who give birth to pre-term babies are vulnerable to mental health issues, such as PTSD, which may affect the attachment between the mother and the baby, and subsequently delay the infant's development. They added that an interactive, hands-on intervention plus education and regular assessments by health care professionals during frequent follow-up home visits may go a long way in helping those mothers overcome PTSD.
Anderson is an expert on birth trauma in mothers and Caçola is an expert on infant motor development. The two reviewed journal articles on infant development, PTSD, attachment and maternal mental health issues. They found no instance in which one intervention focused on all of these areas had been tested to aid both mother and infant.
"The need for health care professionals to assess and intervene prenatally and at postpartum is critically important because of the potential impact of poor mental health on infant development," Anderson said.  "Although depression has received much attention from health care scholars as a risk factor for pre-term birth, impaired attachment and delayed infant development, some of the effects of PTSD have only recently gained research attention."
Anderson added that a few hospitals are starting to look for symptoms of depression in new mothers but not for symptoms that could indicate or lead to PTSD because symptoms suggesting PTSD are often missed or misdiagnosed. Numerous published studies have focused on PTSD among adult childbearing women, but only a few studies describe research testing interventions, and these often focus only on either educational or counseling interventions alone to reduce symptoms of birth trauma and PTSD, Anderson said.
"Our intervention is novel because it is directed toward the infant but is anticipated to have latent effects on maternal-infant attachment and thus, the mental health of the mother," Anderson said.
Caçola added, "We anticipate that the intervention can improve the mothers' mental health and improve the infants' developmental skills."
"Anything that interrupts the emotional bond between parent and infant, such as an extended NICU stay, can have a negative impact on both," said Raquel Armstrong, RN, NICU manager at JPS Health Network. "We are eager to find ways to lessen the long-term impact traumatic stress can have on the baby's development and the mother's mental wellbeing."
Paul Fadel, associate dean for research at the College of Nursing and Health Innovation, called the study an excellent example of the kind of scholarly research that finds practical solutions to critical health care issues.
"When children are denied a good start in life due to developmental delays or other factors brought about by their environment, it could have lifelong repercussions for them, for their families and for all of us," he said, noting that improving health and the human condition is one of the four guiding themes of UTA's Strategic Plan 2020: Bold Solutions | Global Impact.
--  Written by Lekan Oguntoyinbo