UTA hosts its first international symposium on TBIs
The University of Texas at Arlington is taking the lead on addressing traumatic brain injuries.
At UTA's first International Symposium on Traumatic Brain Injury Mechanisms and Protections this month, leading researchers and experts from around the world came to Arlington to identify knowledge gaps in TBI research and exchange ideas to accelerate research progress.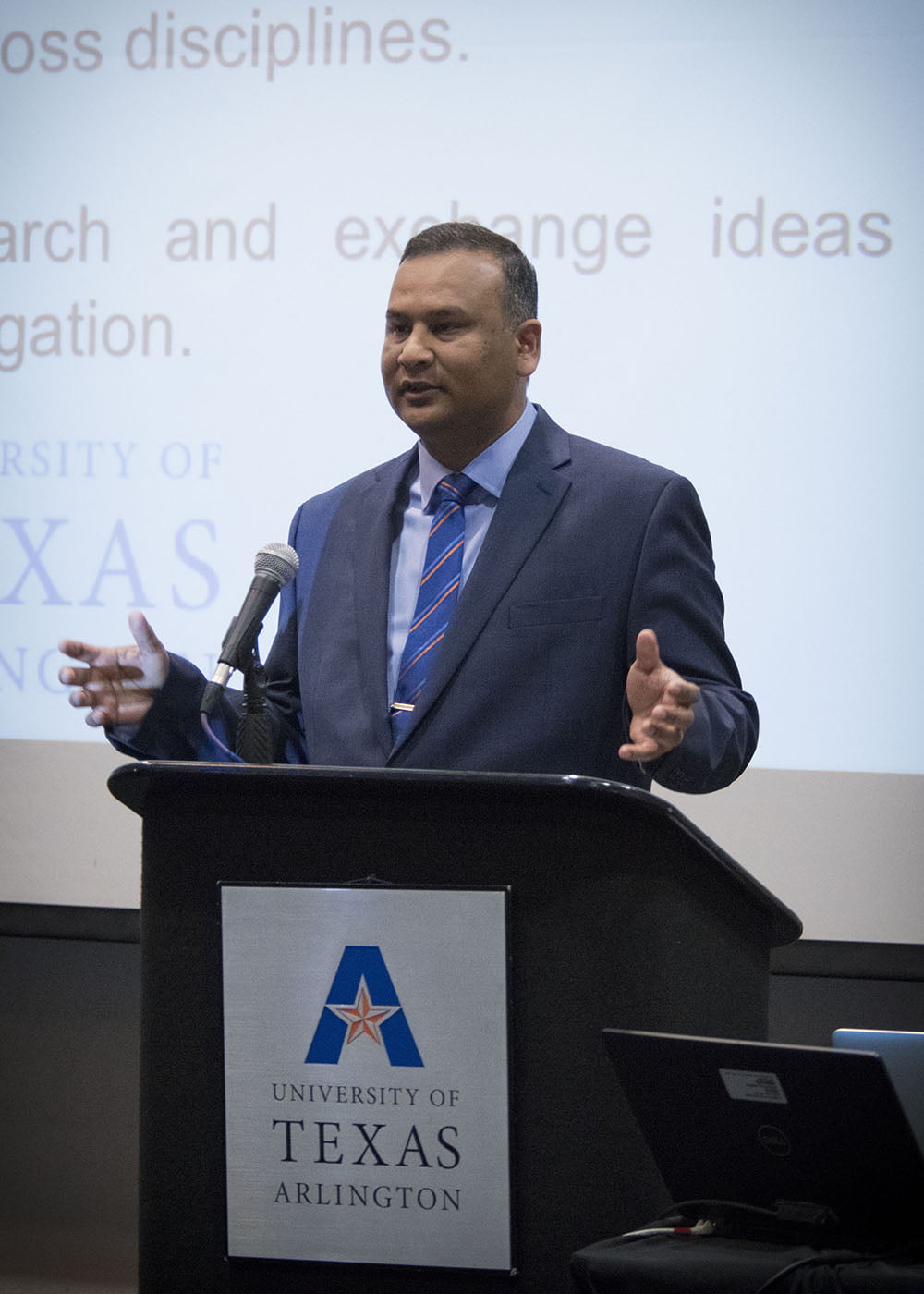 "We want to bring together leading experts to share ongoing, state-of-the-art research on TBI mechanism and protection, which will hopefully help us foster greater interdisciplinary collaboration," said Ashfaq Adnan, chair of the symposium and associate professor in the UTA Department of Mechanical and Aerospace Engineering. "TBI is a major topic of discussion for our military and within athletics, so we need to promote research interactions between those communities.
"The more we understand the areas in which we are lacking, the more effective we can be in addressing TBIs."
The Centers for Disease Control and Prevention defines TBI as a disruption in the normal function of the brain that can be caused by a bump, blow or jolt to the head, or a penetrating head injury. TBIs result in death or disability for thousands of people in the U.S. each year.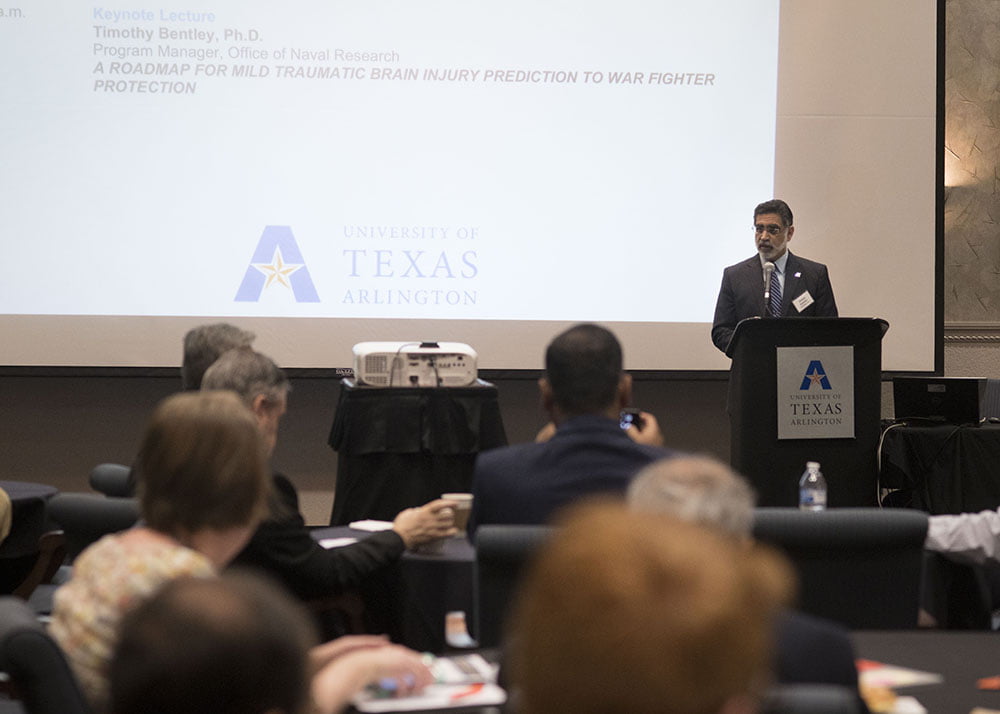 UTA President Vistasp Karbhari emphasized the significance of the symposium's topic to the University's strategic pillar of Health and the Human Condition and its commitment to serving student veterans.
"TBIs are often described as the signature injury of our wars in Afghanistan and Iraq," Karbhari said. "We owe a great debt of gratitude to our veterans and military-serving families. The effects of TBIs can be debilitating, hence research that may result in better recovery is of paramount importance."
Karbhari highlighted the collaborative, multidisciplinary research taking place across the UTA campus in the College of Engineering, the College of Science, the School of Social Work and the College of Nursing and Health Innovation. Over the past five years, the University has been awarded more than $8.4 million in brain-related research, approximately half of which is specifically focused on TBI.
"Our faculty are using the latest experimental, computational and mechanistic tools to develop both a better understanding of the basic phenomenon and the means of mitigating the dangerous effects of brain injuries," Karbhari said. "We can only make true progress by sharing our research. Synergy allows us to work more efficiently."
Karbhari told attendees, "Yours is a labor of hope, and I have faith that it will result in success and make a transformational impact on so very many hurt by TBIs."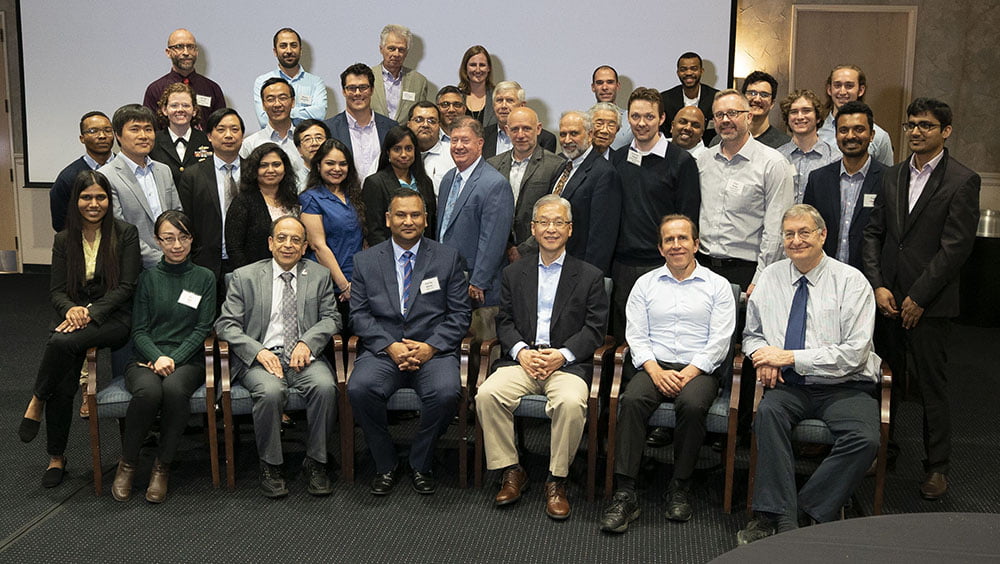 Timothy Bentley, program manager at the Office of Naval Research (ONR) delivered the first keynote address. Bentley emphasized the necessity of understanding the biomechanical cause of mild traumatic brain injuries to better protect military members. He also noted UTA's status as a Hispanic-Serving Institution and said the ONR places a priority on involving and supporting students from diverse and underrepresented backgrounds in research.
"If we can make predictions about how and when these injuries will occur, we can better equip our teams in the field with technologies necessary to quickly identify and treat MTBIs," Bentley said.
Albert King, a National Academy of Engineering member from Wayne State University, delivered the second keynote. He identified deficiencies in current brain injury models and shared recommendations for where research in the area of TBI needs to go.
Michelle Schwalbe from the National Academies of Sciences, Engineering and Medicine closed out the slate of high-profile speakers, giving attendees perspective on how they can translate their research into meaningful policies.
"Discussions about research need to lead to policy in order to make an impact," Schwalbe said. "We have to ensure our research is accessible and understandable for a growing community to enact change."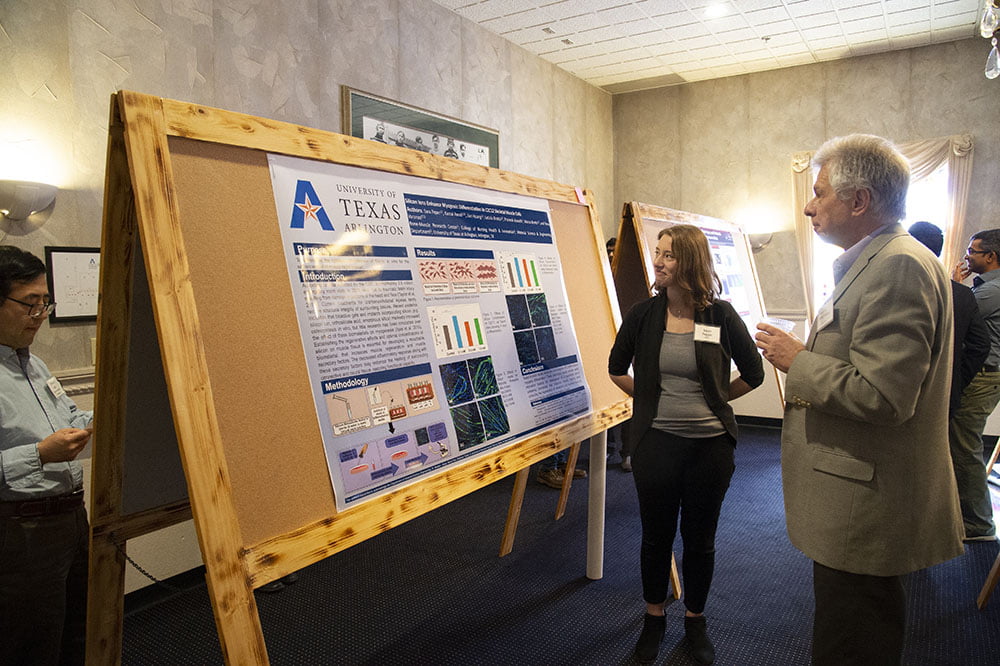 The symposium concluded with research poster presentations by 16 different groups. During an awards ceremony and dinner, teams from UTA took the top three spots in the contest judged by four non-UTA affiliated experts.
In remarks at the awards ceremony, College of Engineering Dean Peter Crouch said he was impressed by the breadth and depth of topics addressed by the symposium.
"Discussions today achieved a broad scope of information, from the very theoretical to molecular-level studies to practical policy information," Crouch said. "I am particularly proud of the College of Engineering's participation in this area and our multiple, ongoing ONR-funded research projects in this emerging field."