UTA celebrates Juneteenth in Brazos Park
'It's amazing to see this much love,' student says, as UTA celebrates Juneteenth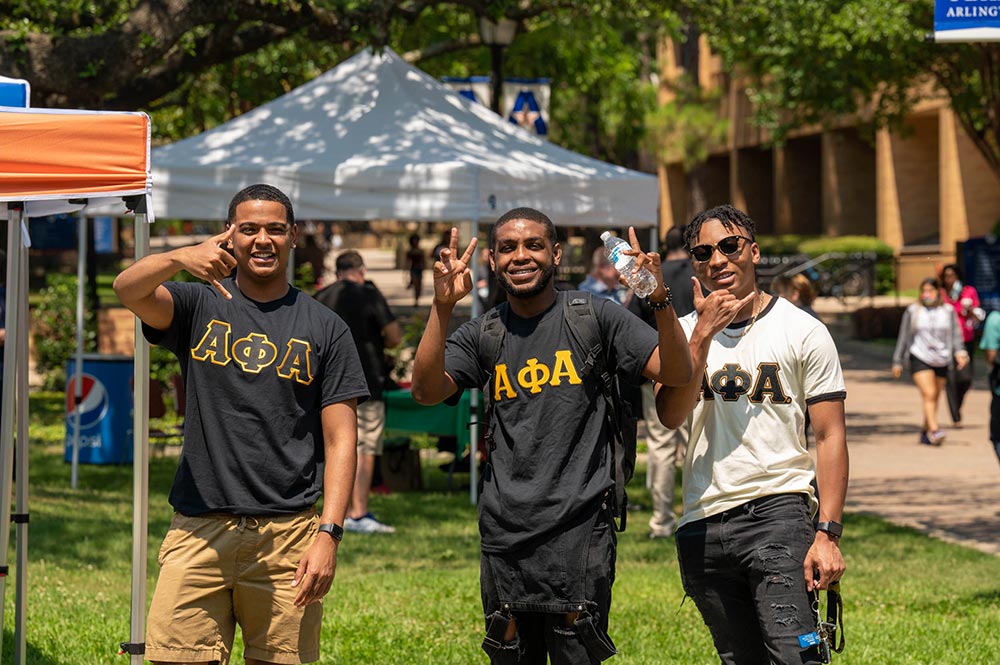 The University of Texas at Arlington celebrated Juneteenth at Brazos Park with a vibrant trifecta of education, entertainment and food.
The festival included an educational discussion led by Pamela Safisha Hill, adjunct professor of social work and faculty affiliate with the Center for African American Studies, as well as a catered lunch and a program of musicians and dancers.
Dyshonne Harris, who graduated from UT Arlington last month with a degree in communication, sang "Lift Every Voice and Sing," often referred to as the Black National Anthem, to kick off the celebration.
"It meant a lot to me to sing at this event today," Harris said. "It's amazing that we're able to celebrate Juneteenth in this fashion and it's amazing to see this much love with the UTA community coming out to celebrate Juneteenth."
Melanie Sheppard, director of UTA's Office of Multicultural Affairs, said Juneteenth has always been an important celebration for her family and community.
"Juneteenth was a very important holiday for me growing up," she said. "It meant being proud of being Black and being proud to be an American. This day allowed people who looked like me to be American and to be free."
Juneteenth commemorates the ending of slavery in the United States. It recognizes the historic day of June 19, 1865, when Union soldiers led by Major General Gordon Granger landed at Galveston, Texas, with the news that slavery had ended. This news arrived more than two years after the signing of the Emancipation Proclamation by President Abraham Lincoln. As the Civil War ended in 1865, many Black people were still enslaved.
"We hope this festival not only educates those who are not familiar with Juneteenth, but also helps those who have always celebrated feel supported by their colleagues and peers in doing so," Sheppard said. "This is a holiday that everyone in the United States should celebrate."
The celebration at UTA came on the same day that President Joe Biden signed legislation to make Juneteenth a federal holiday. The law goes into effect immediately, making Friday, June 18, the first federal Juneteenth holiday, as June 19 falls on a Saturday this year.
Members of the UT Arlington chapter of Alpha Phi Alpha Fraternity Inc., including both current students and recent graduates, took part in the festivities at Brazos Park. The student organization is known as the first Black intercollegiate fraternity in the United States.
"One of my main reasons for joining Alpha Phi Alpha Fraternity Inc. was for the brotherhood," said Kahari Gray, a senior studying political science. "Today is a great way to celebrate my connection to my brotherhood here at UTA and our connection to the past. It means a lot to see the whole campus involved out here. It makes the University more personable, and it makes me feel at home again celebrating Juneteenth like this."
Bryan Samuel, appointed this spring as UT Arlington's first vice president of diversity, equity and inclusion, shared his excitement to meet students, faculty and staff in person after working remotely due to the pandemic.
"I consider this event just the first of many that will show everything we are capable of as we are getting back to some sliver of normalcy," Samuel said. "I'm proud to stand with the community to do our part to be a fair, equitable and just University community for all."