A culture of innovation
UTA faculty relaunch campus chapter of the National Academy of Inventors
The University of Texas at Arlington will relaunch its chapter of the National Academy of Inventors (NAI) at a meet-and-greet event for UTA patent holders on Oct. 22 from 4 p.m. to 6 p.m.
Pranesh Aswath, UTA interim provost and vice president for academic affairs, said the new chapter will provide resources for faculty and student innovators to translate their creative ideas into powerful real-world solutions.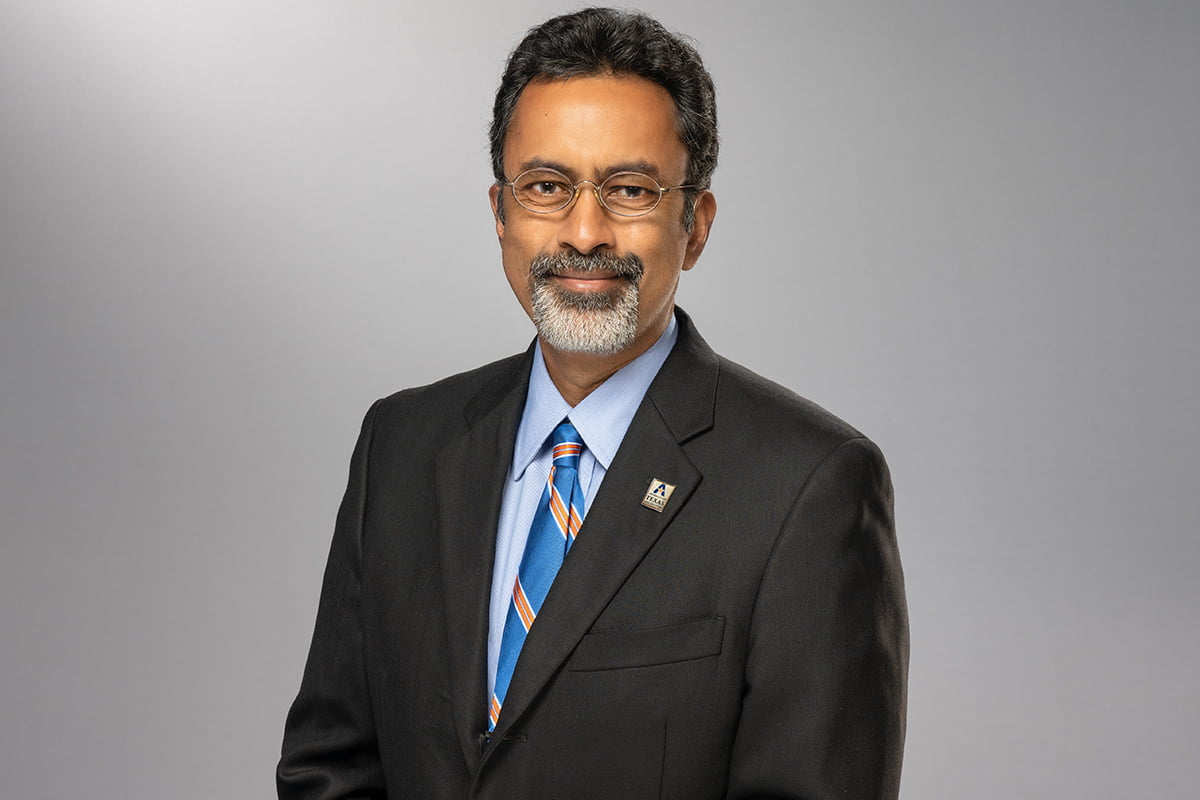 "Through the new chapter, UTA's creative faculty and students will gain access to top-notch training and mentorship provided by the academy's international community of inventors and entrepreneurs," said Aswath, who is the UTA chapter president and a senior member of the NAI. "Members of UTA's innovative community will be able to seek expert guidance as they pioneer companies, design new technologies and innovate novel solutions to meet real-world needs."
The National Academy of Inventors, founded in 2010, has more than 4,000 members from U.S. and international universities and government and nonprofit research institutes. The organization recognizes and encourages inventors, enhances the visibility of academic technology and innovation and educates innovative students.
The chapter's kickoff event will be held at the University Club in the University Administration Building on UTA's campus. The meet-and-greet will feature remarks by University leadership, including Aswath, Interim President Teik C. Lim and Interim Vice President for Research James Grover.
As a benefit of chapter membership, UTA students will be able to register for the Global Academic Inventors Network, a platform that connects seasoned academic inventors with collegiate innovators for the purpose of mentorship.
The NAI also offers a free intellectual property course to member-institutions and their constituents. The course, developed by the Michelson Institute for Intellectual Property, teaches critical knowledge about America's intellectual property protection system and how it can work for emerging inventors.
Members of the UTA community will be able to register to attend the NAI's 10th anniversary annual meeting in Tampa, Florida, from Nov. 1 to 3, where 10 UTA faculty will be inducted to the academy during public ceremonies.
UTA boasts nine NAI senior members and 18 fellows, the most of all institutions in Texas. The NAI fellows program highlights academic inventors who have demonstrated a spirit of innovation in creating or facilitating outstanding inventions that have made a tangible impact on quality of life, economic development and the welfare of society. NAI fellowship is the highest professional distinction accorded solely to academic inventors.
In 2020, UTA innovators and inventors were granted 23 patents, contributing to the University of Texas System's overall No. 4 ranking in the list of Top 100 Worldwide Universities Granted U.S. Utility Patents for that year.
As he prepares for the launch, Aswath expects that the new chapter's activities will enhance UTA's culture of innovation.
"The chapter will strongly support UTA's inventors and entrepreneurs as they introduce groundbreaking technologies and new ideas into the marketplace," Aswath said. "Every Maverick innovation will benefit from the NAI's presence on campus."