CONHI receives $50,000 gift for new building
United Service Association for Health Care Foundation's gift will support audiovisual suite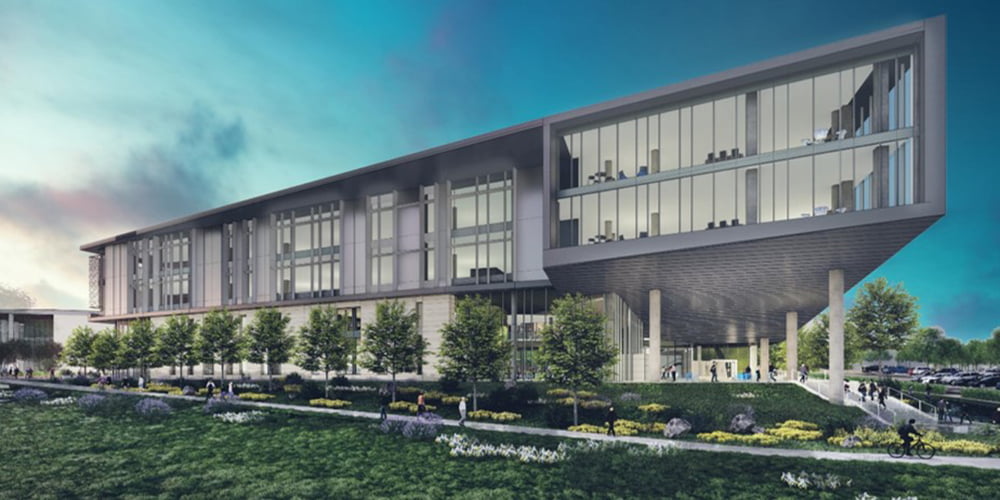 Nursing students at The University of Texas at Arlington will gain access to the latest advancements in video and audio technology thanks to a $50,000 gift from the United Service Association for Health Care (USA+) Foundation.
In recognition of the USA+ Foundation's philanthropic investment, UTA's College of Nursing and Health Innovation (CONHI) will name its audiovisual suite in the new School of Social Work/College of Nursing and Health Innovation Smart Hospital Building as the Paul and Dody Wood AV Production Room.
"A critical link in providing high-quality educational nursing simulation today is experiential learning and multimedia that enhances skills and outcomes," CONHI Dean Elizabeth Merwin said. "We are deeply grateful for this generous donation that will further our ability to provide first-rate instruction to our students in today's dynamic health care environment—no matter where they are, whether in person or virtually."
Located on the building's second floor, the AV suite will be a state-of-the-art hub for professional multimedia production services. CONHI will use the room to produce, edit and package engaging educational video and audio content from its faculty that strengthens the student learning experience.
Construction on the School of Social Work/Smart Hospital Building began in February 2021 and is expected to finish by November 2022. Featuring a mix of flexible, technology-enriched learning spaces, the facility will complete UTA's health sciences quad, designed to foster collaboration and shape the future of heath care and social work.
The namesakes of the new suite, Paul and Dody Wood, are notable advocates for accessible health care in the Dallas-Fort Worth Metroplex. Dody Wood founded USA+ and served as chair of the board until her death in April 2021. She was recognized as Woman of the Year by the Women's Business Support Network in 2003 and received a Healthcare Hero Award from the Fort Worth Business Press in 2004. Her husband, Paul Wood, continues to serve on the USA+ Foundation board.
"We are proud of our nearly 20-year partnership with UT Arlington in providing scholarship support for CONHI students," said Mary Cranon, director of the USA+ Foundation. "This naming gift not only will create a legacy at UTA for Paul and Dody Wood but will continue to expand the pipeline of highly qualified graduates entering the health care field."
USA+ is a nonprofit membership association founded to benefit the lives of individuals and families by promoting equal access to health care. The organization previously established the United Service Association for Health Care Graduate Fellowship Endowment in 2014 and the United Service Association for Health Care Scholarship in 2002, both supporting CONHI.
- Written by Mark Permenter, University Advancement