UTA 'will be a force for positive impact across Texas'
Cowley officially inaugurated as UTA's 10th president at formal ceremony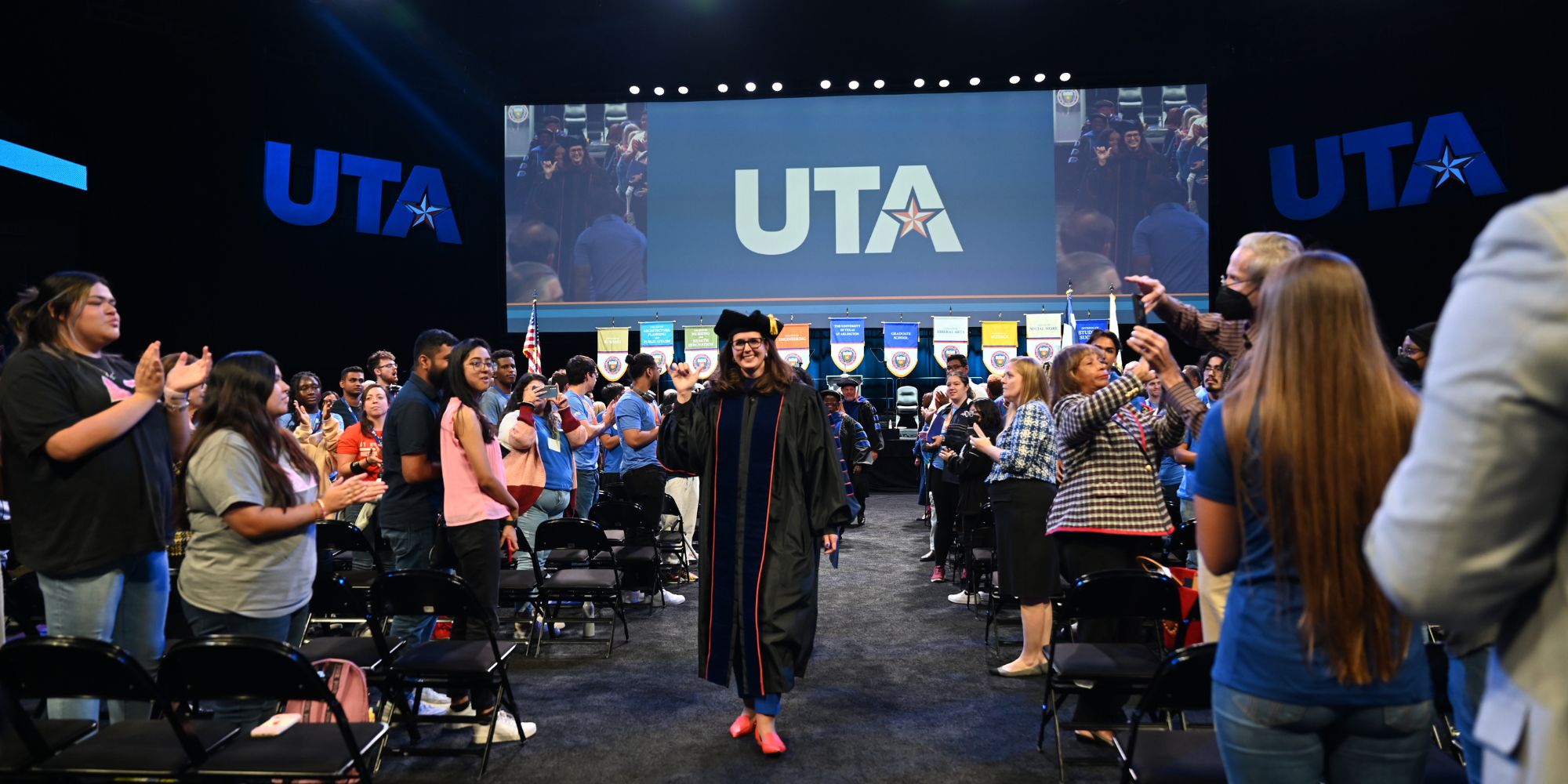 Jennifer Cowley, president of The University of Texas at Arlington, was conferred the official authority and symbols of the UTA presidency at a formal investiture ceremony on Sept. 30, where she told the Maverick community that now is the time to dream big.
In a spirited address to students, alumni, faculty, community leaders and representatives of the University of Texas System, Cowley asked each member of the crowd to lend their talent and expertise to make UTA one of the nation's most inclusive and impactful research universities.
"We are all here because we each harbor big dreams for this university," she said. "These dreams bind us together, united in the belief that by being a top research university that's inclusive to all, UT Arlington can transform not just the lives of Texans, but Texas itself."
Celebrating a major advancement toward that goal, Cowley shared the breaking news of UTA's new Seal of Excelencia certification, a prestigious honor granted to colleges and universities for their commitment to accelerating Latino student success. The certification comes from Excelencia in Education, a national authority on promoting Latino student success in higher education.
"We have representatives from UTA in Washington, D.C., as we speak accepting this national recognition as a university that has been able to demonstrate the measurable impact we are having in changing the face of higher education and creating an environment where Latino and Latina students thrive," she said. "This is a huge honor for the University, and I congratulate everyone who made this possible."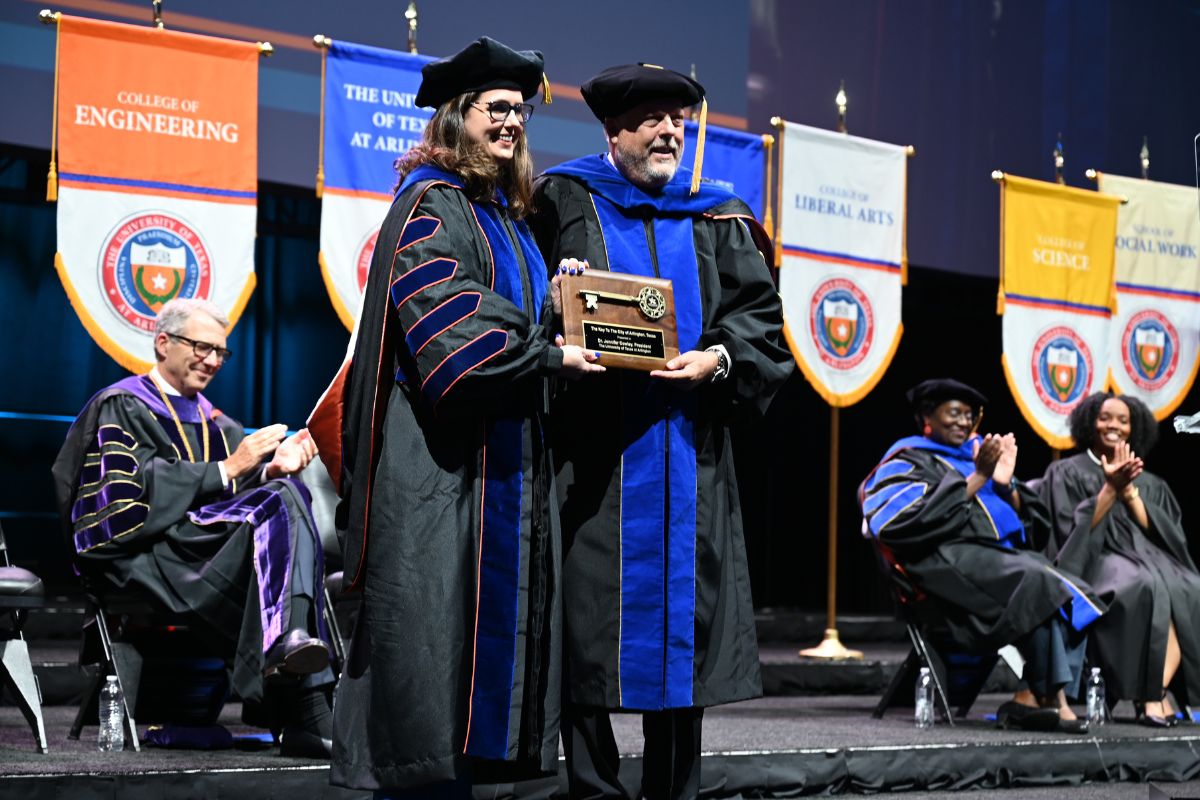 Jim Ross, mayor of the city of Arlington, commended Cowley for her visionary leadership in the first few months of her appointment. Acknowledging the strength of the partnership between the city of Arlington and the University, Ross presented Cowley with a key to the city.
"She has hit the ground running, ready and able to lead The University of Texas at Arlington to the next level," he said.
Since joining UTA earlier this year, Cowley has charted a course for the University's future through the establishment of five strategic themes:
People and Culture
Student Success
Research and Innovation
Alumni and Community Engagement
Finance and Infrastructure
Under Cowley's leadership, UTA is positioned to combine research excellence with student access and affordability, offering a world-class education to students from Texas and beyond. In 2021, UTA, a Texas Tier One and Carnegie R-1 research institution, ranked No. 68 in the nation for innovation, according to U.S. News and World Report. A few months after Cowley joined the University, UTA co-founded the Alliance of Hispanic Serving Research Universities, an organization committed to increasing opportunities for students historically underserved by higher education. This year also saw the launch of Blaze Forward, a program that covers 100% of tuition and mandatory fees for UTA undergraduate students who meet all eligibility requirements and are from families with adjusted gross incomes up to $85,000.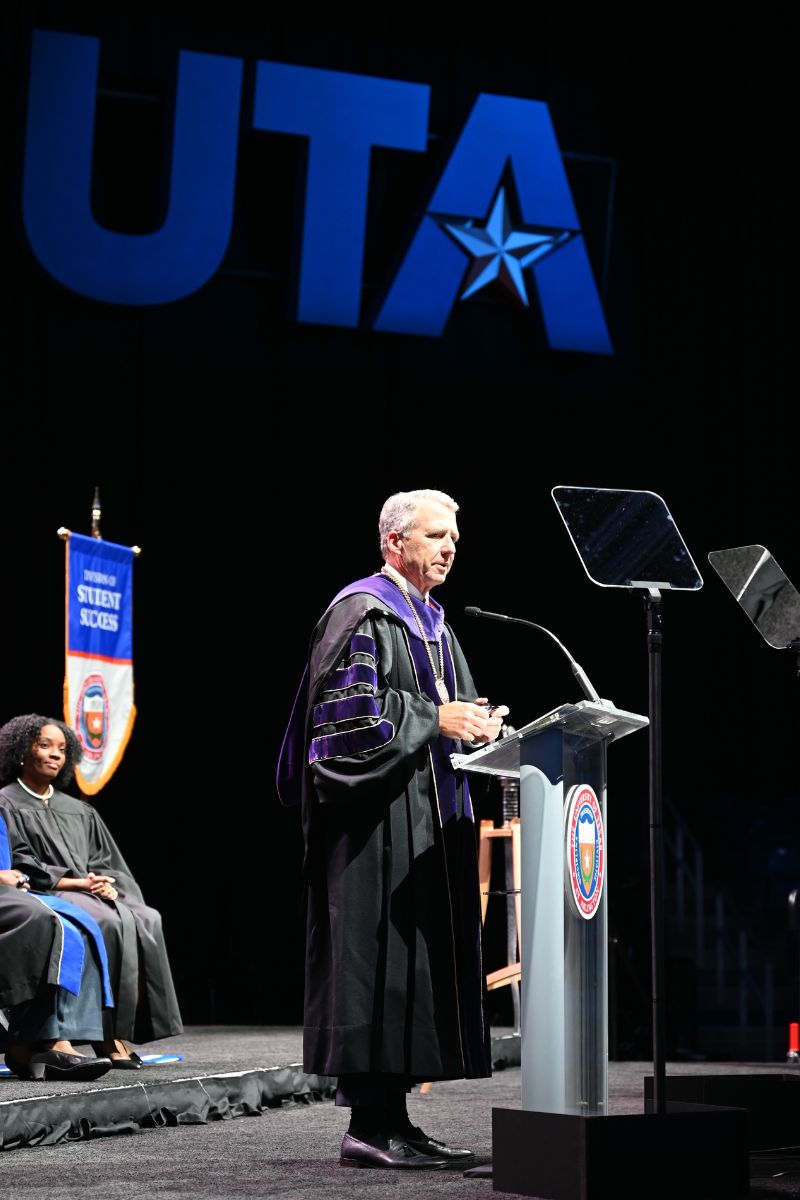 James B. Milliken, chancellor of the University of Texas System, praised Cowley for her resolution in the early stages of her tenure as president.
"In just a few short months on campus, we've also witnessed Jennifer's tireless energy and passion while immersing herself in this University's community," Milliken said. "When it comes to leadership, Dr. Cowley knows how to translate ideas into reality; how to transform vision into action."
In the final moments of her speech, Cowley highlighted the work of many faculty, students and community members who are advancing UTA's goals of inclusion and impact. As she encouraged audience members to dream, Cowley emphasized that planning and hard work are essential to transforming their dreams into reality.
"I dream that UTA will grow and change right alongside our region—in partnership. I dream that others see us—and that we see ourselves—as true partners in supporting our region's economy, culture and society," Cowley said. "And that by doing so, we will come to be seen as one of most impactful and inclusive research universities in this country. Working together, we will be a force for positive impact across Texas."