Mavericks named fellows of National Academy of Inventors
UTA engineer, physicist elected to newest class of NAI fellows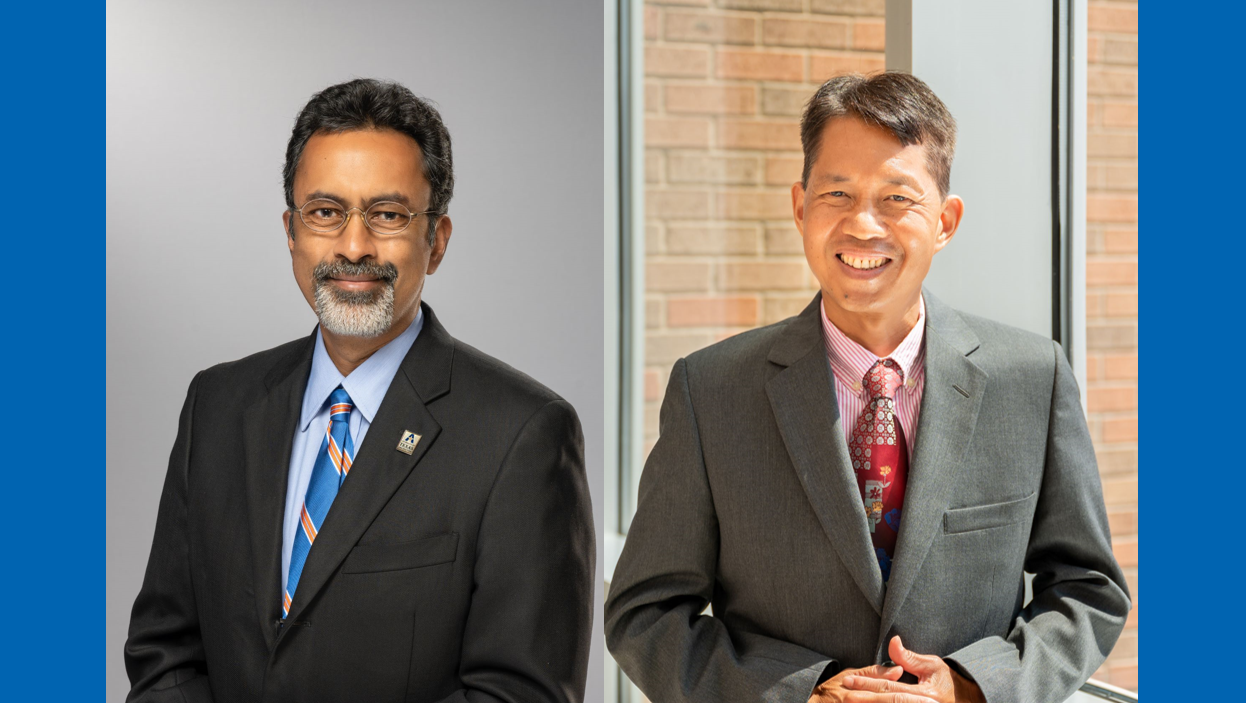 The National Academy of Inventors (NAI) has elected two professors from The University of Texas at Arlington as fellows: Pranesh Aswath, senior vice provost for academic planning and policy and professor of materials science and engineering, and Wei Chen, professor of physics.
"UTA has an extraordinary innovation ecosystem," said Kate Miller, UTA vice president for research and innovation. "Every day, UTA mavericks like Drs. Aswath and Chen dedicate their time and ingenuity to solving some of today's most pressing global challenges. Their fellowship appointments are well deserved."
The NAI fellows program highlights academic inventors who have demonstrated a spirit of innovation in creating or facilitating outstanding inventions that have made a tangible impact on quality of life, economic development and the welfare of society. NAI fellowship is the highest professional distinction accorded solely to academic inventors.
Aswath has more than 25 years of experience in the area of processing of advanced materials, including monolithic and composite materials, tribology and lubrication, deformation, fatigue and fracture of specialty engineering materials and biological active materials. His work in the area of materials synthesis involves the design of new materials using fundamental concepts in chemistry, thermodynamics and material science. He has published over 150 peer reviewed journal papers and holds more than 20 issued patents.
Chen has been engaged in cutting-edge nanotechnology research for many years and is an internationally renowned expert in nanomedicine and cancer nanotechnology. He is well known for inventions in cancer nano-targeted therapy and deep cancer photodynamic therapy. Chen's advances in luminescent nanomaterials for improved photosynthesis spurred the development of SolGro, a startup company led by UTA alumni. He has published more than 320 papers, and his studies have been cited more than 14,000 times. He holds more than 20 U.S. patents, some of which have been licensed for commercialization and product development.
Reflecting a culture of innovation, UTA's research expenditures totaled $117 million in 2021, placing it among the nation's top 150 institutions of higher education. In the same year, UTA inventors received 17 patents, contributing to the University of Texas System's overall ranking of No. 3 in the list of Top 100 Worldwide Universities Granted U.S. Utility Patents in 2021.
The 2022 class of fellows hails from 110 research universities and governmental and nonprofit research institutes worldwide. They collectively hold over 5,000 issued U.S. patents. Among the new class of fellows are members of the National Academies of Sciences, Engineering, and Medicine; fellows of AAAS and other prestigious organizations; Nobel Laureates; and other honors and distinctions, as well as senior leadership from universities and research institutions. Their body of research and entrepreneurship covers a broad range of scientific disciplines involved with technology transfer of their inventions for the benefit of society.
"This year's class of NAI fellows represents a truly outstanding caliber of innovators. Each of these individuals have made significant impact through their work and are highly regarded in their respective fields," said Dr. Paul R. Sanberg, FNAI, president of the NAI. "The breadth and scope of their inventions are truly staggering. I am excited to see their creativity continue to define a new era of science and technology in the global innovation ecosystem."
The NAI was founded in 2010 to recognize and encourage inventors with patents issued from the U.S. Patent and Trademark Office, enhance the visibility of academic technology and innovation, encourage the disclosure of intellectual property, educate and mentor innovative students and translate the inventions of its members to benefit society.