Vistra supports UTA first-gen students with $25K for scholarships
Funds will help junior and senior students complete their degrees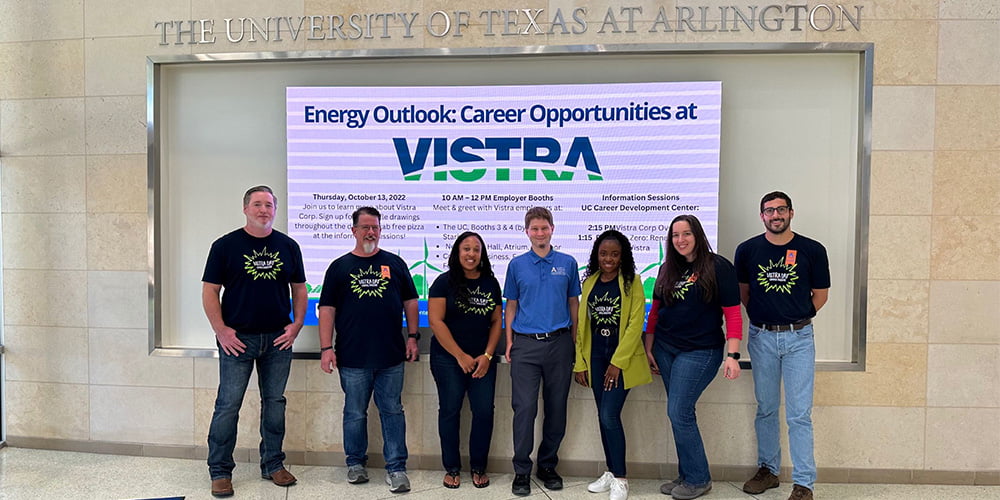 Vistra is continuing its support of first-generation students at The University of Texas at Arlington.
The Irving-based retail electricity and power generation company has made a $25,000 gift to fund scholarships for first-generation undergraduate students who are in their junior or senior years at UTA, helping to ensure they have the financial resources they need to graduate. Two scholarships were awarded this fall.
"For many students, especially those who are the first in their family to attend college, finances can be a major barrier to earning their degrees," said UTA President Jennifer Cowley. "Thanks to Vistra's generosity, this will open doors for many students who may not have had the opportunity to earn their degree otherwise."
The gift is the most recent example of Vistra's ongoing partnership with UTA. The company has given a total of $37,500 in support of University Crossroads, a program that aims to expand access to and success in higher education for first- and second-generation students from low-to-moderate-income households.
Vistra also recently collaborated with UTA's Career Development Center, College of Business and College of Engineering for Vistra Day in October. The day featured opportunities for students to learn more about Vistra and how they could pursue career opportunities there.
"Vistra is committed to having a meaningful impact on our local communities and helping them to thrive," said Annette Underwood, chief diversity office at Vistra. "We're passionate about supporting students from all backgrounds as they work to achieve their dreams of earning a college degree."
UTA aims to provide the resources students need to be successful in their studies, offering assistance in obtaining financial aid and helping students acclimate to college life through targeted programming and a strong support system. In 2020, the educational nonprofit ScholarShot ranked UTA tied for first in Texas for serving first-generation, low-income students on its Texas Public University Report Card.
About Vistra Corp
Vistra is a leading Fortune 500 integrated retail electricity and power generation company based in Irving, Texas, providing essential resources for customers, commerce and communities. Vistra combines an innovative, customer-centric approach to retail with safe, reliable, diverse and efficient power generation. Serving nearly 4.3 million residential, commercial and industrial retail customers with electricity and natural gas, Vistra is one of the largest competitive electricity providers in the country and offers over 50 renewable energy plans. Vistra is guided by four core principles: Do business the right way, work as a team, compete to win, and care about stakeholders, including communities where they work and live.
About The University of Texas at Arlington
Located in the heart of the Dallas-Fort Worth Metroplex, The University of Texas at Arlington is a comprehensive teaching, research and public service institution dedicated to the advancement of knowledge through scholarship and creative work. With an enrollment of approximately 46,000 students, UT Arlington is the largest institution in North Texas and the second-largest in the UT System. In 2021, UTA's combination of outstanding academics and innovative research contributed to its reaffirmation as a Carnegie R-1 "Very High Research Activity" institution and its designation as a Texas Tier One institution, two significant milestones of excellence. Further, the University also received the 2021 Higher Education Excellence in Diversity Award for outstanding commitment to diversity, equity, and inclusion in higher education. The University ranks No. 4 nationally in Military Times' annual "Best for Vets: Colleges" list, is designated as a Hispanic Serving-Institution and an Asian American, Native American, Pacific Islander-Serving Institution by the U.S. Department of Education and has the fifth-most ethnically diverse undergraduate population in the United States (U.S. News & World Report, 2023). UT Arlington's approximately 250,000 alumni occupy leadership positions at many of the 23 Fortune 500 companies headquartered in North Texas and contribute to the University's $22.2 billion annual economic impact on Texas.
- Written by Jenny Gumbert, Office of Development and Alumni Relations