UTA Traditions
Our traditions are shared among Maverick's of all generations and show how far we've come together.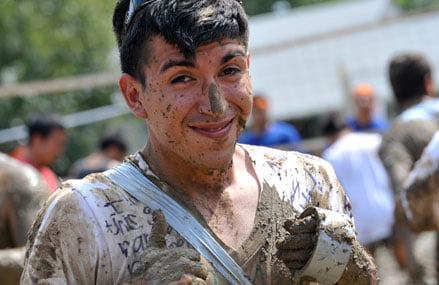 Oozeball Tournament
Voted the University's favorite tradition, the Oozeball mud volleyball tournament pits teams of students, faculty, staff, and alumni against each other in ankle-deep muck. Held every Fall since 1989, the event is sponsored by Campus Recreation, with proceeds benefiting student scholarships.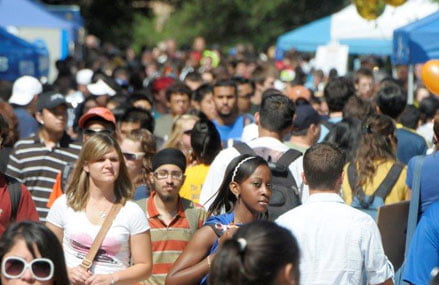 Activity Fair Day
Activity Fair Day, held on the second Wednesday of each fall and spring semester, is a chance for student organizations, University departments, and local vendors to present information to the campus community. This event has been held since 1981 and continues to draw a large crowd with plenty of live music and food.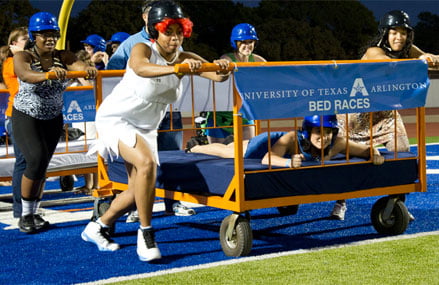 Bed Races
Imagine teams of students pushing beds on wheels along football stadium turf! That's exactly what you'll find at the annual Bed Races, which started in 1980 to celebrate the opening of Maverick Stadium. The team with the best time wins, but awards for Best Dressed and Most Spirited also are given. Music, dancing, games, giveaways, and a halftime competition round out the fun.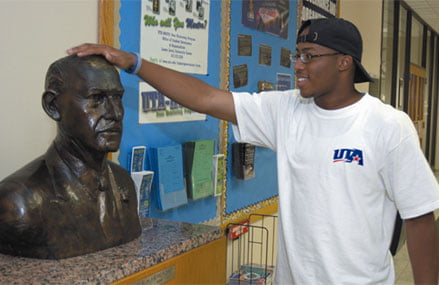 Rubbing Hereford's Head
Legend has it that students will perform better on tests if they rub the head of E.H. Hereford's statue on the first floor of the University Center. Years of this tradition have left a brighter patch of bronze on the forehead of the former UTA president, nicknamed "Old Rosebud" because he often wore a rose on his lapel.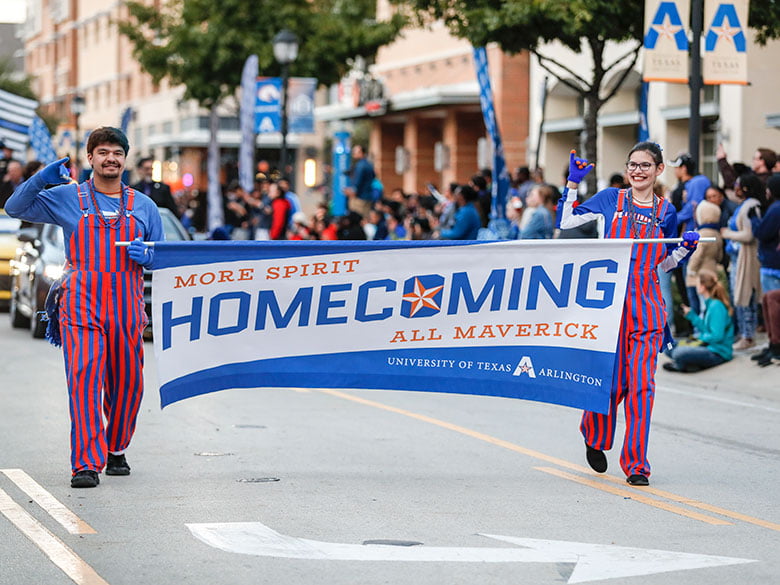 Homecoming
UTA's Homecoming is held in November to welcome back alumni (approximately 100,000 live in North Texas) and celebrate the men's and women's basketball teams. Many events showcase our diverse traditions here at UTA, including the Blue & White Fashion Show, Blue & White Bash, Coronation of the Homecoming King and Queen, Maverick Step Show, and more.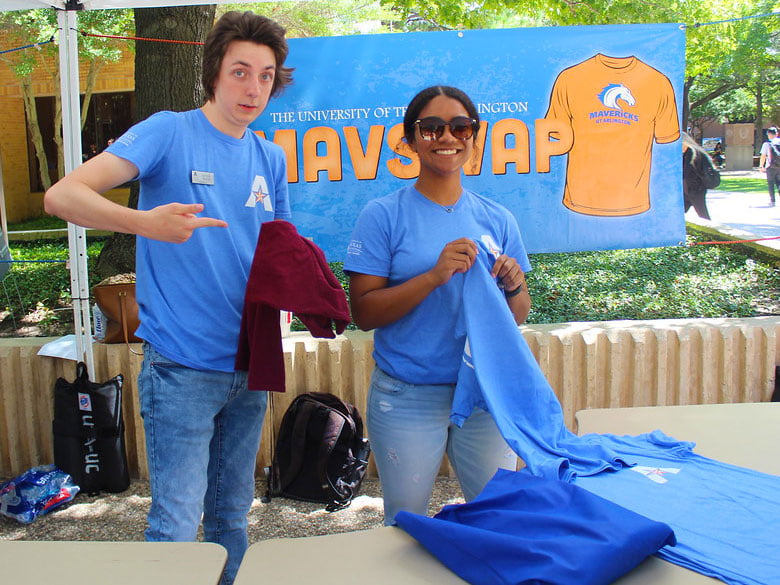 Mav Swap
Everybody looks better in blue and orange. This annual event encourages students to trade apparel from another university for free UTA gear. Now held during Homecoming week, the tradition began in 2004 to encourage members of the Maverick community to show their school spirit.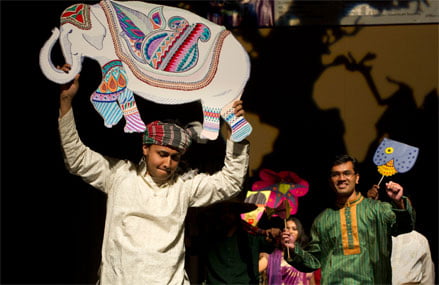 International Week
Since 1977, this week long program has celebrated the cultures of UTA's international student population. A parade of banners, international food fair, fashion show, nationality exhibits, and Global Extravaganza talent show are just some of the events that showcase the University's diversity.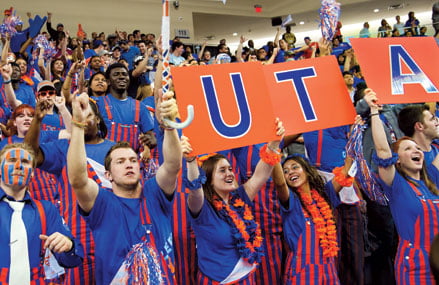 Maverick Wranglers
The Wranglers, a new student spirit group, raise the decibel level for basketball games at College Park Center. Get a behind-the-scenes look at how the Wranglers formed and what it takes to become one of these super fans. Watch a video of the group's beginnings.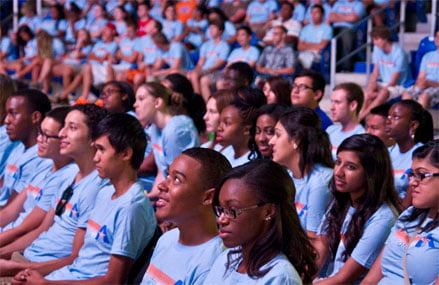 MavsMeet Convocation
One of UTA's newest traditions, this academic event welcomes new Mavericks and officially kicks off the academic year. Held in Texas Hall the day before fall classes begin, it features remarks by the president, administrators, Student Government president, and a distinguished faculty member. The MavsMeet AfterParty features live music, games, and food.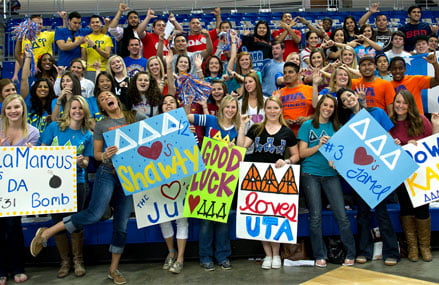 Greek Life
UTA went Greek in 1967, when Kappa Sigma became the first nationally chartered fraternity on campus. Since then, the Greek community has grown to include more than 820 students and 29 fraternities and sororities. Philanthropic outreach is a big part of Greek Life. Fraternity and sorority members annually contribute, on average, more than 10,000 volunteer hours and donate more than $65,000 to charitable organizations.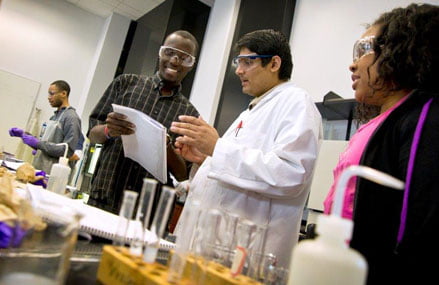 ACES
UTA hosts the Annual Celebration of Excellence by Students, a University-wide symposium highlighting the very best in student research and creativity. The day-long event occurs in March and includes a keynote speaker. ACES is truly an interdisciplinary effort wherein research on gene therapy may be featured after a presentation of art, and where the fine arts and sciences are united as one.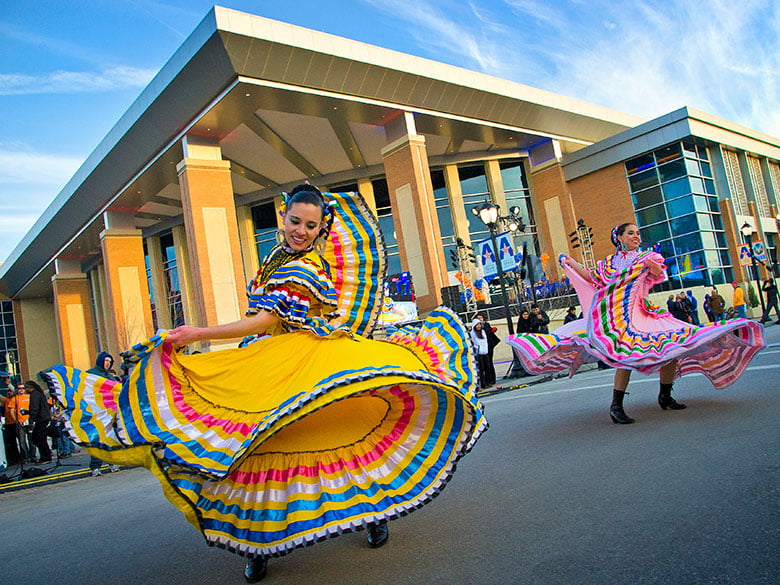 Semana de Cultura
Traditionally held in September, Semana de Cultura (Week of Culture) celebrates the rich heritage and diversity of UTA's Hispanic/Latino community. A campus tradition since 1970, the event is sponsored by the Office of Multicultural Affairs and typically includes a fashion show, alumni reception, art exhibit, and dance showcase.
The Maverick Way
Our choices define us. You chose to be a MAVERICK. But what does that mean?