UTA Computer Science and Engineering professor to use data mining to benefit individual diagnosis, treatment for cancer patients
A researcher at The University of Texas at Arlington is working to develop big data mining tools that will integrate multiple modalities of very large, complex patient data to allow scientists and doctors to better predict clinical outcomes and work toward cures for diseases such as cancer.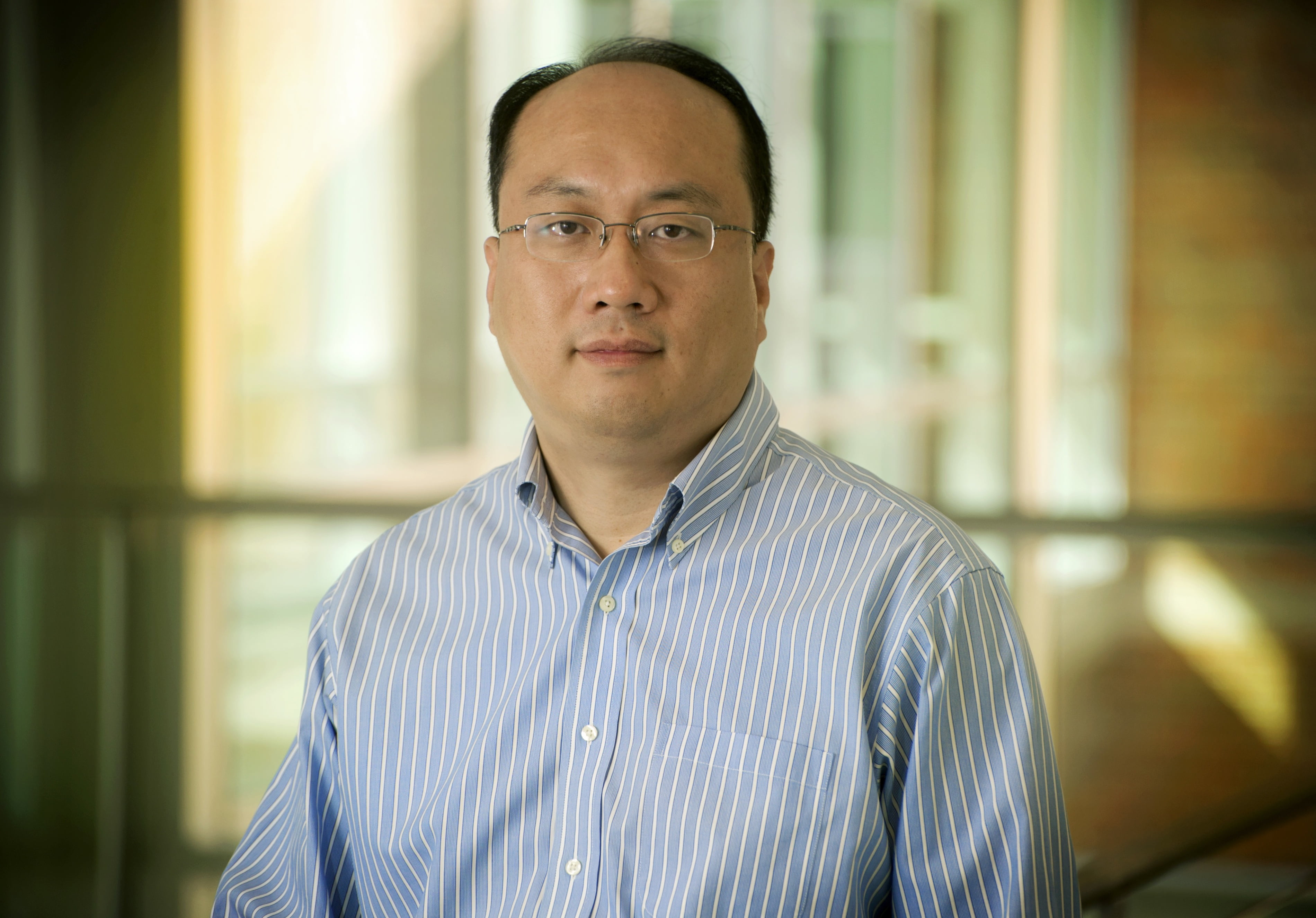 The National Science Foundation has awarded a four-year, $1.32 million grant to Heng Huang, a professor in the Computer Science and Engineering Department, to discover biomarkers and phenotypic markers by which image-omics, data-based precision medicine techniques can be used to better treat cancer patients. Chris Ding, a professor in the department, and Jia Rao, an assistant professor, are co-principal investigators.
Image-omics data includes image data, such as pathological images, and omics data, such as DNA sequence, RNA expression, genetic and genomic biomarkers captured from the same patient.
Currently, the data are at such a high resolution that a pathological image might measure 1 million pixels by 1 million pixels, compared to a cell phone screen that measures 1,000 by 1,000 pixels. Each piece of data compiled may be more than 30 gigabytes. One gigabyte is 1 billion bytes.
The unprecedented scale and complexity of these data have presented critical computational bottlenecks requiring new concepts and enabling tools.
"The long-term plan for this research is to be able to treat an individual based on his or her image-omics data," Huang said. "For instance, if a patient's tissue images change, how is that related to genomics? Or, how can we use multi-omics to detect mutations? Once we find the biomarkers in the data, we can provide precision medicine strategy to treat the illness, from determining life expectancy to tailoring medicines to an individual's needs."
Huang had worked with Wei Zhang, who was at the University of Texas MD Anderson Cancer Center and now is a faculty member at Wake Forest University, on the cancer genomics project. Huang helped Zhang integrate his cancer genomic studies to form the biomarkers to guide patient treatments. That work will guide Huang's new work, which is representative of how UTA is advancing research in the area of data-driven discovery and health and the human condition under the Strategic Plan 2020: Bold Solutions | Global Impact.
"Deciphering the information that is hidden within the massive amounts of data that have been gathered is a huge task, and the knowledge that Dr. Huang has gained over the years will serve him well in this research," said Peter Crouch, dean of UTA's College of Engineering. "He continues to lead in the field of big data analytics, and his work could very well lead to wholesale changes in the way cancer is effectively treated in the near term."
Huang is one of the world's leading authorities on big data analysis. He has received nearly $6 million in grants from various sources since 2014, including:
A $2 million grant from the National Institutes of Health to analyze complex brain data and use imaging genomics to predict a person's probability of contracting Alzheimer's Disease.         
A $500,000 NSF grant to use data mining to efficiently catalog and track depression patients' "thought records" so that doctors and therapists can better identify patients' treatment needs.
A $750,000 NSF grant to protect personal, electronic healthcare data while ensuring that the anonymous records can be used for secondary analysis and improved health care
A $600,000 NSF grant to develop an interactive database of gene expressions of the fruit fly.
A $900,000 NSF grant to mine electronic medical records data to help physicians personalize patient treatment, predict health care needs and identify risks that can lead to readmission.
These grants are just some of the research being done at UTA with big data analytics and informatics, which is a focus of several members of the Computer Science and Engineering faculty:
Junzhou Huang, an assistant professor of computer science and engineering, earned an NSF CAREER Award in 2016 to discover a process by which image-omics data can be combined into files that are small enough that current computing technology will allow scientists to better predict how long a patient will live and how best to treat that patient.
Fillia Makedon, Jenkins Garrett Distinguished Professor of computer science, has done extensive research in health informatics. She leads the Heracleia Human Centered Computing Lab and the Motion Capture Lab and has worked extensively with the National Science Foundation to create an intelligent, learning rehabilitation system that collects data from multiple sources to analyze how rehabilitation techniques are affecting patients and adjust treatments so they are most effective.
-- written by Jeremy Agor
About The University of Texas at Arlington
The University of Texas at Arlington is a Carnegie "highest research activity" institution of more than 50,000 students in campus-based and online degree programs and is the second-largest institution in The University of Texas System. The Chronicle of Higher Education ranked UTA as one of the 20 fastest-growing public research universities in the nation in 2014. U.S. News & World Report ranks UTA fifth in the nation for undergraduate diversity. The University is a Hispanic-Serving Institution and is ranked as the top four-year college in Texas for veterans on Military Times' 2016 Best for Vets list. Visit www.uta.edu to learn more, and find UTA rankings and recognition at www.uta.edu/uta/about/rankings.php.