UTA president elected to European Academy of Sciences and Arts
Karbhari recognized for prolific research and innovative leadership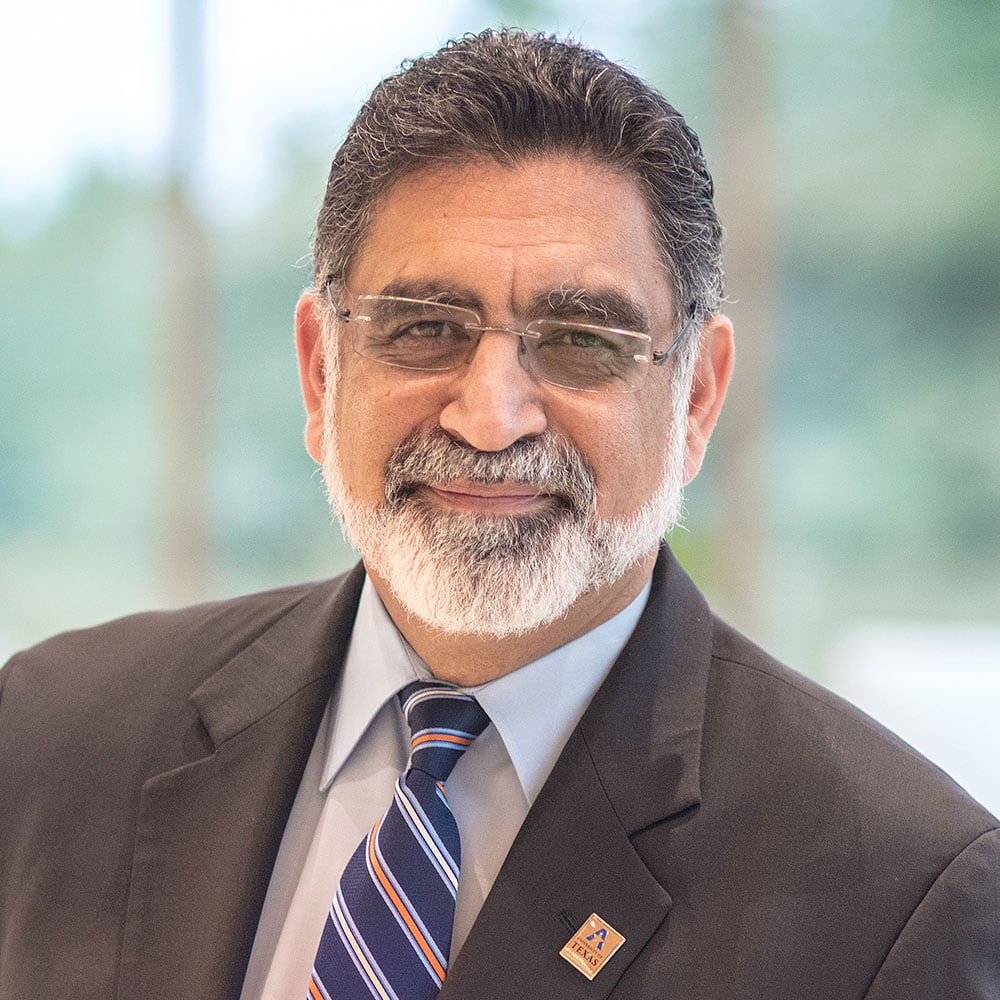 In recognition of his prolific research and innovative leadership, Vistasp Karbhari, president of The University of Texas at Arlington, has been elected as a member of the European Academy of Sciences and Arts.
The membership places Karbhari among a distinguished set of eminent scholars and practitioners who analyze important societal challenges and help solve complex issues for the well-being of the future of Europeans and the planet.
"UTA is on a trajectory taking us from good to pre-eminent, and this honor from the European Academy of Sciences and Arts is the latest external recognition that we're on the right path," Karbhari said. "UTA's recent history is a story of achievements and successes, all attributable to our talented faculty, dedicated staff and wonderful students. I'm honored by the Academy and proud to be part of UTA's journey of profound transformation and impact."
During his more than 25 years in higher education, Karbhari has received numerous awards for research, teaching and innovation. He has been honored by election to fellowship of several professional and research organizations, including the National Academy of Inventors, the American Society of Civil Engineers, ASM International, the International Institute for Fiber-Reinforced Polymers in Construction, the International Society for Structural Health Monitoring of Intelligent Infrastructure and the ASCE's Structural Engineering Institute.
Karbhari, an expert in the processing and mechanics of composites, durability of materials, infrastructure rehabilitation and multi-threat mitigation, has authored or co-authored more than 460 papers. He is the eighth president of UTA and also serves as a professor in the Department of Mechanical and Aerospace Engineering and the Department of Civil Engineering.
Interim Vice President for Research James Grover said Karbhari plays a pivotal role in the University's mission of becoming the model 21st-century urban research institution.
"Through the work of our faculty and staff, UTA has rapidly expanded as a first-class research enterprise," Grover said. "Dr. Karbhari's experience in academia and research has helped us identify new pathways to conduct groundbreaking research while creating solutions for some of our greatest challenges. His election to the European Academy of Sciences and Arts is a well-deserved honor."
The Academy's mission is to stimulate cross-disciplinary collaboration between reputable scientists of all disciplines, artists and practitioners of governance. These scholars and practitioners, including 32 Nobel Prize winners, are divided into eight classes: Humanities, Medicine, Arts, Natural Sciences, Social Sciences, Law and Economics, Technical and Environmental Sciences, World Religions, and Corporate and Public Governance.
Karbhari was elected as a member of the Technical and Environmental Sciences class.
UTA mirrors the Academy's mission of cross-disciplinary collaboration, as illustrated by its Strategic Plan 2020 which focuses efforts through four themes: health and the human condition, sustainable urban communities, global environmental impact, and data-driven discovery.
UTA Provost Teik C. Lim said Karbhari has set the tone for faculty to go beyond the laboratory and bring the scholarly spirit of solving challenges into the classroom.
"Dr. Karbhari is fulfilling his vision that UTA students will graduate poised and ready to make our world a better place," Lim said. "He is committed to making sure we are setting up the next generation of leaders and difference-makers, which I believe is a necessary trait in order to be considered a premier scholar. I know the UTA community joins me in congratulating President Karbhari on this tremendous honor."