Final spring strategic plan symposium focuses on data-driven discovery
Faculty and staff at The University of Texas at Arlington convened for the last of four symposiums held this spring addressing progress on initiatives supporting the four strategic themes of UTA's Strategic Plan 2020.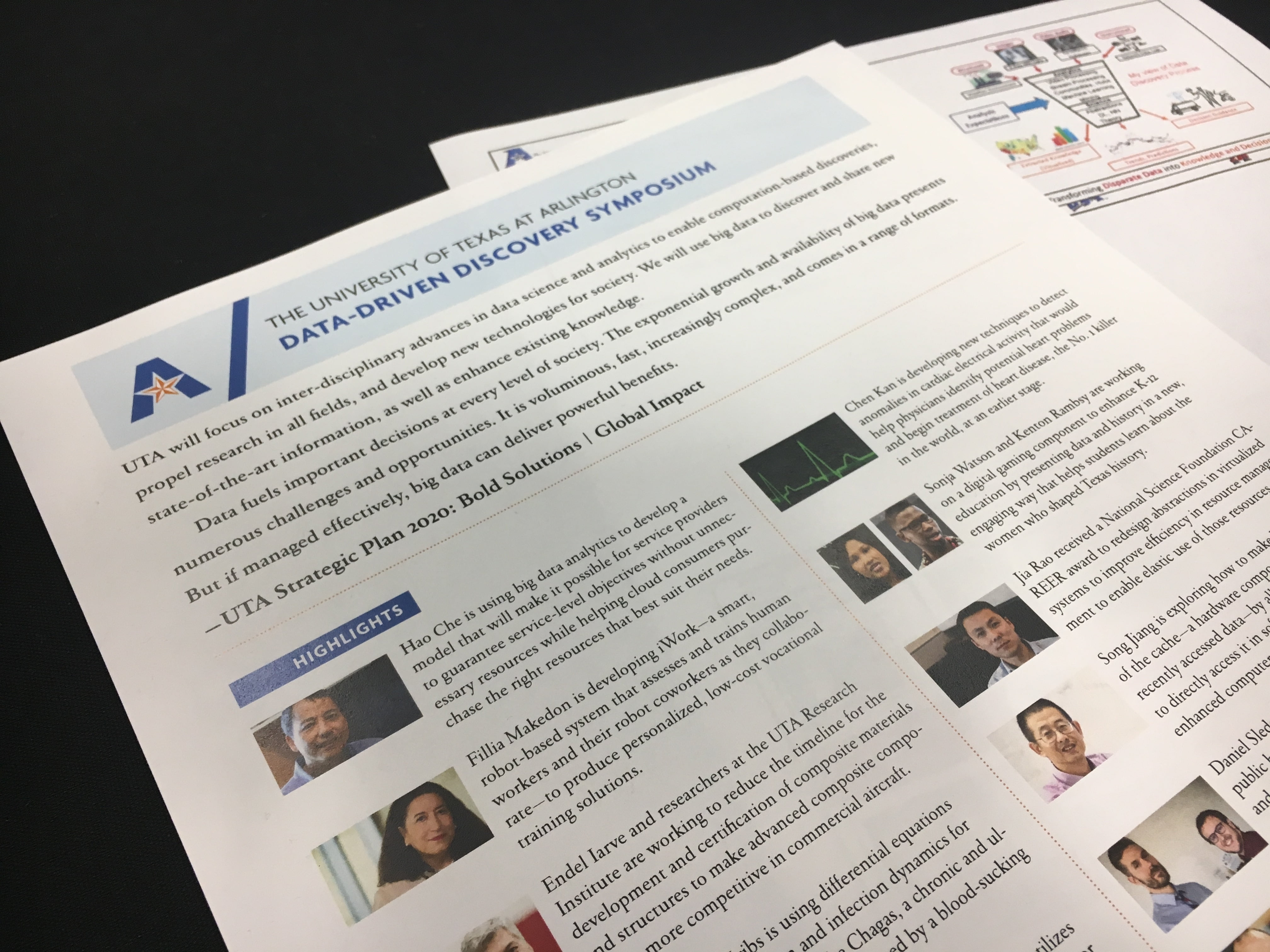 The symposium focused on multidisciplinary research and education efforts in the area of data-driven discovery. 
UTA President Vistasp Karbhari said faculty and staff updates regarding their work supporting the strategic theme not only could help seed new intra-university research and educational collaborations, but also inform upcoming strategic plan updates.
"This strategic plan has been in place since 2015, and we have done exceptionally well," Karbhari said. "However, we're four years down the road and there's a need to evaluate what projects we've completed and how the environment has changed around us to present opportunities that were not open to us four years ago."
The first in this series of symposiums was held in early February and focused on sustainable urban communities. The second symposium, held in mid-March, centered on global environmental impact. The penultimate event, hosted in April, was dedicated to discussions on health and the human condition.
Thirty-six faculty members with experience and research supporting data-driven discovery have been brought on board since fall 2017 to strengthen the expertise already present at UTA, Provost Teik C. Lim said. The University boasts a diverse collection of researchers utilizing data-driven discovery to deliver powerful benefits that advance technology and the prosperity of society.
"There are large amounts of data being collected across disciplines and industries, so we need to look at how to use this data in a way that is meaningful and has positive impact on the society we live in," Lim said. "We hope these symposiums bring together collaborative, high-octane research teams to establish that impact."
UTA is focusing on research and programs that integrate big data from multiple fields to develop analytics and science that explore a wide variety of data sources in hopes of discovering and sharing new knowledge, as well as enhancing current knowledge.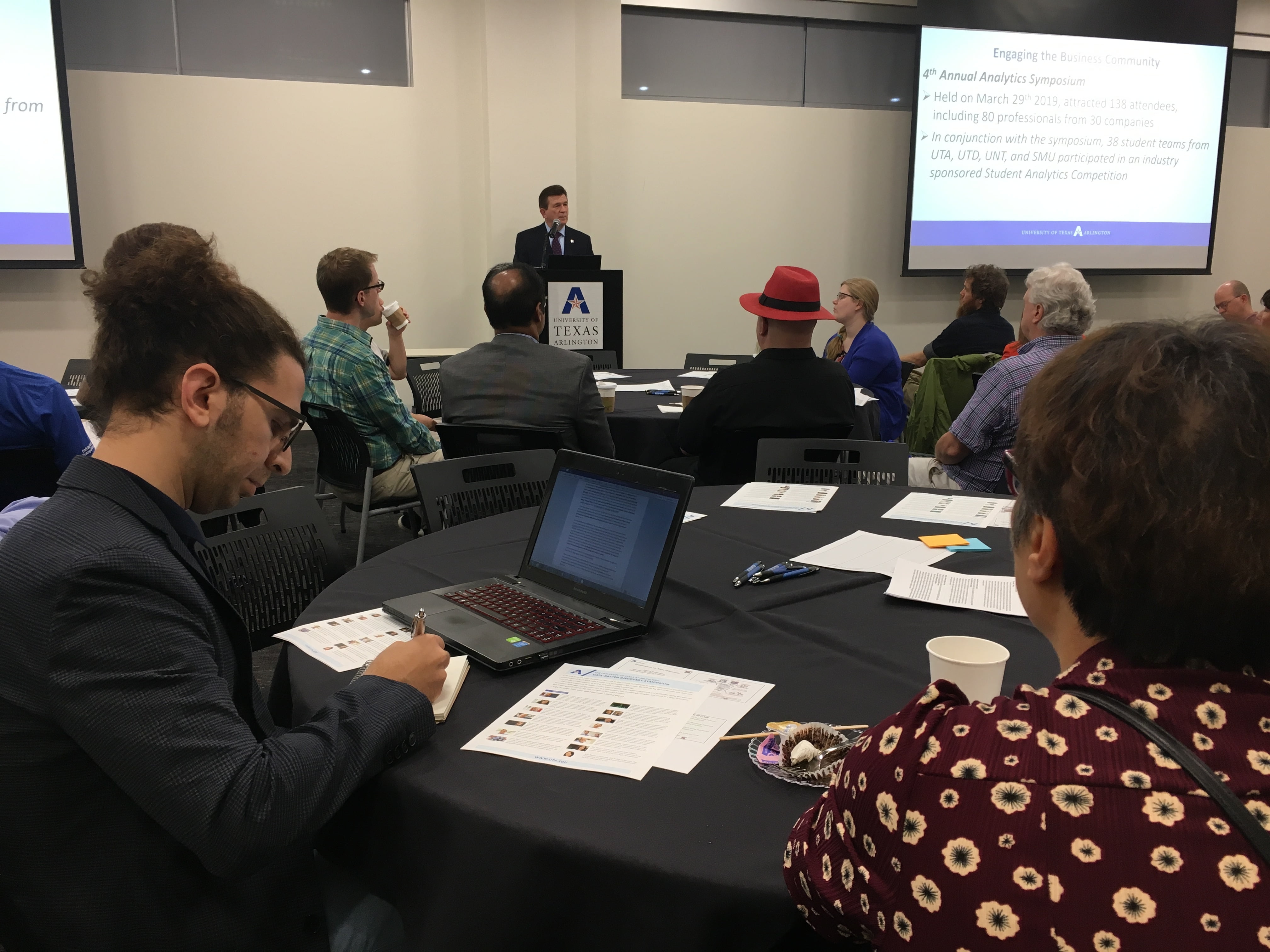 Harry Dombroski, dean of the College of Business, said the importance and value of data analytics cannot be overstated.
"Companies in every industry are trying to unlock the secrets that data analytics may provide to position them to make better, data-driven business decisions," Dombroski said. "This is more than just a fad, and that's why it's a strategic initiative for the College of Business and UTA."
Dombroski added that the college is taking the lead on data analytics, something he feels other business schools have yet to position themselves to do. In addition to recruiting a substantial number of new faculty in this area, the College of Business is expanding its outreach to the business community to form strategic partnerships and has offered to be a conduit for any faculty member looking to connect with a company.
The University is exploring new centers and academic programs across each of its colleges to keep graduates on the leading edge of big data by ensuring they are equipped to harness and effectively utilize powerful data as it permeates all industries.
"This is a great opportunity for us to differentiate ourselves," Dombroski said. "We have great faculty in this area and plan to increase that number going forward with the goal of educating our students to be successful leaders in data."
College of Education Dean Teresa Taber Doughty discussed how big data sets are being used to personalize education for more effective learning. She envisions potential collaborations with the School of Social Work and the Department of Sociology and Anthropology in the College of Liberal Arts to investigate behavior and learning phenomena in U.S. schools.
Gautam Das, a professor in the Department of Computer Science and Engineering, shared with the group some opportunities and challenges they may encounter in big data research. Kaushik De, a professor in the Department of Physics and the director of the High-Energy Physics Center of Excellence, discussed data-driven discoveries in physics. De said UTA has been at the forefront of the discipline for two decades.
Following the general updates, faculty and staff members discussed their ongoing projects and areas of interest to help identify potential areas for interdisciplinary collaboration. Karbhari encouraged faculty to take in the wealth of work shared at the symposium and make connections with each other to form collaborations. He also invited them to contact Associate Vice President for Research Kimberly Mayer if they are looking for collaborators but are unsure where to start.
Karbhari said that data-driven discovery will become a core skillset of UTA students. He welcomed feedback from faculty and staff on how best to incorporate the theme into existing course structures.
A complete video of the symposium can be found here. All presentations, videos and materials from the four strategic plan symposiums and other events can be found here.