Alumni educate, care for community during pandemic
Mavericks offer critical care and support to patients and the public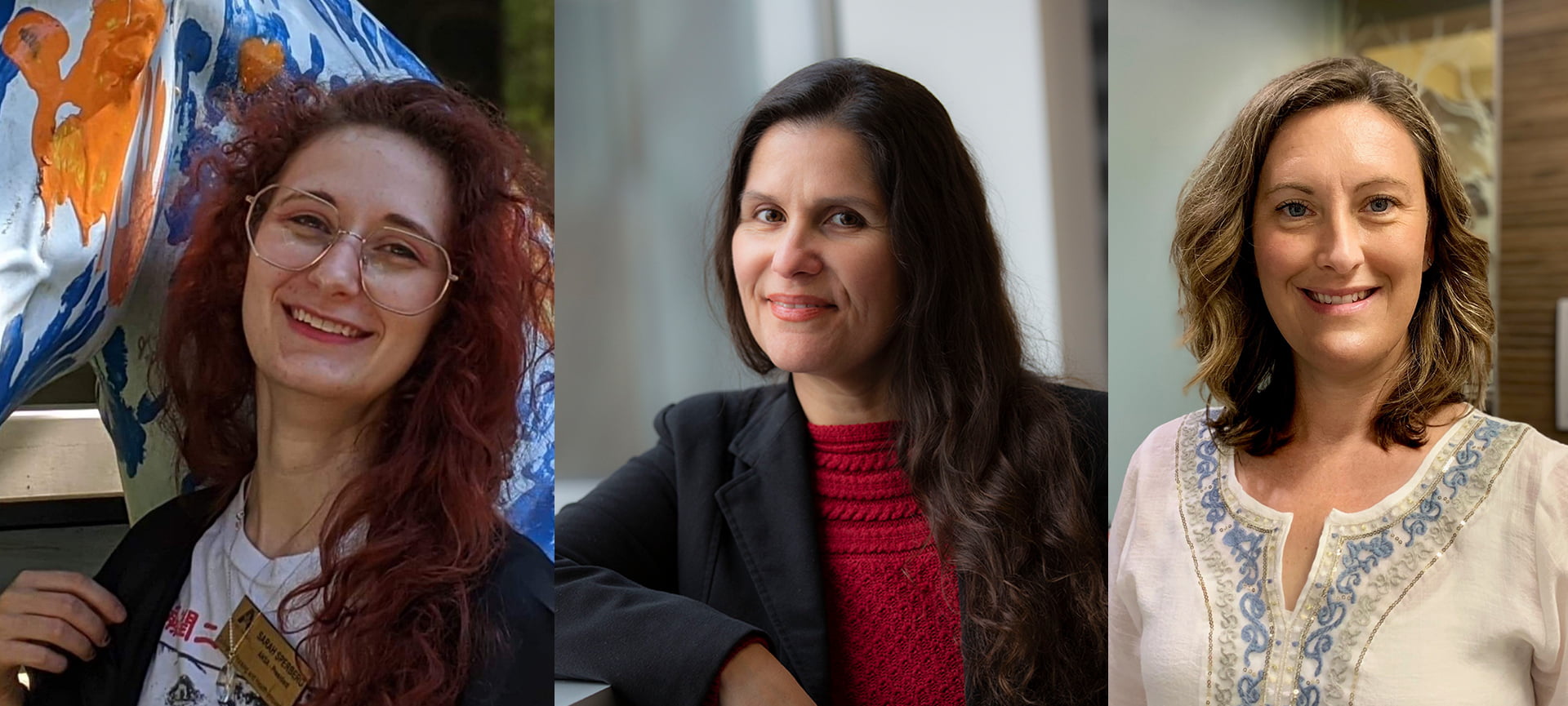 Through our Mavericks on the Front Lines series, we're highlighting how students and alumni from The University of Texas at Arlington are playing critical roles in their communities during the COVID-19 pandemic.
UTA trains and educates thousands of students each year for careers in nursing, public health and social work. In this look at Mavericks on the front lines of the pandemic, we're highlighting a nurse, an epidemiologist and a social worker.
Sarah Sperberg, nurse
Sarah Sperberg ('20 BSN) comes from a family with a long tradition of nurses. The compassion and care they showed throughout her life inspired her to follow in their footsteps.
"My nana and her sisters were licensed vocational nurses, and I was really influenced by them," she said. "After I graduated high school, I was hospitalized for a few weeks. I was really moved by the nurses who took care of me, and it was then when I knew I wanted to become one of those people who took care of others on their worst days."
Sperberg works on the nursing staff at a local hospital as a mental health technician. Later this summer, she will begin a full-time nursing residency on her path to becoming a psychiatric nurse.
Sperberg credits her UTA professors for preparing her to become a nurse in the middle of a global pandemic.
"I never thought I would be entering the workforce at such a critical time, but I feel very prepared," she said. "My classmates and I have been in hospitals since day one of nursing school. I'm excited to get out there and start helping people. I know a lot of people are scared and worried and they can use that comfort, and I want to be able to provide that."
Diana Cervantes, epidemiologist
Epidemiologist Diana Cervantes ('99 BS, Biology; '02 MS, Biology) has emerged as an expert voice in Dallas-Fort Worth media as the public tries to make sense of the unprecedented COVID-19 pandemic. She speaks in both English and Spanish, helping her message and insights reach larger audiences.
"As public health practitioners, empowering the public to make good decisions for the safety of our communities is always our main focus," Cervantes said. "It is especially important in a time when people might be wary of new restrictions, concepts or government involvement. We can't force people to do anything, but if we are transparent with them and make ourselves and what we know available, we're more likely to reach a positive end result."
Cervantes, assistant professor at UNT Health Science Center in Fort Worth, said she tries to emphasize for her students the important role of communication in public health practice, a truth that is coming to life as many of them volunteer as COVID-19 contact tracers for Tarrant County.
Cervantes, who earned both her bachelor's (1999) and master's degrees (2002) in biology with an emphasis in microbiology from UTA, says her time in Arlington was formative.
"My professors at UTA got me hooked on epidemiology and the importance of getting out in the field and making changes," she said. "They lit a fire and motivated me."
Kathryn Garay, social worker
Kathryn Garay, social worker ('17 MSW), describes her job as being the eyes and ears of COVID-19 patients who are hospitalized and isolated from their friends and families.
"Social workers provide patient care alongside a multidisciplinary team of doctors, nurses and respiratory therapists," Garay said. "We also serve as patient and family advocates during hospital stays."
Families of COVID-19 patients need extra support during this time, due to strict restrictions when it comes to patient visitation.
"There's a lot of anxiety around what is happening to their loved ones," she said. "We strive to ensure families are informed of and take part in medical decisions. We work with them, offer comfort and help put them at ease."
Once a patient is discharged, social workers coordinate different aspects of patient care, such as rehabilitation or home care.
"It's our job to make sure these providers can pick up where the hospital left off," she said. "We're not just your allies when you're in the hospital," she said. "We continue on your side throughout your life journey."
-Written by Elizabeth Couch and Dana Jennings
Share your story
If you or a Maverick you know is working through the pandemic and making a difference in your community, we'd like to know.