In COVID-19 hot spots, Mavericks make a difference
UTA students and alumni exhibit bravery and professionalism during pandemic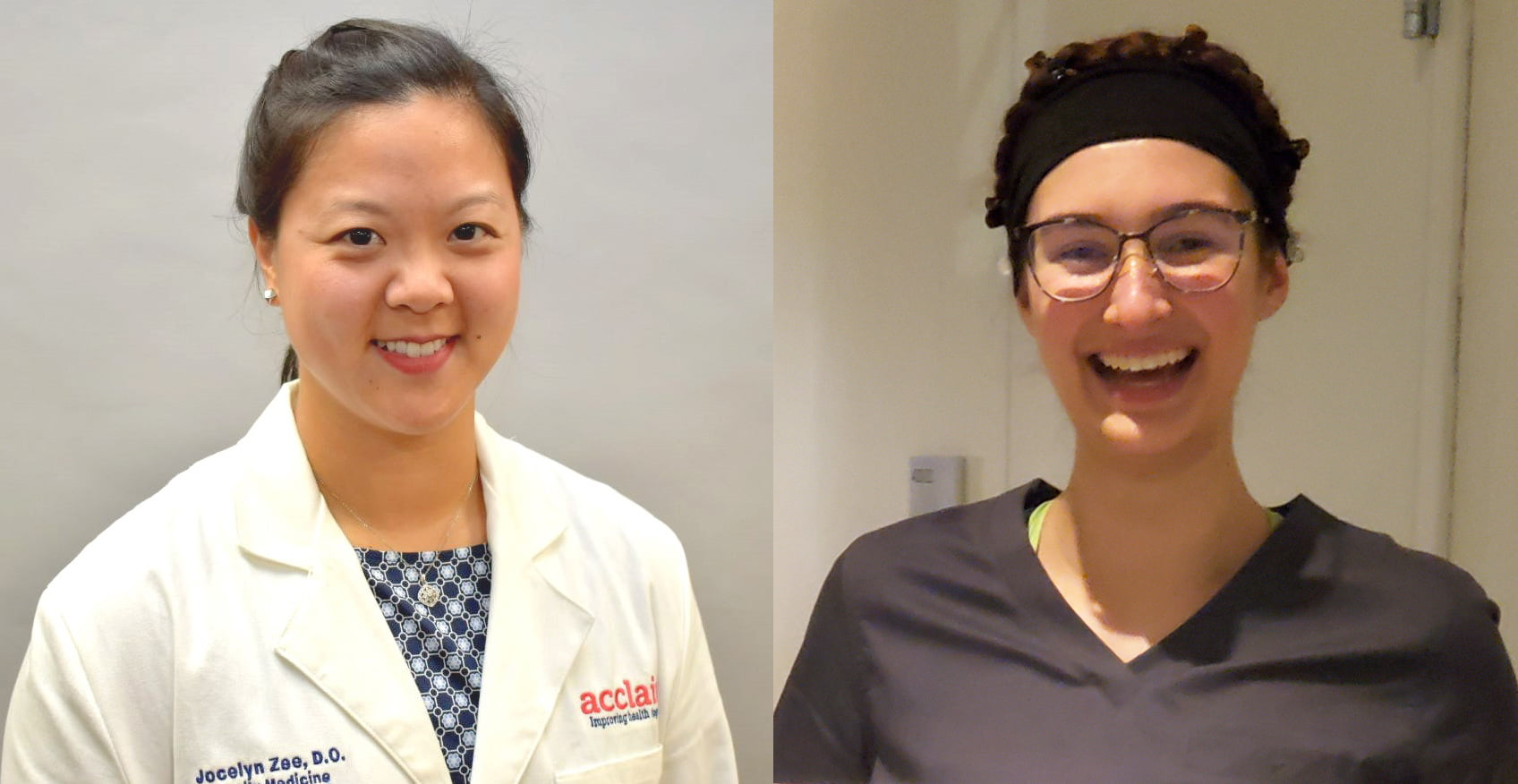 Across Texas and beyond, thousands of Maverick show how The University of Texas at Arlington improves communities through the spirit and hard work of its students and alumni. We are showcasing those efforts through our Mavericks on the Front Line series.
In the latest entry, we profile two Mavericks who have the skill and training to help others.
Dr. Jocelyn Zee, critical care physician
Dr. Jocelyn Zee spends 12-hour shifts attending to critically ill patients, some of them diagnosed with COVID-19, in the intensive care unit at JPS Health Network in Fort Worth.
To her, the risks to her personal health from exposure to contagious patients are inherent to her role and responsibilities as a critical care physician.
"I don't give my health a second thought when I'm at home," she said. "Faith is a huge part of my being, and with faith comes personal responsibility."
The pandemic has changed some of Zee's routines at the hospital. She now wears enhanced personal protective equipment, including powered air purifying respirators that she jokes makes her and her colleagues look like cone heads or storm troopers. She also wears two and sometimes three or even four pairs of gloves at a time, "an interesting test of my manual dexterity," she said.
She said she's grateful that JPS leadership provides its workers with appropriate protection and feels inspired by the bravery and fortitude of her patients, who often are cut off from their families while hospitalized.
"I really feel for our patients," she said. "This whole experience has been surreal. It's not business as usual."
Zee, the daughter and sister of Mavericks, enrolled at UTA in 2000 when she was 13, graduating cum laude in 2004 with bachelor's in microbiology. She finished her undergraduate years at an age when most students are just beginning college.
She attended medical school at UNT Health Science Center in Fort Worth, where her class of medical students included several other UTA graduates. UTA, she says, prepared her and others well for the rigors of medical school.
In 2016, she became the inaugural recipient of the University's Recent Graduate Award at UTA's annual Distinguished Alumni Awards banquet. She returns to UTA every year to speak with pre-med students and maintains close ties with some of her former professors.
"All my memories of UTA are extremely fond," Zee said. "So many professors were instrumental in my development and learning. I have total love and appreciation for my education at UTA."
Elisabeth Berglund, nursing senior
Inspired by an Instagram post and a desire to serve, a nursing senior at UTA is on the front lines of a COVID-19 hot spot providing care to critically ill patients.
Having finished her capstone work in UTA's College of Nursing and Health Innovation in April, Elisabeth Berglund said she spotted a post from a group called the Special Operations Medic Coalition. The group requested medical personnel to staff a converted indoor football facility in New York City known as The Bubble. The site can treat up to 280 COVID-19 patients with staffing by military and civilian health care personnel.
"It was a call to action," Berglund said. "My dad encouraged me: 'This country needs help and this is what you're trained for,' he told me. I prayed about it and decided to apply."
After her arrival, Berglund and other volunteers received personal protective gear, a rigorous orientation and their new assignments. They are caring for patients cleared from more critical floors in a nearby hospital.
"It's truly a team effort, and it is very rewarding to see our patients get better and go home to their loved ones," said Berglund, who is serving as a paramedic. "I feel UTA prepared me for this experience and for what's to come in my nursing career. I am grateful for my professors, my family, my faith and for the opportunity to help people heal."
Berglund will serve at the Bubble until June 1. She said she is thankful for this once-in-a-lifetime opportunity.
"We are incredibly proud of Elisabeth for volunteering to go work in New York," said Karen Leigh Bravo, clinical assistant professor of nursing. "Students like Elisabeth are the norm at UTA, not the exception. Our students are servant leaders ready to help wherever needed, and we are confident they have the skills to take on any challenge that may come their way."
-Written by Jeff Carlton and Elizabeth Couch