UT System executive helps universities become their 'best versions'
New Executive Vice Chancellor tours campus, praises UTA's 'family culture'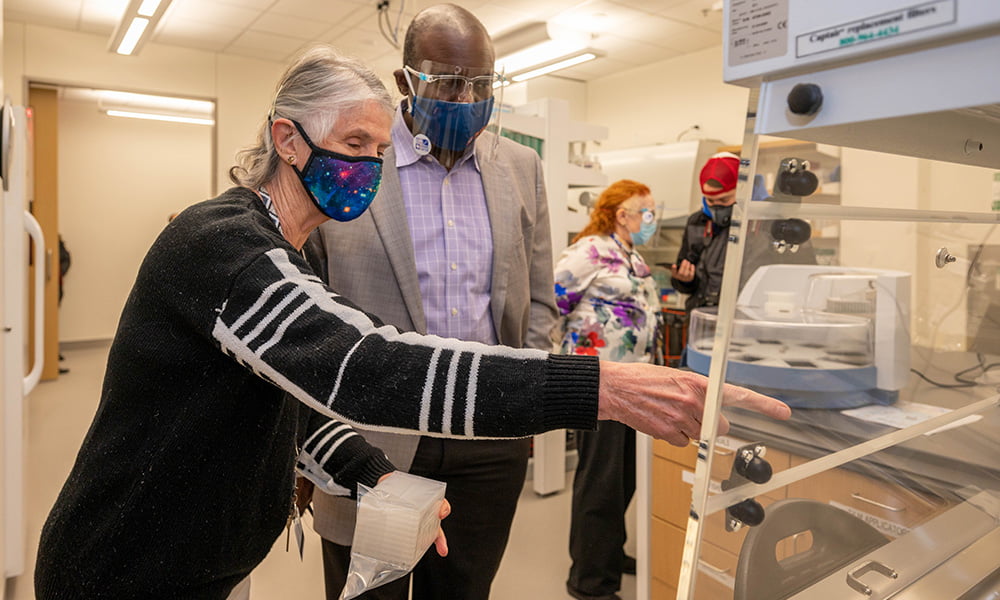 University of Texas System Executive Vice Chancellor for Academic Affairs Archie Holmes Jr. visited The University of Texas at Arlington on Tuesday, his first trip to campus since assuming his new role earlier this month.
Holmes works with the eight UT System academic institutions to help ensure the advancement and implementation of their missions and programs. He describes his role as "supporting the institutions and helping them become the best version of themselves."
"I've dedicated my entire life to being on university campuses, but my visit to UTA is unique in that I can see and feel the family culture I've heard so much about," Holmes said. "My goal is to help UTA determine where it's going in the long term, so we can make decisions in the near term that help us get there. At the same time, we're building up on UTA's Tier One momentum without losing valuable diversity and inclusion efforts on campus."
Holmes traveled to Arlington to meet with UTA executive leadership, faculty representatives and student leaders.
"The Faculty Senate Executive Committee had a very productive meeting today with Dr. Holmes," said Bill Carroll, chair of the Faculty Senate. "We were able to articulate some of our goals and wishes for UTA going forward and learn about some of his views on the University and how we fit in the UT System."
During his day on campus, Holmes was joined by Interim President Teik C. Lim and John Hall, vice president for administration and campus operations. They toured UTA's sprawling campus, starting with the North Texas Genome Center's COVID-19 testing operation and whole-genome sequencing equipment and resources.
While touring the Central Library and receiving a briefing on how the facilities have been adapted to continue to support students, Holmes saw the University's tutoring center and recalled his time leading similarly formatted Supplemental Instruction courses as an undergrad at the University of Texas at Austin.
Watching students' eyes light up as they came to understand the material during those sessions was what got him hooked on academia, he said.
Holmes' time on campus concluded with a look at the newly renovated entrance to the E.H. Hereford University Center.
"I'm grateful for leaders like Dr. Holmes, who take the time to meet with our faculty and students to understand the full scope of our mission, vision and culture – and showcase our campus at the same time," Lim said. "Our team looks forward to working with Dr. Holmes and the UT System as we continue to grow and reach new heights of academic excellence."
UTA Student Body President Blaize Lafleur said she appreciated the opportunity to connect with Holmes.
"It isn't very often that students get the chance to interact with an executive officer on the system level, so this was a real treat," she said. "I appreciate him coming to visit with us, and I look forward to when he returns."