'Welcome back home, Mavericks'
MavsMeet Convocation marks a return to the traditions that Mavericks know and love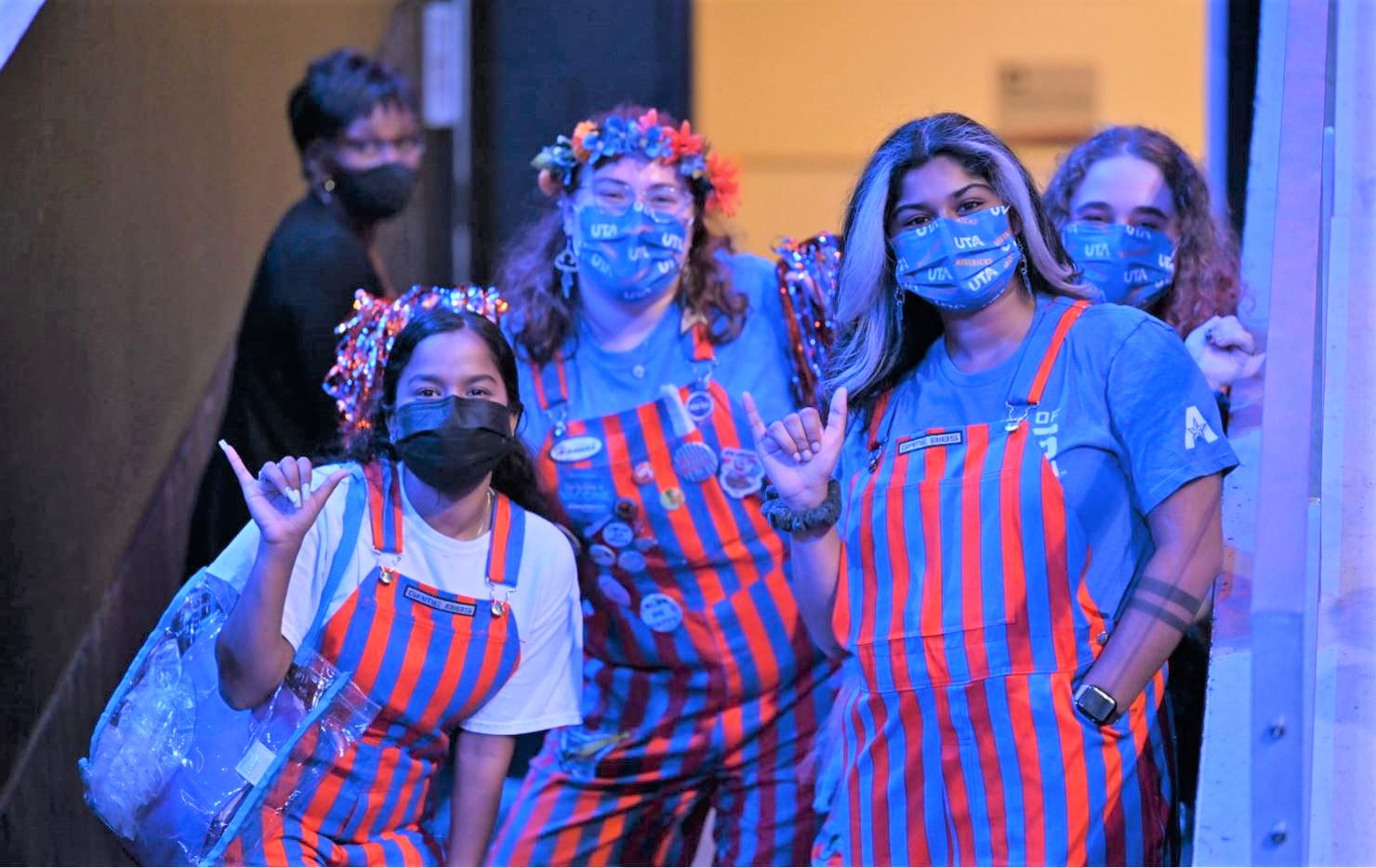 Sophomore music major Julianna Ramirez's parents are both alumni of The University of Texas at Arlington and even met on campus. She said she always wanted to attend UTA, but missed out on a traditional freshman year because of the pandemic.
"I truly feel like a freshman again," said Ramirez, walking into College Park Center on Aug. 24 for the MavsMeet Convocation, one of the signature events of Maverick Stampede. "I feel like I'm finally getting the full experience this year. Being present in this moment and getting to see people's faces means a lot to me. I love everything about this."
Liam Rhodes and Safa Sheikh, Mr. & Ms. UTA, began MavsMeet with a roll call of student organizations, fraternities, sororities, spirit groups and residence halls. Students and staff chanted "UTA." Several talented and energetic student groups performed, including the Rise A Cappella singing group, Maverick Dancers, Vietnamese Student Association, Step by Step Dancers and Maverick Indian Society. UTA Wranglers shot T-shirts and orange, blue and silver shiny streamers into the stands.
"Welcome back home Mavericks," said Caitlyn Burge, UTA student body president. "We are all returning and coming together to continue a legacy 126 years in the making. We are the face of a new era at UTA."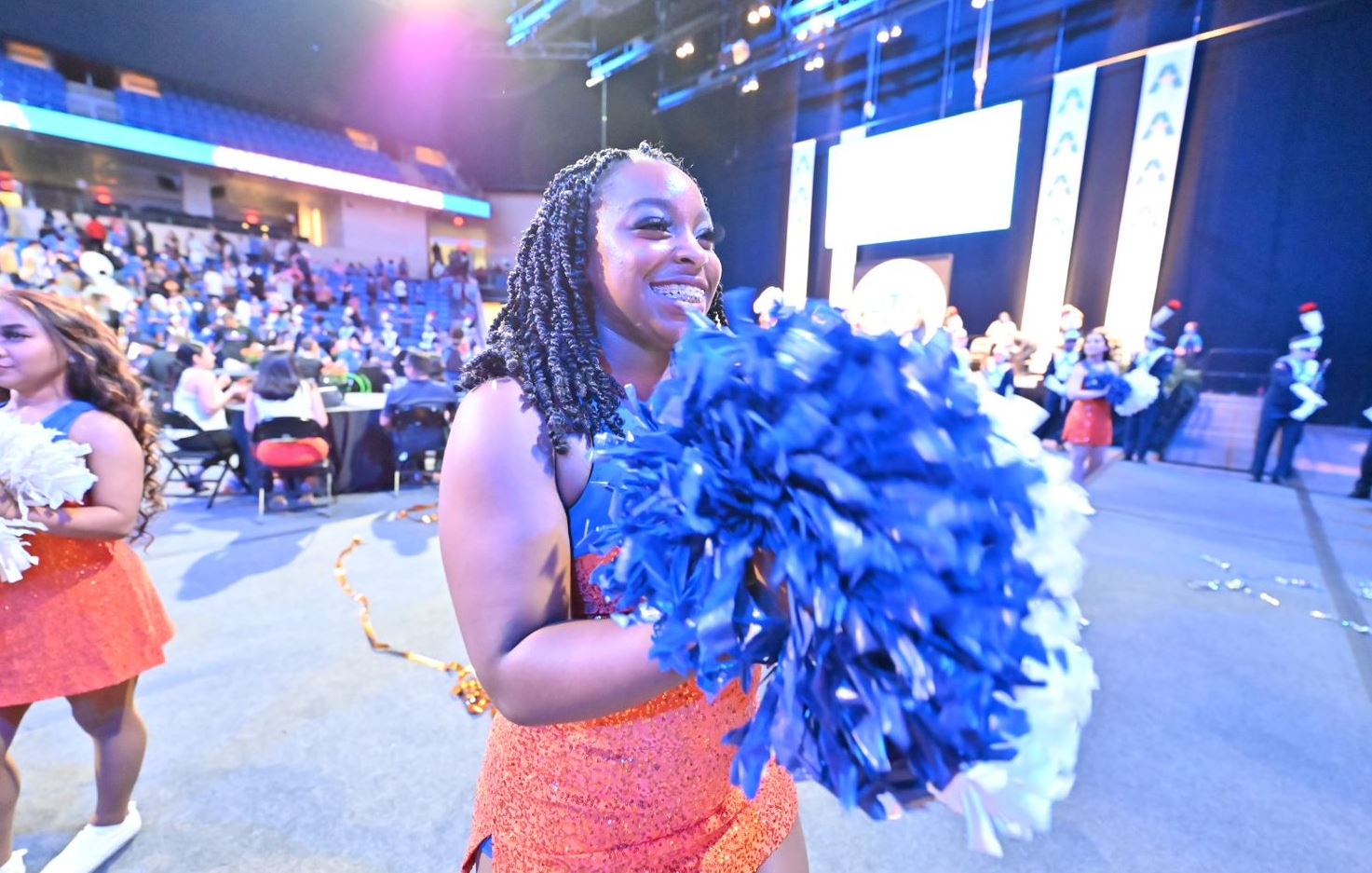 Troy Johnson, vice president of enrollment services, told new and returning students that everyone at UT Arlington is eager to help them succeed.
"As a Maverick, there is no shortage of ways to develop your intellect and leadership when you are engaged," Johnson said. "In addition to countless academic opportunities, you'll find an equally wide variety of student organizations and activities, community service projects, cultural activities and campus traditions in which you meet and interact with people from just up the street or halfway around the globe."
Sophomore biology major Payton Tapp said she wants to seize as many opportunities as possible at UTA.
"I'm looking forward to getting to experience the things I missed out on last year, like making more friends, having a job on campus and going to events," Tapp said. "I'm getting the whole UTA experience that I wanted to get when I came here as a freshman in the first place."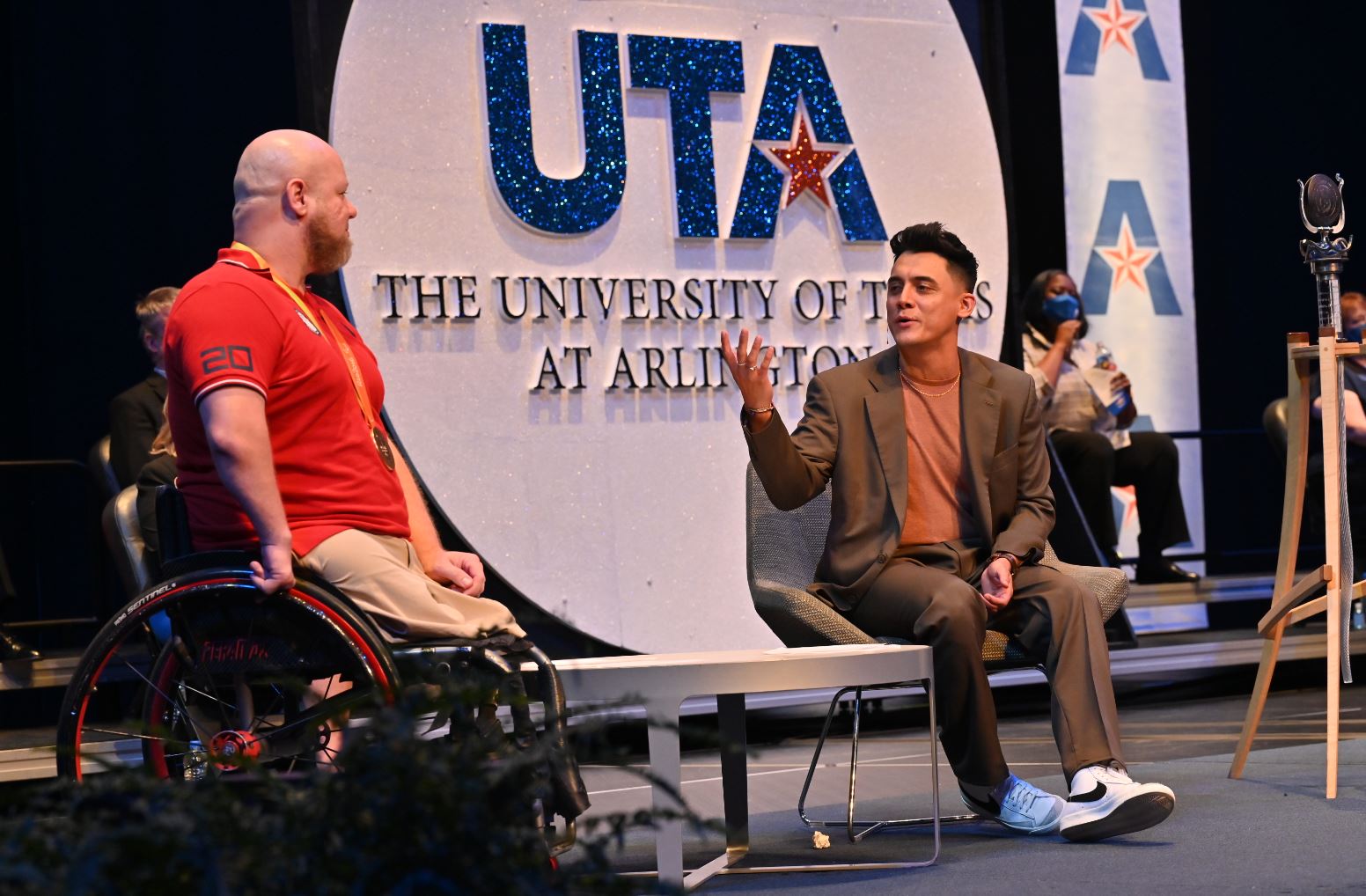 Keynote speakers were Aaron Gouge ('09 B.A., Kinesiology), a gold-medal-winning Paralympian, and Raul Solis ('12 B.A., Communication), an Emmy-winning Univision correspondent. Lisa Nagy, vice president for student affairs, said both men are examples of Mavericks who dream big and achieve great things.
"The friends you meet here are friends you have for life," Gouge said.
The UTA Marching Band, color guard and drum majors concluded the event with the UT Arlington fight song. An after party at Brazos Park featured games, activities, prizes, hand sanitizer giveaways, food, music and zip-lining.
Nina Dupree, who is studying kinesiology and is a member of the UT Arlington Maverick Dancers, said she was eager to come out to this year's convocation and after party after missing out so much on campus events and activities last year.
"I'm really excited because this is about bringing people together to meet new people on campus," Dupree said. "It's a great thing to be connected to your school and have all those memories to look back on after college."