Bump, set, spike, splat
Mavericks get a little muddy—OK, a lot muddy—at Oozeball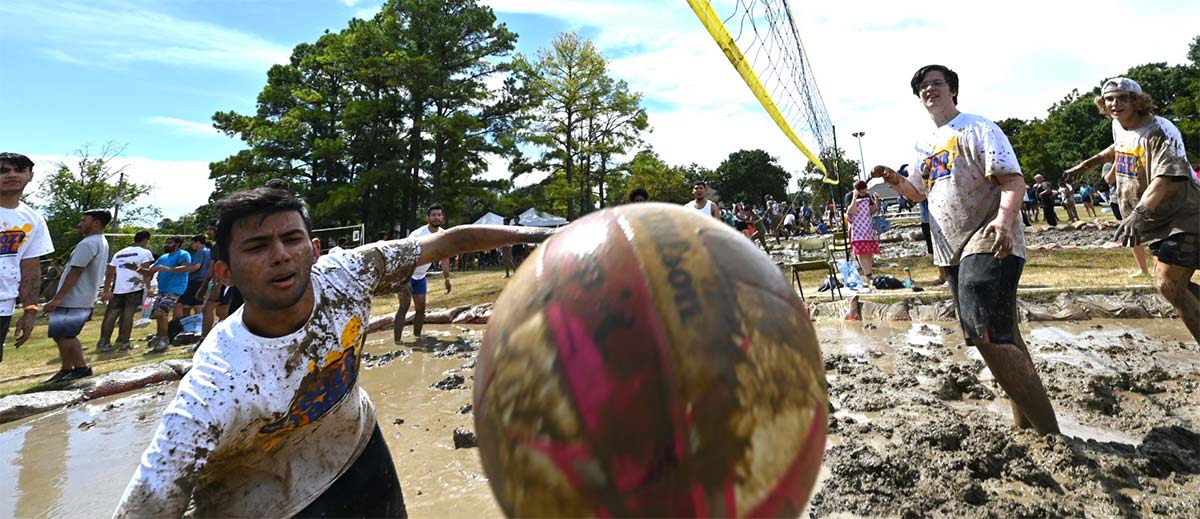 Oozeball made its muddy return to The University of Texas at Arlington a year after it was canceled due to COVID-19.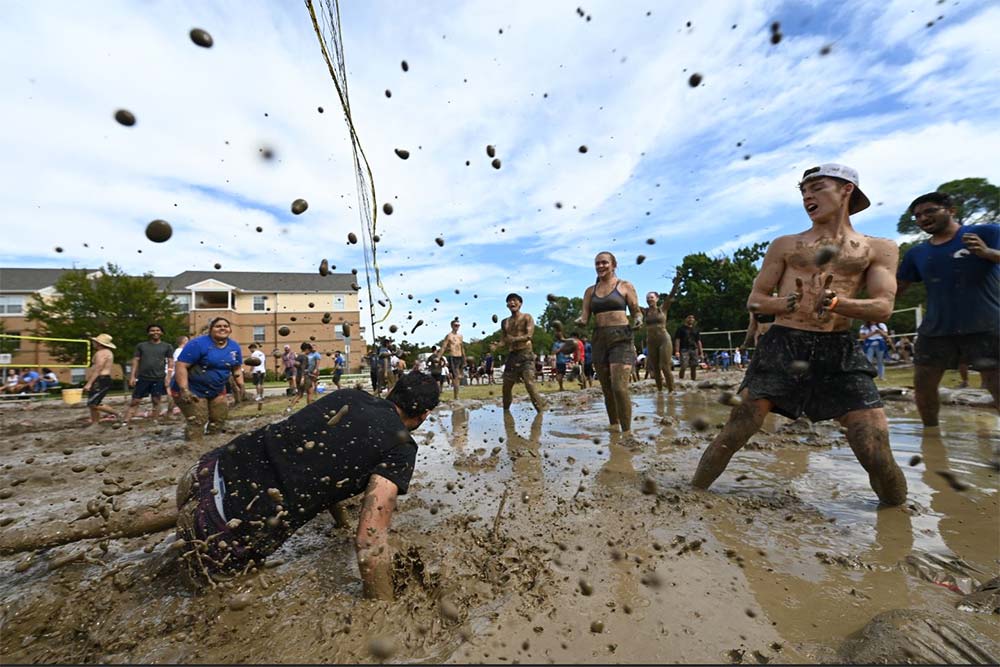 The annual mud volleyball tournament, which dates back 31 years, is voted year after year as UTA's "most popular tradition." Gaurav Thapa, a senior biomedical engineering major and neuroscience minor, said everyone at UTA should try it at least once.
"I did this in 2019, and I was waiting for this event to come back so bad," Thapa said. "The vibe out here is fun, and Oozeball is one of the best traditions at UTA."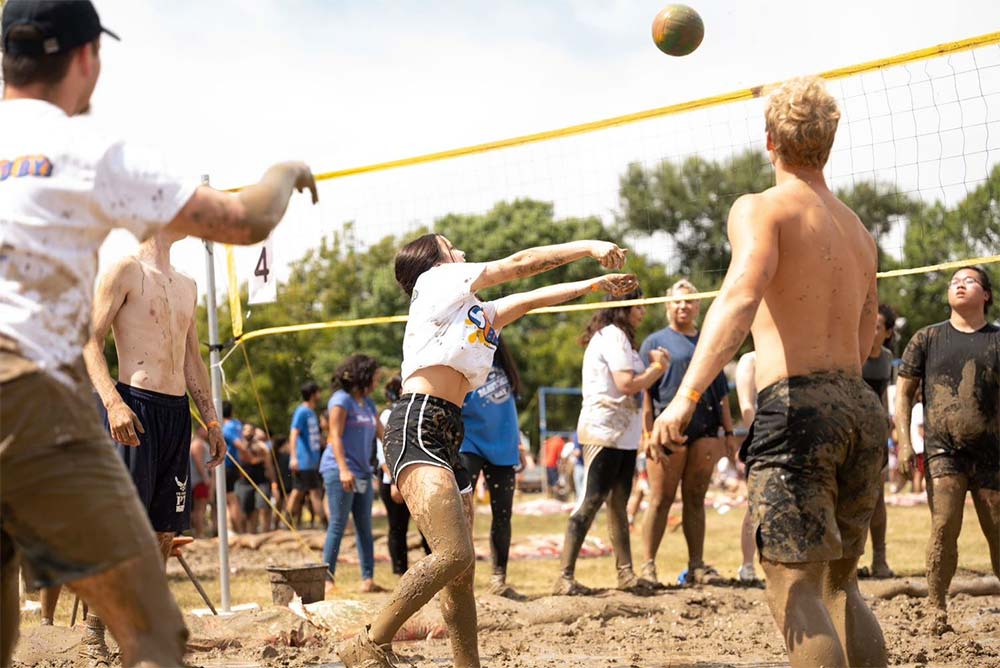 In Oozeball, each team has six players, and teams win by reaching 11 points or being ahead after 15 minutes. More than 55 teams participated, including teams from The Shorthorn, La Sociedad Hispánica, the UTA Ambassadors, residence halls, fraternities and sororities.
A team of UTA employees create the mud courts by breaking up the ground with a bulldozer, adding a top layer of soil and saturating it with water.
Olivia Mullen, a sophomore studying communication, public relations and advertising, said she enjoyed both the competition and camaraderie.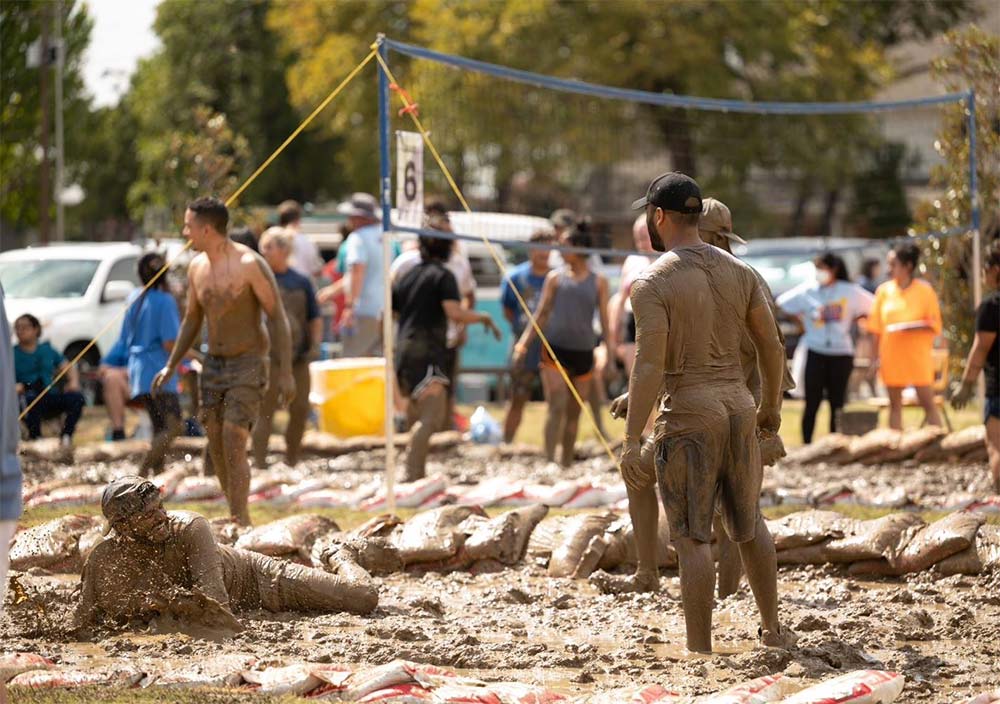 "I didn't want to miss out on embracing this UTA tradition," Mullen said. "On the outside it just looks like you're rolling around in a bunch of mud, but on the inside you're really bonding with people that you care about."
A team named The Power Rangers consisted of a group of newfound freshmen friends who met at New Student Orientation over the summer and reunited at MavsMeet Convocation. Nsikan Imeh and her friends color-coordinated their shorts and bandanas so that each represented a different Power Ranger.
"I thought I would like the mud, and I'm competitive," said Imeh, who is studying nursing. "You don't get used to it, though. You think you have it, and then you slip into another pit. It's like quicksand."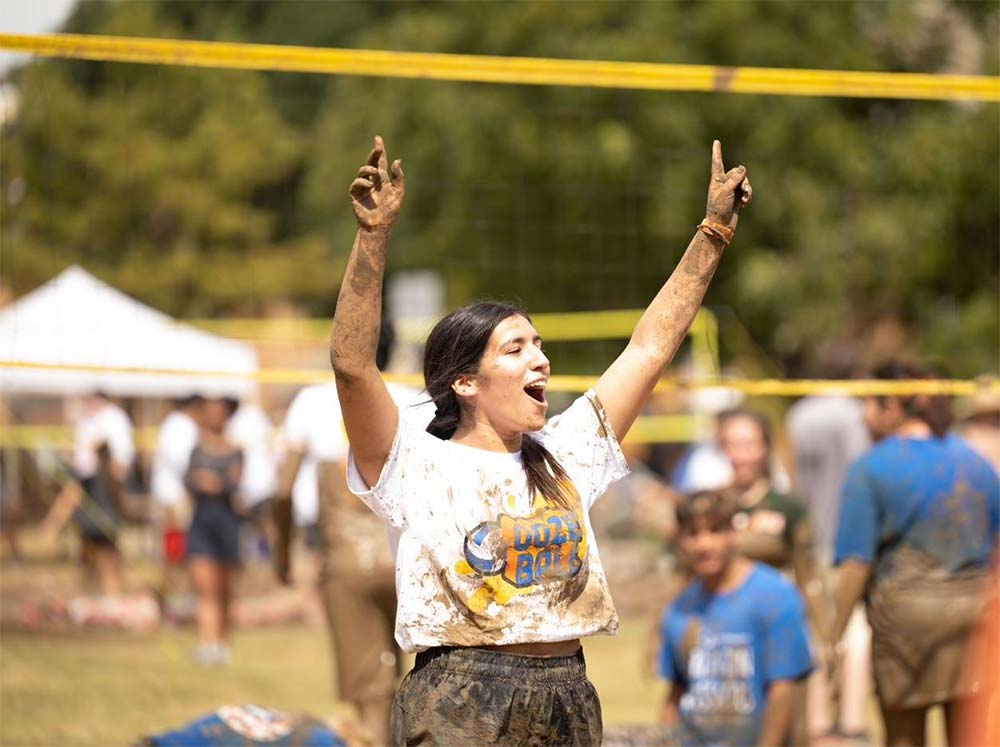 Chris Muller, associate director with UTA's Campus Recreation, said it was great to see smiling faces at the event and called it a wonderful opportunity for students to gather together in a fun team environment.
"We hope that student participants will make lasting memories while playing Oozeball and use UT Arlington's Campus Recreation programs and services to further their individual wellness goals," Muller said.