'Watershed Urbanism' exhibit comes to UTA after debut in Venice
Exhibit designed by CAPPA faculty, students explores area's Trinity River watershed
Watershed Urbanism and the DFW Metroplex, an exhibit featuring work by faculty and students from the College of Architecture, Planning and Public Affairs (CAPPA) at The University of Texas at Arlington, will open its North Texas tour on March 8.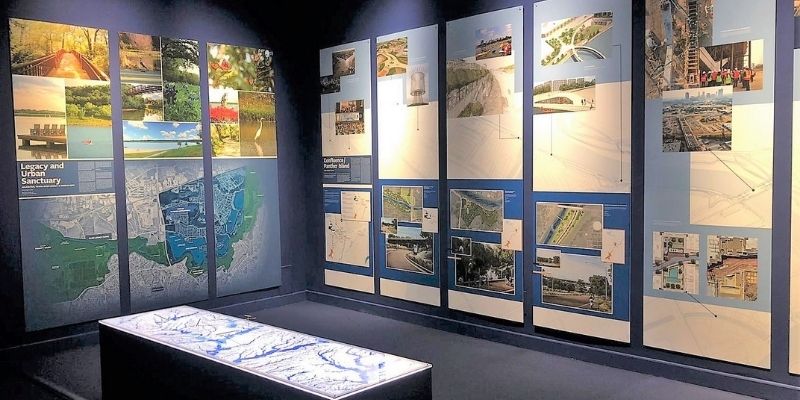 The exhibit originally was part of the European Cultural Center's (ECC) 2021 Venice Architecture Biennale, which showcases cutting-edge work from across the globe in the field of architecture and is considered one of the most important events for cultural critics, investors and designers. The exhibitions were hosted throughout Venice at Palazzo Mora, Palazzo Bembo and Giardini Marinaressa. The ECC, along with the Venice Architecture Biennale, welcomed approximately 600,000 international visitors.
Now the exhibit has made its way back to North Texas and will be on display in the University Center, 300 W. First St., through March 20. Other stops include:
• Fort Worth Museum of Science and History, 1600 Gendy St., Fort Worth, 76107, March-August 2022
• Lewisville Grand Theater, 100 N. Charles St., Lewisville, 75057, Sept. 26-Oct. 26
• Texas Discovery Gardens, State Fair of Texas, 3601 Martin Luther King Jr. Blvd., Dallas, 75210, Sept. 30-Oct. 23
Former CAPPA Dean Adrian Parr, United Nations Educational, Scientific and Cultural Organization (UNESCO) water chair, led the design and development of the exhibition, which focuses on the Trinity River watershed in North Texas. Studio works from CAPPA faculty and students are featured alongside some of the most highly regarded designers and design programs in the world.
Watersheds are critical to the environment. They collect water from rainfall, storing some while slowly releasing runoff and preventing floods. Healthy watershed ecosystems are impacted by the removal of wetlands due to development, diverting or channeling water, pollution from runoff and other dynamics related to urbanization.
Urban areas like DFW face increasing pressures from population booms, sprawl, aging infrastructure and a changing climate. Maria Martinez-Cosio, interim CAPPA dean, said the exhibit spotlights issues that are critical to this region.
"We're especially excited to see the exhibit make its way back to this area," Martinez-Cosio said. "We hope that our DFW communities learn about how our water systems function in our region. Students will benefit from learning about the waterways in our backyard and the ways they are connected, as well as the critical role watersheds have on our environment and surroundings."
The exhibition was designed by CAPPA faculty and students in collaboration with Parr, curator of the exhibit. Architecture faculty involved were Dennis Chiessa, Brad McCorkle, Steve Quevedo and Boback Firoozbakht. CAPPA students involved include Tuyen Lemai, Ashley Foster, Jackeline Menjivar, Belén Vigil, Fernando Olmedo Rivera and Francisco Gonzalez.
Donors and contributors include UT Arlington, UNESCO, Diane and Chuck Cheatham, city of Arlington, city of Lewisville, Paul Geisel, HKS, MIG Inc., Grieger, Perkins & Will, Streams and Valleys, Trinity Park Conservancy, Tarrant Regional Water District, Fort Worth Promotion & Development Fund, Pentagram, URBANCOMMONS and William E. Scott Foundation.
Exhibitors include CAPPA, city of Arlington, city of Dallas, city of Fort Worth, city of Lewisville, HKS Design Fellows, Perkins & Will, Streams & Valleys, Trinity Park Conservancy and Tarrant Regional Water District.