New graduate rankings signal excellence in academics
Multiple UTA programs improved in latest U.S. News & World Report rankings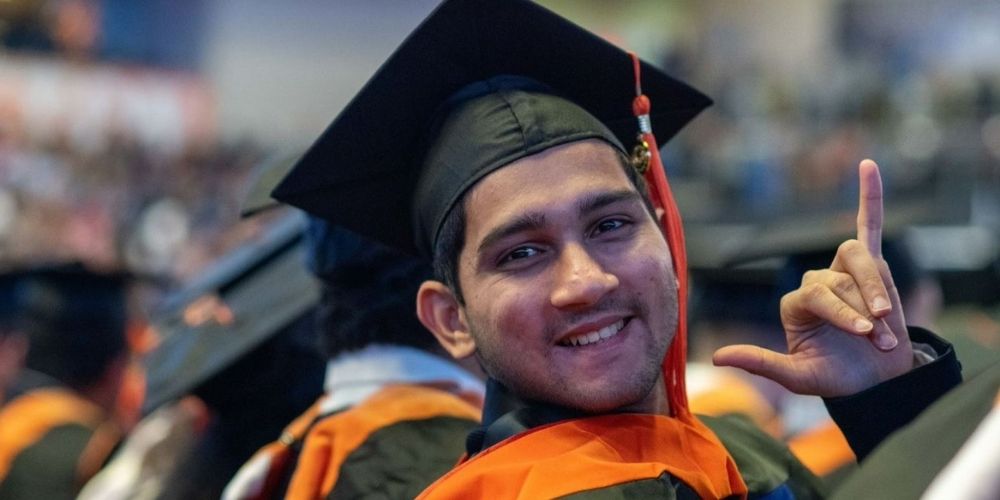 Several programs at The University of Texas at Arlington moved up in the 2023 U.S. News & World Report Best Graduate School rankings, the latest sign of Maverick excellence in academics and research.
The College of Nursing and Health Innovation's (CONHI) master's programs earned a top-50 national designation in the latest rankings. CONHI sets the standard for nursing education in Texas as the largest producer of baccalaureate-degreed nurses in the state and one of the largest of the country. CONHI's complete selection of online and in-person programs, taught by master teacher-coaches and practitioners, ensures that students are ready to make a difference with their patients on Day 1, said Elizabeth Merwin, CONHI dean.
"We are pleased to be recognized once again for our exceptional graduate nursing program," Merwin said. "It is a testament to how well-prepared our students are to care for their patients and tackle the challenges of today's health care field. After graduation, our students go on to become well-respected providers in their communities and globally. We are proud to provide them with a strong educational foundation."
Exceptional faculty in science
In the College of Science, the graduate programs in physics and chemistry both made significant jumps in the rankings. Dean Morteza Khaledi said the rankings reflect the programs' growing national reputation for expert teaching and innovative research.
"It is well-known that UTA is home to some of the world's leading scientists," Khaledi said. "Our exceptionally talented faculty are committed to providing a first-rate education and working alongside their students on research that will solve global challenges."
UTA physicists lead investigations that span the fields of space weather, neutrino experimentation, high energy and nuclear physics. Its graduate researchers receive prestigious fellowships and appointments from the National Science Foundation, NASA and other national organizations.
In 2021, The Analytical Scientist magazine named three professors from the Department of Chemistry and Biochemistry to its 2021 Power list, which highlights the most influential analytical scientists from across the globe. The department's research portfolio includes investigations into human diseases, renewable energy and advanced materials.
'Outstanding' work in engineering
The College of Engineering (No. 79) improved five spots in the rankings, with the biggest increase coming from the Department of Civil Engineering, which jumped six spots to No. 89 this year. UTA's graduate program in aerospace engineering is ranked No. 40.
Engineering Dean Peter Crouch said the improvement is due to outstanding work from students, staff and faculty.
"Our faculty has been able to pivot during a worldwide pandemic to tailor education delivery to what best fits our students," he said. "Our students have adapted well to the changing landscape of higher education."
CAPPA climbs rankings
The public affairs and planning programs in the College of Architecture, Planning and Public Affairs (CAPPA) improved seven spots. Interim CAPPA Dean Maria Martinez-Cosio said the public affairs discipline engages students in real-world planning and projects.
"Our faculty have enlisted students to work on projects in cities and other entities to gain valuable practical experience in their academic journeys," Martinez-Cosio said. "We are grateful to our public affairs alumni who continue to give back through valuable internships, jobs to students and recent graduates, and opportunities to partner with them on projects that make an impact on our communities."
David Coursey, interim chair for the Department of Public Affairs and Planning and director of the Master in Public Administration (MPA) program, said, "The program has greatly expanded its faculty and community outreach, including our city government-based cohort offerings, as well as rejoined with our urban planning program, which significantly distinguishes us from most MPAs."
Biggest improvement
The College of Education made UTA's largest leap in the rankings, improving 33 spots. It's one of the nation's top colleges for both those new to teaching and established education professionals, preparing students for leadership in K-12 classrooms and schools, higher education and educational policy, with degrees in special education, curriculum building, leadership and policy-making skills.
In addition to offering a strong roster of existing graduate programs, the college recently launched two new online degrees: a master's in mind, brain, and education and a master's in special education. In fall 2022, the college plans to offer two new graduate-level certificates in Instructional Learning Design Technology and Hispanic-Serving Leadership Preparation.