UTA recognizes academic inventors
New members inducted to UTA's chapter of National Academy of Inventors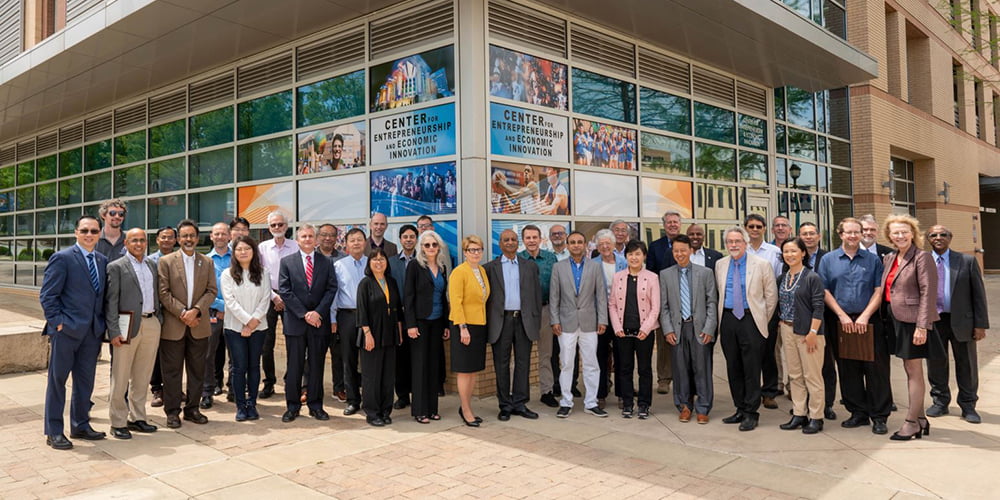 The National Academy of Inventors (NAI) chapter at The University of Texas at Arlington inducted more than 35 members at its inaugural annual luncheon.
UTA boasts 19 NAI fellows, the most of all institutions in Texas. The academy, founded in 2010, has more than 4,000 members from U.S. and international universities and government and nonprofit research institutes. Its mission is to recognize and encourage inventors, enhance the visibility of academic technology and innovation and educate innovative students. UTA relaunched its campus chapter of the NAI in October 2021. The chapter has 80 members.
Among the inductees were representatives from the University of Texas at Arlington Research Institute, College of Engineering, College of Science, College of Education and College of Nursing and Health Innovation.
Pranesh Aswath, UTA interim provost and vice president for academic affairs, said he looks forward to witnessing the new members' professional progress.
"Everything in Texas is big, and that holds true for its culture of innovation," said Aswath, who is the UTA chapter president and a senior member of the NAI. "UTA is composed of many talented inventors, whose work I anticipate will shape their respective fields in remarkable ways."
Reflecting a culture of innovation, UTA's research expenditures totaled $117 million in 2021, placing it among the nation's top 150 institutions of higher education. In 2020, UTA innovators and inventors were granted 23 patents, contributing to the University of Texas System's overall No. 4 ranking in the list of Top 100 Worldwide Universities Granted U.S. Utility Patents for that year.
Paul Sanberg, founder and president of the NAI and executive director of the Center of Excellence for Aging and Brain Repair at the University of South Florida, offered guidance to the new members via video recording.
"NAI members are the foundation of the academy and represent our mission day in and day out," Sanberg said. "They play a key role by supporting other members, facilitating local collaborations, recognizing individual inventors and engaging student inventors as well."
The NAI fellows program highlights academic inventors who have demonstrated a spirit of innovation in creating or facilitating outstanding inventions that have made a tangible impact on quality of life, economic development and the welfare of society. NAI fellowship is the highest professional distinction accorded solely to academic inventors.