Public Health Students Help Identify Food Deserts in Fort Worth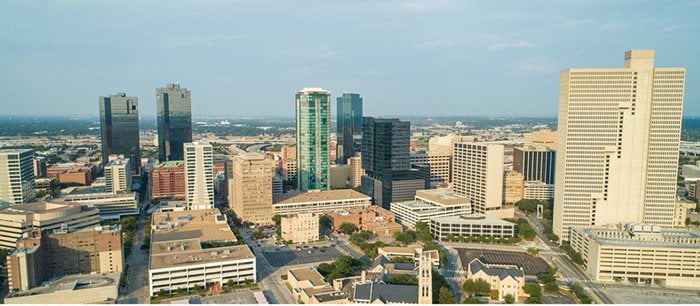 Undergraduate students in the College of Nursing and Health Innovation Public Health program have been assisting Healthy Tarrant County Collaboration on surveying local stores for produce and shelf space for food options. The project was part of the course titled "Urbanization and Vulnerable Populations" taught by Dr. Brandie Green, Clinical Assistant Professor in the Department of Kinesiology.
"It was the perfect project for this class, we talk a lot about urbanization and how the geographic location impacts the overall health of the individual," shared Dr. Green. "Each group would go to a store and complete the survey to determine if there were items like fresh fruits and vegetables available, were they at eye level, what was at the cash register, and so on. What really surprised students were the drastic differences they saw between zip codes."
"This was an excellent opportunity for our public health students to participate in an experiential learning opportunity that supported local public health improvement efforts. They had a chance to experience real-world circumstances that are impacted by social determinants of health for people right here in Tarrant County," said Dr. Rebecca Garner, Clinical Associate Professor and Bachelor of Science Public Health Program Director.
The first survey that students conducted was created by Dr. Green and Dr. Erin Carlson, Clinical Associate Professor and Director of the Master of Public Health program. The Public Health Program was approached by Health Tarrant County Collaboration Executive Director Linda Fulmer, who wants to increase healthy food access in Fort Worth and Tarrant County. Fulmer requested their assistance in utilizing a model provided by Baltimore that surveyed the city's food environment in 2018 and transferring it to Fort Worth.
"This is where I live. So helping people understand that you can buy healthy food in your community without a store on every corner is important," shared Fulmer. "Many people expect if they don't see a big chain, they don't have an option. Helping people expand their definition of where they can find food is an important survival tool."
The end result has been a map that doctors and the broader public can use to identify local health food options. Her team has also gone on to use this data to begin implementing other solutions to bring healthy choices to residents in the Fort Worth area, including urban farms, gardens-on-the-go, and a city ordinance that new dollar stores must have 10 percent of floor space dedicated to fresh fruit, meats and diary.
Over a two-year period students helped survey over 1,280 stores. Thanks to their effort Healthy Tarrant County Collaboration has been able to provide data-driven evidence to promote policy changes at city council and county levels in Tarrant county.
"Several of our students, through this project, found that they actually live in food deserts and were surprised. Some have even gone on to intern at Healthy Tarrant County Collaboration during their Cumulative Experience course to help make even more of a difference," shared Dr. Green.