Developing the New Materials of Life Through CONHI Research Grant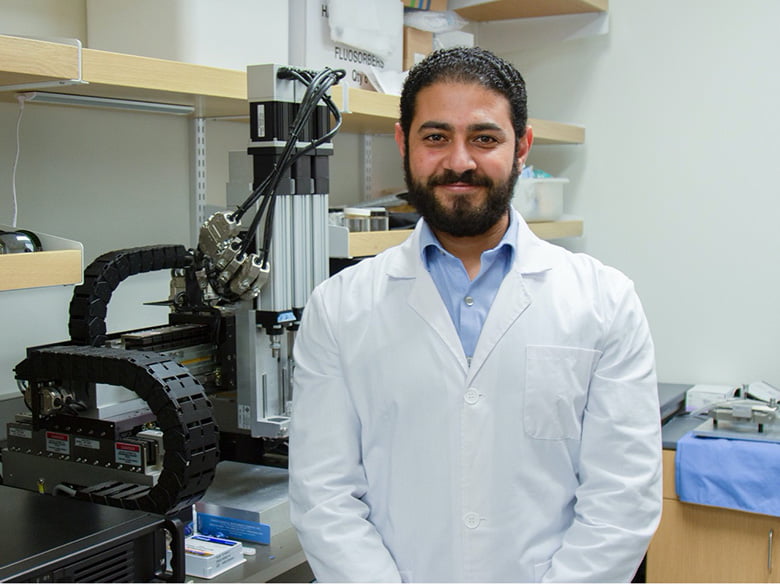 Kamal Awad is a research assistant who studies rapid healing through biomaterials using 3D printing and nanofabrication in the Dr. Venu Varanasi Laboratory in the College of Nursing and Health Innovation. Awad is a Fulbright student from Egypt, and a PhD candidate in the Materials Science and Engineering department in the College of Engineering, who worked for the National Research Centre in Cairo. He earned his master's degree working with ceramic nanoparticles, which opened his eyes to the potential for human application.
"As Dr. Larry Hench (the inventor of Bioglass) said, you can never tell where basic science can take you as far as application," says Awad. "I have been very interested in learning about how we can apply materials to benefit people in different applications."
Awad received a Center for Research and Scholarship Pilot Grant from the College of Nursing and Health Innovation in August 2020. His research currently focuses on modifying bioactive silica-based nanomaterials to coat titanium implants, which can promote enhanced and rapid healing by creating a better bond between the implant and the body.
"This can decrease the length of a patient's stay at the hospital, and even enhance the successfulness of the implant within the body," says Awad.
Awad and his colleagues in the Venu Varanasi Lab also recently published a paper in the International Journal of Molecular Sciences discussing the effect of ionic silicone on the skeletal muscle cells, to gain insights into its role on myogenesis during muscle regeneration. He says his group is the first to test this silicon and silica-based material for muscle application and is currently working to adapt the material for the use of 3D printing.
"There is really an urgent need for a solution for people who are suffering from traumatic injuries," says Awad. "For a patient with volumetric muscle loss, this could mean the difference between recovery and a life changing injury."
– Written by Paul Bennett, College of Nursing and Health Innovation