Strong Track Record of Published Research by Nursing Honors Students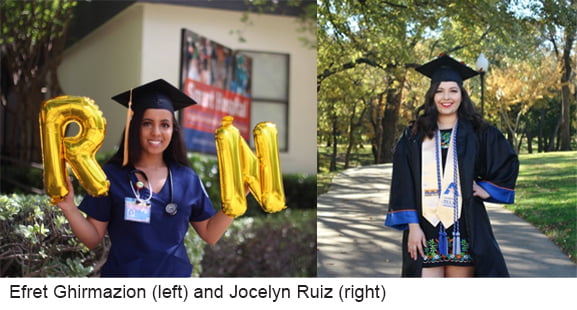 Dr. Cheryl Anderson, associate professor of research and associate professor emeritus, has been serving as a mentor to undergraduate students in the honors nursing program and graduate students interested in various aspects of research on childbirth. Working together, the students she mentors have not only gained valuable research experience and stepped closer toward degree completion but have had their findings published in academic research journals, forever becoming a part of the scientific knowledge within the field of nursing.
"Their work being published demonstrates the last step of the research process. You never do research and then hide it away. Publishing is the gold standard that allows the sharing of your work with many across the globe," shared Dr. Anderson.
Students most recently have had their works published in The American Journal of Maternal Child Nursing, Hispanic Health Care International, and the Journal of Perinatal Education, all within the last 18 months.
"I have been involved with undergraduate research and the McNair Scholars Program the last three years of my college experience. It has helped me evolve in so many ways such as enhancing my research skills, professional development, networking, and becoming a published author in a peer-reviewed journal. New information is always coming to light in health care, and it is crucial that nurses know the importance of research," shared Efret Ghirmazion, an alumnae of the BSN program who graduated in May 2020.
For these students, this research was part of their independent study and final honors project. Initially interested in Anderson's research expertise in birth trauma and depression and PTSD due to childbirth, students explored ideas on topics they could further research using the available data Anderson collected over the past eight years from 303 childbearing adolescents.
For their honor's projects, Efret Ghirmazion explored the birth experience as it differed between Black, Hispanic and White teens. Jocelyn Ruiz looked at depression among Hispanic adolescents and the effect on neonatal outcomes. Lindsay Harter worked on the first qualitative report from the data and explored the adolescent's perceptions of childbirth via statements made from over 100 teens following birth. Last, as an extension to this work, Faith Akinmade explored the previously identified unmet expectations by four themes, which were findings of Lindsay's study, and if unmet expectations predicted birth trauma.
Current honor's students are exploring the impact of anxiety, domestic violence, and personal control upon the adolescent's childbirth experience. Another honor's student is working with data collected from adult women to explore maternal depression, infant length of stay in the NICU and maternal-infant bonding.
"The research I did with Dr. Anderson allowed me to understand the work that comes along with doing research," shared Jocelyn Ruiz, who graduated from UTA in December 2019 and started working at a local DFW hospital in February 2020 as a postpartum nurse. "With my research topic I learned the lack of mental health education in various states of this country and cultural barriers in the Hispanic/Latino community. Now working in a Postpartum unit I do mental health teaching to my patients about postpartum depression…In the near future I do plan on going to graduate school to become a Women's Health Nurse Practitioner to provide more preventative care in the DFW area."
"It is important for practitioners to know what may be significant or not, but whether findings are groundbreaking or not, it is important to see results. Replicated, significant findings offering support for others' works can aid in building a foundation of scientific knowledge. Certainly, significant findings serve to guide practice and policy and become part of evidence-based practice," said Anderson.
Here is a listing of their recent publications:
Anderson, C. & Akinmade, F. (in press). Unmet birth expectations and birth trauma: A concern for adolescents? MCN, The American Journal of Maternal Child Nursing.

Anderson, C. & Ruiz, J. (2021). Depressive symptoms among Hispanic adolescents and effect on neonatal outcome. Hispanic Health Care International doi:10.1777/1540415321003223.

Anderson, C. & Ghirmazion, E. (2020). The adolescent birth experience: A comparison of three diverse groups. Journal of Perinatal Education, 29(4),197-207.

Anderson, C. Baker, K, & Harter, L (2020). Adolescents' perceptions of childbirth. MCN, The American Journal of Maternal Child Nursing, 45(4), 208-213.