Undergraduate Public Health Conference Back in Action for 2021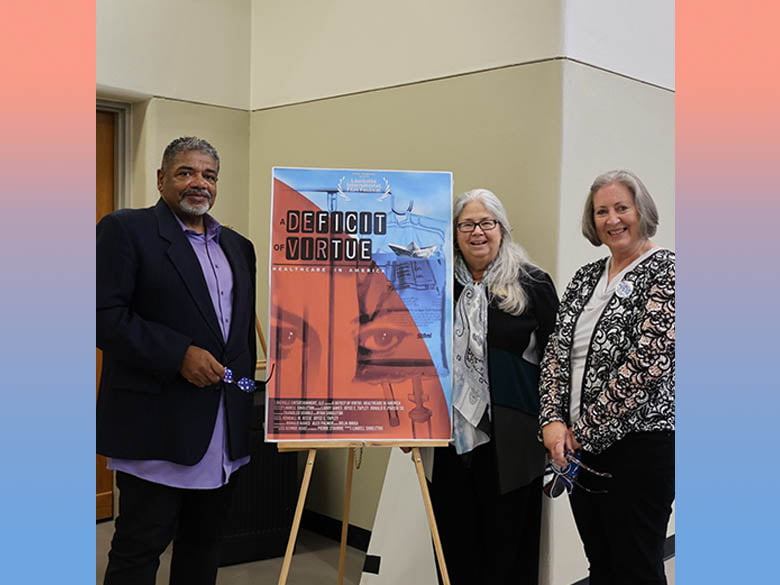 The Bachelor of Science in Public Health program hosted the 7th Annual Healthy Tarrant County Collaboration (HTCC) Community Partner Breakfast and 4th Annual UTA BS Public Health Moving Forward Conference on Tuesday, November 9, 2021. Bringing back an event postponed the previous year due to the COVID-19 pandemic.
"It is so important that we have these conversations and interact in a setting where we can all learn and grow not only as professionals, but as people. This was the first time that many of us have come together since the emergence of COVID-19 and it was such an amazing experience to discuss these public health issues. This conference was a lot of work, and definitely a team effort, but it was all worth it in the end so that we may truly be able to move forward together, heal as individuals, and heal as a society," said Sarah Andreeana Butler, a senior double majoring in Exercise Science and Public Health in the College of Nursing and Health Innovation. Butler was instrumental in planning and coordinating the conference, as part of her senior KINE 4359 cumulative experience.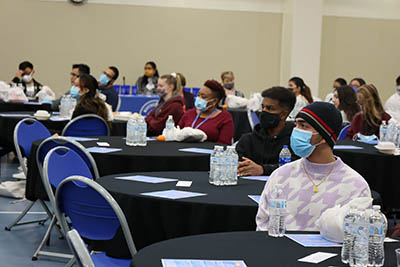 Attendees and panelists alike participated in the event both in person and virtually. The conference kicked off with remarks from Linda Fulmer, executive director of HTCC, and Brenda Patton, Blue Zone Public Affairs Coordinator. The session featured a report on the projects that HTCC supports across Tarrant County and an update on the current operations that are in progress at Blue Zones Project - Fort Worth.
The second session focused on exploring your personal bias, with a panel of experts from across the Dallas-Fort Worth Metroplex. The panel included Dr. Jandel Crutchfield DEI Coordinator, UTA School of Social Work, Kourtney Mason, DEI Specialist Travelers Insurance, Lonnetta Wilson HIV Prevention Project Coordinator, Tarrant County Public Health, and Kiva Harper LCSW, Associate Professor of Practice, UTA School of Social Work.
The conference ended with a private screening of A Deficit of Virtue: Healthcare in America documentary, followed by a panel discussion with the director/producer, Lindell Singleton, who also introduced the film before the screening. Singleton was also joined by close collaborators and actors in the film Joyce Tapley, Chief Executive Officer at Foremost Family Health Centers and Chandler Remble, film production assistant.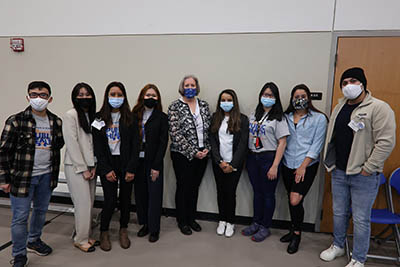 "This conference provides our BSPH students with multiple benefits. The out of class learning experience required them to stretch out of their comfort zone and they had multiple opportunities to network with community partners and one another. In addition, and most importantly, the conference speakers and sessions addressed critical topics such as bias, discrimination and health disparities. It is my hope that those meaningful and in-depth conversations will stick with - and inspire- our students so that as they move forward into their careers, they will become the future champions of change," said Dr. Rebecca Garner, clinical associate professor, and Bachelor of Science in Public Health Program Director.