New Certification Achieved by Nursing Clinical Assistant Professor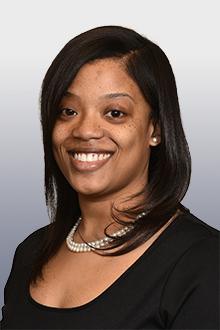 Clinical Assistant Professor Dr. Ka'Shiris Walton Perryman was ignited to pursue her education in the nursing field after witnessing the health disparities that impact communities in Rural America. Now, she is giving back by training future nurses. Her latest accolade as an educator comes from successfully passing her Certified Nurse Educator (CNE) exam, and on the first attempt.
The CNE exam was created to establish nursing education as an area of specialty for practice. The certification is a prestigious accomplishment that recognizes nurses for their knowledge and expertise in their role as an educator. This certification is a mark of professionalism and sets Perryman apart as an exemplar educator. Perryman's passion and skills shine through in not only obtaining this new distinction, but in her day-to-day role educating and preparing future nurses in the College of Nursing and Health Innovation.
"Education has been imbedded in me really from birth. I come from a family of educators. So, it is second nature and I love to learn," says Perryman.
Perryman obtained her Bachelor of Science in Nursing from the University of Southern Mississippi and completed the MSN Family Nurse Practitioner program at UTA along with the Nurse Education Certificate. Most recently, Perryman successfully defended her Doctorate of Nursing Practice.
Throughout her time both as an educator and student at UTA, Perryman has been able to create a strong network filled with past influential professors and current colleagues. The strong network of support at UTA was instrumental in Perryman's success.
"I would advise anyone to go in with a positive mindset knowing that you are prepared. Utilize your study materials and a realistic study plan," suggests Perryman to those preparing for the exam.
Perryman is currently a Clinical Assistant Professor in UTA's College of Nursing and Health Innovation and is an exceptional educator helping to shape advance practice nursing students in the Family Nurse Practitioner MSN Program. She hopes to utilize her knowledge and passion to create an impact on her students the same way her past professors had on her career.
"I truly believe it is up to the leaders of today to educate those of tomorrow," expresses Perryman.