Ball Recognized as Distinguished Fellow in Biomedical Informatics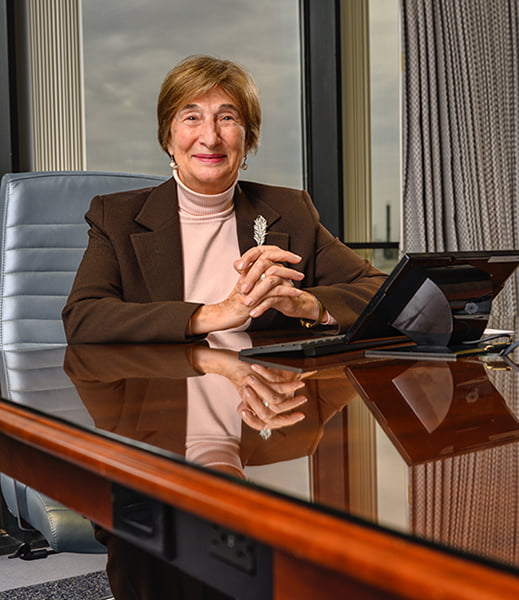 During the 2021 Annual American Medical Informatics Association Symposium (AMIA), the American College of Medical Informatics (ACMI) recognized Dr. Marion J. Ball, the Raj and Indra Nooyi Endowed Distinguished Chair in Bioengineering at The University of Texas at Arlington, as a distinguished fellow. Dr. Ball joined a select group of esteemed professionals who earned this prestigious honor in the field of biomedical informatics. Ball was one of four accomplished individuals recognized and was one of the founding members of ACMI. She is also a presidential distinguished professor and the executive director of UTA's Multi-Interprofessional Center for Health Informatics at UTA.
"It is truly an honor to be recognized by ACMI, particularly since I was one of the very early women in the field. It is so gratifying to see how far we have come," expresses Ball.
Ball's drive for applying enabling technologies to the health professions have gained her several notable achievements throughout her career. She is a member of the Institute of Medicine, now named the National Academy of Medicine, serves on the Board of Regents for the National Library of Medicine for over 10 years as well as serving on the Board of Health on the Net in Geneva, Switzerland. She was elected to membership of the IBM Industry Academy, and most recently to the International Academy of Health Sciences Informatics. In 2020, she was elected to The Academy of Medicine, Engineering and Science of Texas.
"We need to break down the silos between and among the various health professions as well as realizing what a major role social determinants of health play as a force to change our 'sick care' system towards a true 'health care' system," says Ball.
AMIA holds more than 40 years of research and insight for utilizing information to improve human health. Ball was inducted as a distinguished fellow during the AMIA 2021 Annual Symposium in September. The AMIA Annual Symposium highlights community innovations from biomedical informatics researchers and practitioners. AMIA has aimed to build a community where health professionals can share knowledge and collaborate for the advancement in the public health sector. It is the leading professional organization for medical informatics.
The ACMI Distinguished Fellows program began in 2020 with the specific aim to recognize senior fellows who have made significant and sustained contributions to ACMI in areas such as policy formulation, the practice of informatics, and applied research.
-Written by Madeline Perez, College of Nursing and Health Innovation