Nursing Student Develops Hygiene Drive to Aid Homeless Veterans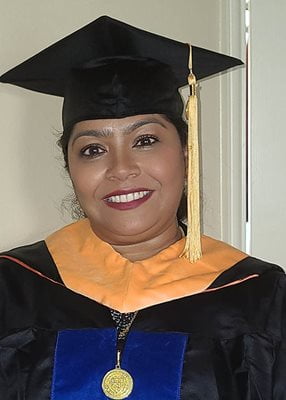 Sally Koshy has been a nurse for almost 20 years and continues to utilize her passion to aid underserved communities. Koshy will be graduating in December through the MSN Administration Program in UTA's College of Nursing and Health Innovation. Koshy's career focus has been working with veterans. Currently, she works as a Hospice and Palliative Care Nurse at the Dallas VA Medical Center, providing end-of-life care.
During Koshy's graduate studies she was tasked with completing a capstone project with a focus on the needs of the surrounding community. With her passions guiding her, Koshy created and implemented a hygiene drive for homeless veterans.
"The goal of my project was to provide essentials for our veterans through creating hygiene kits. The hygiene kits will provide a way for our veterans to get cleaned, refreshed and stay healthy," says Koshy.
Homeless veterans are at high risk of developing chronic health issues due to poor circumstantial hygiene. With the help of several sponsorships from businesses and organizations, secured by Koshy, the hygiene drive was able to raise $450 and a bounty of donated personal care products.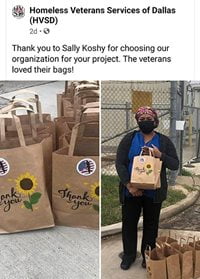 "I was so overjoyed to be able to help make a difference in the lives of our homeless and at-risk veterans. There is no greater joy than fundraising for an important cause," expresses Koshy.
Koshy's leadership initiative throughout the process of developing the hygiene drive highlighted her dedication to not only the nursing field but to the bettering of her community.
"Throughout this project, I learned that nursing leaders drive positive health outcomes for patients and communities. I plan to continue to provide volunteer services with the Homeless Veterans Services of Dallas in the future," says Koshy.
-Written by Madeline Perez, College of Nursing and Health Innovation