In-Person Kinesiology Research Day Back in Action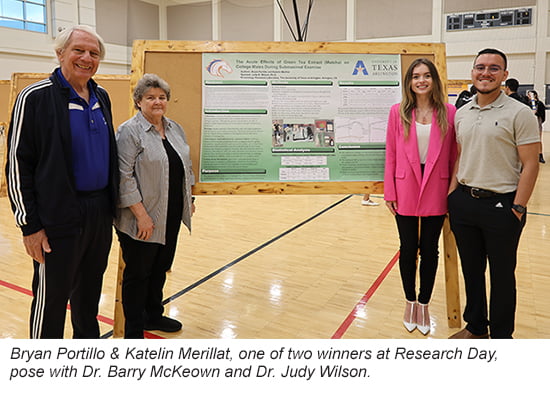 The Department of Kinesiology's bi-annual Research Day was first started in 1988, with the goal of providing a showcase and presentation experience to undergraduate students who conducted research as part of their coursework during their program. The Kinesiology Department is one of the few in the nation that require an Undergraduate Research Class of all its majors. The Fall 2021 Research Day was held on December 3, 2021, and had over 50 research projects presented by more than 100 students. Graduate students and professors judged each undergraduate student project based on the individual or teams' presentation and their research conducted.
The award winners of this past Research Day are Bayan Hammad and Shilpa Thomas with the project topic "The Effects of E-Cigarettes on Dynamic Respiratory Volumes on College-Aged Individuals" and Bryan Portillo & Katelin Merillat with the project topic "The Acute Effects of Green Tea Extract (Matcha) on College Males during Submaximal Exercise." All four students are in the Clinical Applied Physiology track of the B.S. in Exercise Science and graduated in December 2021.
These award winners and graduates all plan to take a well-deserved break, to either decide what to do next or before going on to graduate programs, such as Physical Therapy (PT). "In the immediate future, I am close to getting a research position at UT Southwestern (fingers crossed) where I will work in a metabolic lab that is trying to find new therapeutic ways to address obesity and diabetes," said Hammad. "Once I graduate in December, I am going to take a well-needed break, maybe go on vacation! After that, I have been blessed enough to get into PT school, so I will be joining a DPT program this summer/fall," said Thomas.
ABOUT THE WINNING PROJECTS
Hammad and Thomas chose to study e-cigarettes because of how popular it is among adolescents and young adults recently. "E-cigarettes were an alternative to tobacco cigarettes originally, so they were deemed 'healthier' but we wanted to see what the actual effects of using a vape were at such a young age," said Thomas. While researching they found that most respiratory values stay the same between a smoker and a non-smoker. However, there was a significant difference between their peak expiratory flow rate, which is a person's maximum speed of expiration. "The big takeaway is that most of the literature, the few that exist because e-cigarettes are relatively new, suggests that there should not be detrimental effects in younger-aged individuals; however, at the rate young adults are using e-cigarettes we did see some negative effects," shared the team. The Research Day for the teammates was nerve-racking because they were unsure what to expect but it was also fun to present what they had been working on for the entire semester to the judges and their peers.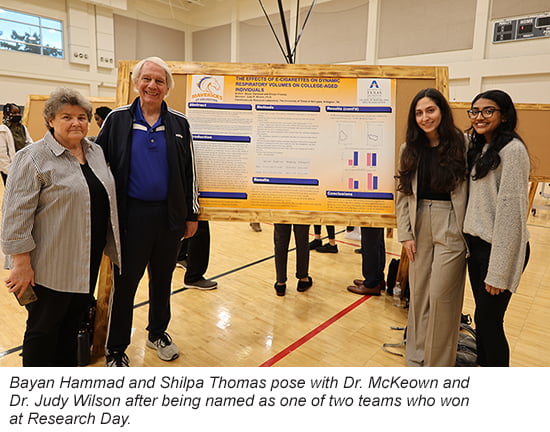 The second team with Portillo and Merillat saw an opportunity to learn more about the effects of Green Tea Extract (GTE) and its implications during exercise. GTE carries an abundance of compounds that are suggested to have antioxidant, anti-inflammatory, and even anti-viral properties because it includes roots and leaves of a tea. "We found that there was no difference between the placebo and GTE during exercise. We found that after just 30 minutes of consumption of GTE, our subjects had a lower blood glucose level in comparison to the placebo. Additionally, our figures seemed to suggest that blood glucose levels were more stable during exercise and recovery with GTE supplementation since we saw more fluctuation, there was a big drop from the onset of exercise, in blood glucose with the placebo," said Portillo. They loved everything about the Research Day, it was an opportunity to display all the work they had done for the past several months with the guidance of their knowledgeable professor and teaching assistant.