CONHI Students Shine at Research Beyond Boundaries Conference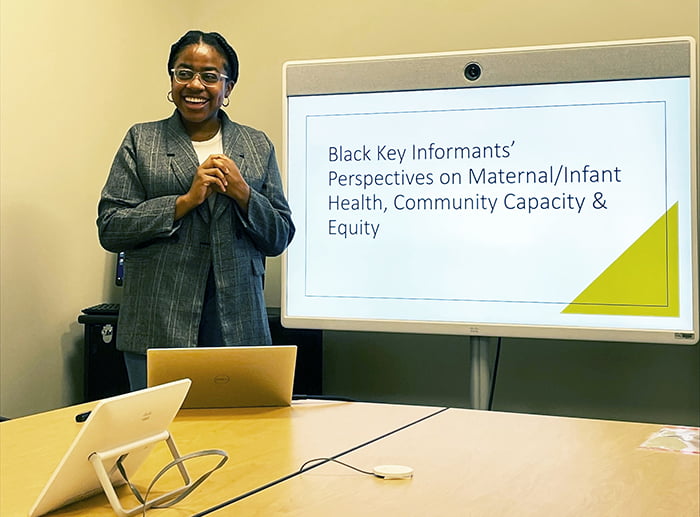 UTA College of Nursing and Health Innovation students recently presented at the UT Health School of Public Health Research Beyond Boundaries Conference, organized by the UTHSPH Dallas Student Association. Research Beyond Boundaries is held annually to highlight student, faculty, and professional research. It is an opportunity for students to showcase their research and is open to students from public health programs and schools across Texas.
At this year's conference, UTA CONHI students stood out among the crowd. Bala Yadu Vamsi Sankuratri and Racquel Owino, both recent Master of Public Health (MPH) graduates, were invited to present at the conference, as well as Portia Ebgu, a sophomore working on her Bachelor of Science in Nursing and the only undergraduate student to give an in-person oral presentation among MPH and PhD students.
Faculty research mentors worked to prepare and support CONHI presenters, and included Drs. Carlson, Liao, Brown, Kindratt and Ben Taleb. Several projects presented at the conference were funded by internal and extramural funding.
"Drs. Erin Carlson and Tiffany Kindratt were responsible for making sure the faculty were aware of the conference and encouraged us to have our students submit an abstract," shared Kyrah Brown, assistant professor in CONHI's kinesiology department. "We are so proud that eight CONHI students prepared and delivered in-person or virtual presentations at the conference! Next year, we hope to have an even larger group."
Other CONHI presenters included undergraduate public health student Jhoceline Moza, as well as Hannah Affleck and Danny Dabroy, both of whom are working on their graduate public health degree.
Two of the presenting CONHI students were honored for their research. Graduate public health student Berford Moncriffe placed third for his research with Dr. Tiffany Kindratt, "Cognitive limitations and diabetes comorbidity among racial and ethnically diverse older adults by nativity status in the United States." This research was funded by the Michigan Center for Contextual Factors in Alzheimer's Disease and National Institute on Aging.
Ariel Hall, who graduated in May shortly after the conference with a Master of Public Health degree, was selected as the first-place research award winner for her work on a project funded by the CONHI Center for Research and Scholarship Pilot Grant Project, titled "Using Community-Based System Dynamics Modeling to Address Racial Disparities in Maternal Health." This research was funded by the CONHI CRS Pilot Grant Program.
Hall's role in the project included planning and assisting with the implementation of a group model building session called the Black Maternal Health Co-Design Studio. The studio involved nine community stakeholders including mothers from the community, OB/GYNs, doulas, women's health program administrators, and others who convened to design a diagram that illustrated the complex and interrelated factors that contributed to disparate severe maternal morbidity outcomes among non-Hispanic Black women.
Hall's conference presentation focused on the lessons learned from this project, as well as how online tools helped facilitate her research during the COVID pandemic. Typically group model building with community members is done in-person and there is very limited empirical guidance on how to conduct these in an online format. Her poster highlighted those lessons learned using online tools to facilitate the workshop.
"Because this was my first time, I was not sure what to expect when I submitted an abstract to this conference," Hall said. "I definitely did not expect to place, let alone get first place because I was unaware that it was a competition. I was just happy that I got the opportunity to share research that I am passionate about. My mentor, Dr. Kyrah Brown, was supportive and helped me throughout the entire process, so I was able to confidently submit my poster."
-Amanda Wenzel, Assistant Director CONHI Marketing and Communications