Transforming the world of healthcare simulation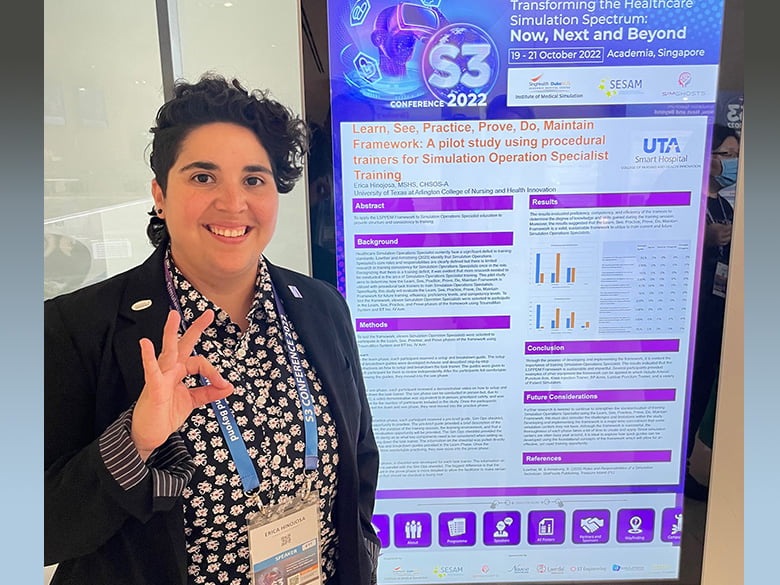 Erica Hinojosa, Simulation Technology Manager at the SMART Hospital, presented at the S3 Conference at the SingHealth Academy in Singapore. This conference gathers the brightest minds in healthcare simulation to showcase the transformation and latest technologies and techniques of healthcare simulation to drive the standards of patient care to new heights.
"I was invited to present at the conference by the host organization SingHealth Duke-NUS Institute of Medical Simulation (SIMS) in the category of Technology & Innovation due to my extensive research and expertise in Technology & Innovation," said Hinojosa.
The topics presented included, "Low Cost Moulage and Simulated Tissue Designs", "Practical Application of Moulage and Materials for Scenario Immersion and Simulation Tool Design", "Tech Hack: 3D Printing Solutions for Small Projects in Simulation", "Intelligent Simulation: Integrating Artificial Intelligence into Simulation Education", and a poster on "LSPPDM Framework: A pilot study using procedural trainers for Simulation Operations Specialist Training".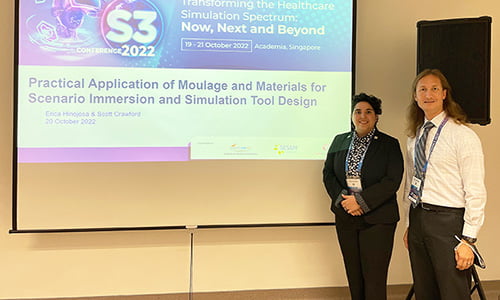 "I had 1 6-hour pre-con workshop, 3 90-minute workshops, and 1 poster," said Hinojosa. "Each session was significant in its own way which included enhancing moulage concepts, using 3D printing to add value to healthcare simulation, adopting artificial intelligence into simulation education, and defining the deficiency in training Simulation Operation Specialists in healthcare simulation."
Now an international speaker, Hinojosa gained a recognizable name across the world in healthcare simulation, broadened her views in healthcare simulation in comparison to many parts of the world, expanded her cultural relativism to many communities, collaborated with some of the most well-known simulationist in the industry, and enhanced her professional reputation.
Hinojosa attributes UTA CONHI to the success of her career advancements and achievements. The ability to support her in many ways including supporting her efforts to stay included in healthcare simulation organizations, to trusting her expertise as a Simulation Operation Specialist, Hinojosa is thankful to have these opportunities to expand her career and life goals.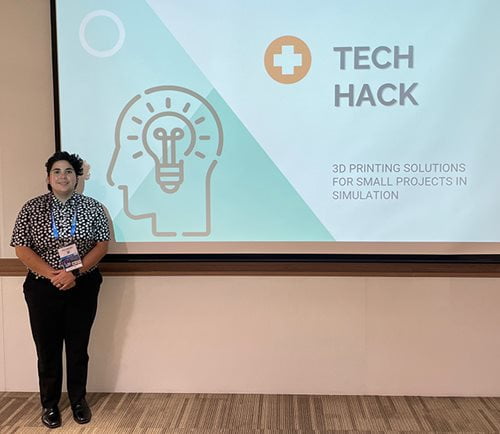 "Never in a million years did I consider such an opportunity to occur in my life," said Hinojosa. "I am a very appreciative person and I am thankful for the opportunity to represent UTA, CONHI, and Healthcare Simulation. I also want to thank my family for their constant support. Moreover, SimGHOSTS, Jenny Roye, Stephanie Campbell, and the Simulation Technicians for believing in me and allowing me to work with them every day."
– Written by Midori Hrinda, UTA College of Nursing and Health Innovation