ANSA gifts wreath to CONHI for 50th anniversary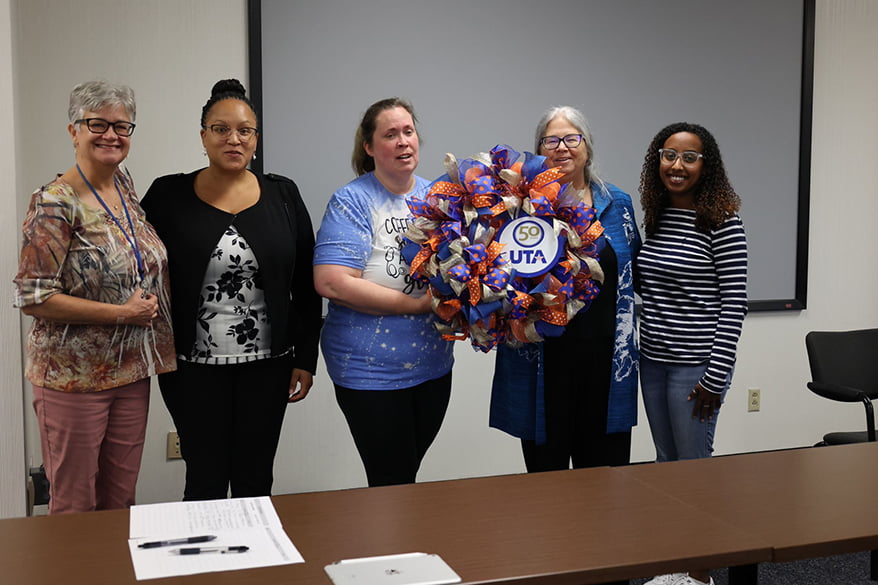 To honor the 50th anniversary of CONHI, the Arlington Nursing Students' Association (ANSA) donated a custom-made wreath. As CONHI celebrates its 50th anniversary, ANSA wanted to take part in the season of giving and show their appreciation for all faculty and staff.
ANSA is the local chapter of the National Student Nurses' Association (NSNA), a national organization of student nurses that provides a gateway to professional nursing organizations. It is an opportunity to volunteer and get involved in professional service while being able to network with other nurses and give back to the community. ANSA is the largest nursing organization on the UTA campus.
"I chose to have this made in honor of the 50th anniversary to thank Dean Merwin and all the faculty for their service and support through the semesters that I have been here," said Lauri Hix, ANSA's president.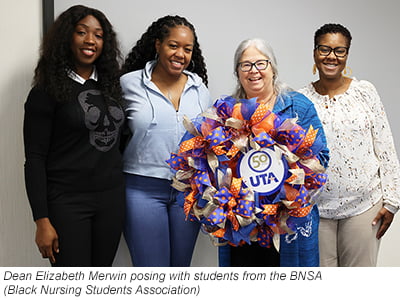 Hix had the idea to give a wreath as she knows someone who makes custom wreaths. She thought this would be a perfect gift to show ANSA's gratitude towards the CONHI faculty for their constant support.
"UTA has the best reputation throughout all of Texas. In fact, at Baylor where I work in Austin 50% of the nurses are in the NP program at UTA," said Hix.
UTA CONHI works to always provide the best support and service to all individuals. All faculty and staff work together to make the nursing program the best it can be and to help students enter the field fully prepared.
– Written by Midori Hrinda, UTA College of Nursing and Health Innovation