Athletic training day attracts potential students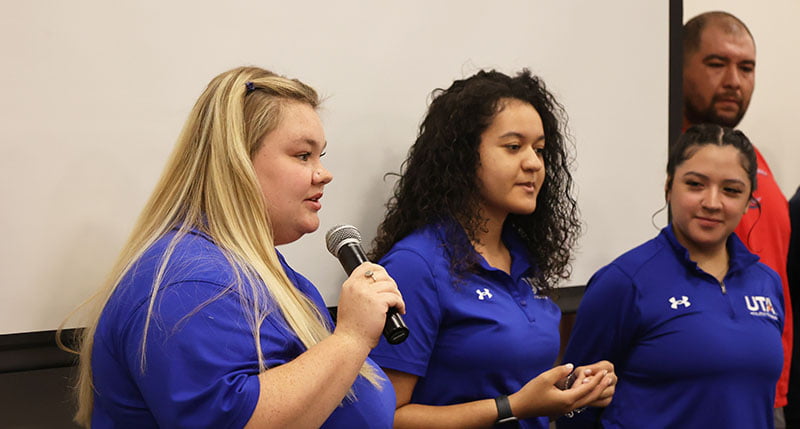 By Dru Murray
The yearly Athletic Training (AT) Day at The University of Texas at Arlington's College of Nursing and Health Innovation (CONHI) provides potential students with information on earning a Master of Science in Athletic Training (MSAT) and delivers fun.
Hosted on campus in October, potential MSAT students enjoyed a tour, lunch and panels of faculty, students and alumni.
Laura Kunkel, EdD, LAT, ATC, PES, FNAP who serves as MSAT program director in CONHI's Department of Kinesiology, explained that the popular event was more accessible this year due to a virtual option. "This allowed prospective students who could not make it in-person to also join. We had 30 attendees this year," Kunkel said.
One of those in-person attendees was Kimora Simpson, a senior in Health, Kinesiology and Leisure Studies (Pre-Athletic Training Track) at Baylor University. "UTA was a school that I found when I was starting my grad school applications. I love the DFW area, and this is where I want to end up post grad school. So, when I saw UTA, I was extremely interested. Immediately, Dr. Kunkel reached out to me and gave me the information I needed, which I really appreciated. When she emailed me about AT Day, I felt called to sign up immediately," said Simpson.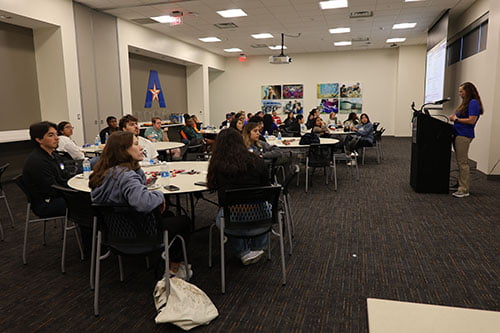 Kunkel revealed that a student-and-alumni panel was among AT Day's most popular segments: "Participants really enjoyed asking alumni questions about their experiences in the program, finding a job after, networking, etc."
Simpson was impressed by the interactions between prospective students such as herself and the CONHI instructors. "The professors want you to succeed, and you can immerse yourself in what you're learning and applying what you've learned, plus working in a SMART hospital sounds like it'll be beneficial in the long run. I also enjoyed being how easy it was to talk with Dr. Trowbridge and with her about my future," she said.
According to Kunkel, hosting an on-campus event like AT Day for potential students is important. "This way, they can see how great UTA really is. I also think it's beneficial for them to hear from current students and alumni in our panel," Kunkel said. "Our students who volunteered also got to network with the alumni who came, so that is good for them as they can build their networks for future employment!"
"I work for Baylor Admissions, so I pay attention to details about days like this, often wanting to criticize them. However, Athletic Training Day at UTA was conducted very well, and I received all the information that I wanted and more. I was also very happy that I engaged in face-to-face connections, especially when most programs all do online sessions only. It felt like UTA and the CONHI cared about me and my goals and not just me as a number," Simpson added.