Support from Bank of America helps UTA's military-connected students
$25,000 gift from Bank of America to fund expansion of Veteran's Edge program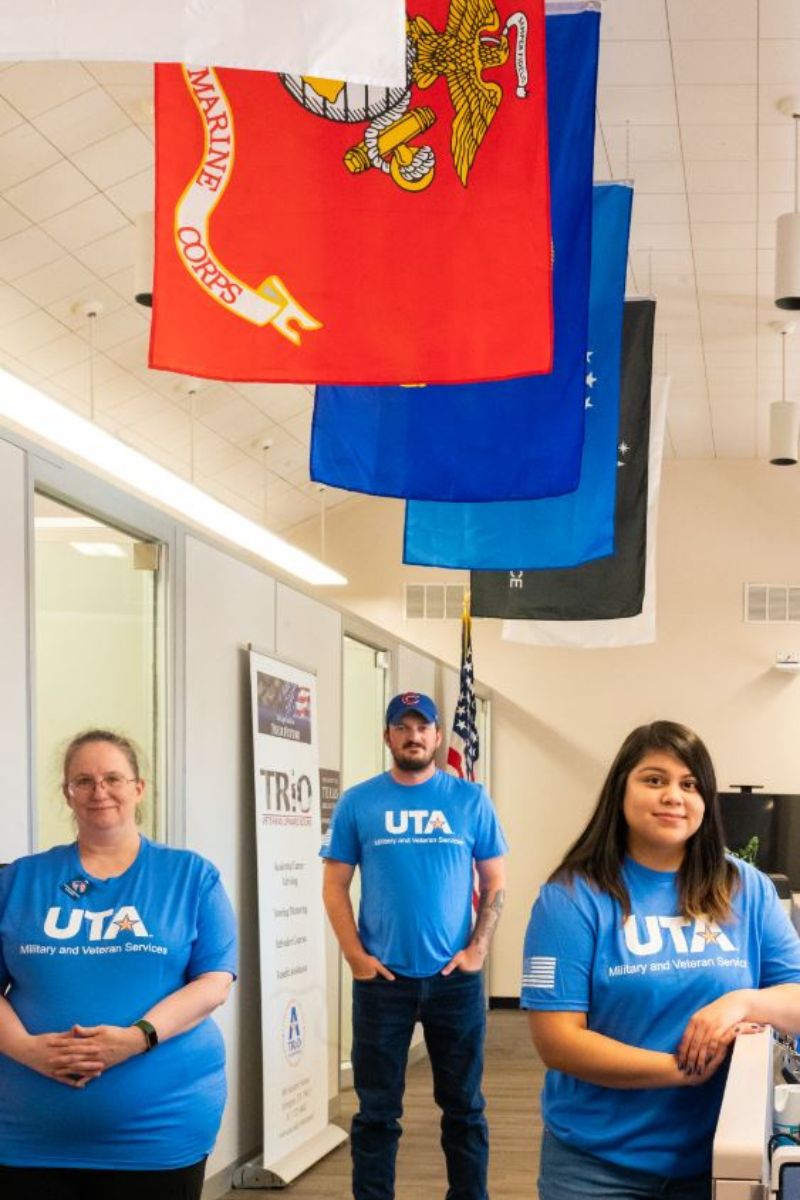 The University of Texas at Arlington plans to build on its already strong commitment to veterans and military-connected students through generous financial support from Bank of America.
Bank of America recently announced a $25,000 gift to UTA's Veteran's Edge program. Run by senior-level military-connected peer mentors through UTA's Office of Military and Veteran Services, the program supports new military-connected students with class registration assistance, education benefits and other UTA services, ensuring their success. Inspired by military sponsors who are trained service members that help newcomers settle into a new duty station, Veteran's Edge serves approximately 800 new students each year.
"This gift, and the services it will help fund, helps honor the sacrifice and service of our active-duty, veteran, National Guard and Reserve students and their families by ensuring they have the tools and support they need to achieve their goals," UTA president Jennifer Cowley said.
The gift will expand mentoring services provided by Veteran's Edge, including the recruitment of faculty and staff veterans for academic support and veterans from the community to assist with career development.
"Support from organizations like Bank of America helps our military-connected students and ensures the Veteran's Edge Program can continue each year," said James Kumm, executive director of UTA's Office of Military and Veteran Services. "The program utilizes donor support to pay peer mentors, host workshops, conduct training, purchase technology for student success and ensure our military-connected students have everything they need to start at UTA successfully."
U.S. Navy veteran Jeovany Dubon is one student veteran who needing a hand easing into college life. A senior studying business management, Dubon says he felt lost when transitioning to college. But that changed with Veteran's Edge.
"The program introduced me to other students who were in my same situation, which gave me a bit more confidence in the transition," he said. "I believe Veteran's Edge made me more confident in being in school again and in turn has made me much more involved in the university."
Dubon has since decided to pay it forward. He is now a peer mentor himself, and this past summer, he assisted in reaching out to military-connected UTA students to help them get started on campus and understand and access their military benefits.
Also paying it forward is Katheryne Freeman, a sophomore and six-year U.S. Army combat veteran working toward an operations management degree.
"Being able to meet and network with others through Veteran's Edge allowed me to branch out and develop a new family of friends I can go to for support," she said. "Now, I myself am a peer mentor for Veteran's Edge, and I get to provide the assistance and connection that was such a great help for me."
The gift is part of a more than $1.3 million investment Bank of America is making to 43 nonprofits across North Texas, including 17 in Tarrant County. It also marks the second time the institution has supported Veteran's Edge, the first being in 2020.
"This recent philanthropic investment in Dallas-Fort Worth nonprofits is just one way Bank of America deploys capital locally to help remove barriers to economic success and build a more sustainable community," said Mike Pavell, president of Bank of America Fort Worth.
Earlier this year, UTA received both Military Friendly and Military Spouse Friendly designations for 2022-23. Military Times also has ranked UTA No. 1 in both the Southwest and Texas and No. 4 nationally on the Best for Vets: Colleges 2022 list. Nearly 5,000 military-connected students attend UTA.