Simulation is now in session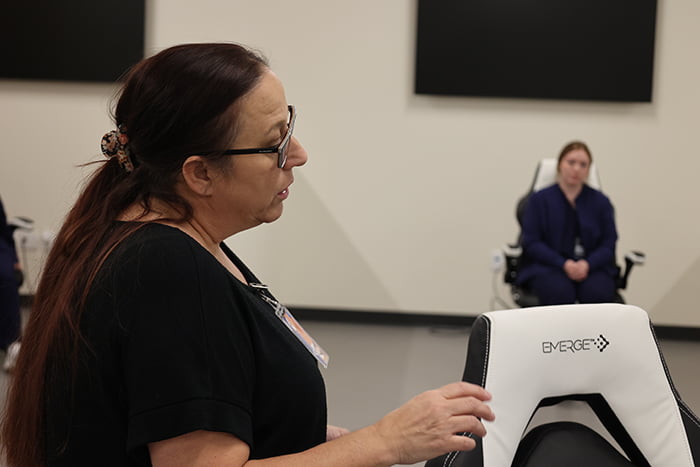 The College of Nursing and Health Innovation has opened its doors to the future of healthcare education at UTA. The University's new Smart Hospital is a state-of-the-art facility, bringing new opportunities for research and education.
The facility allows CONHI to expand its educational features such as simulations. Nursing students will now work in small simulation groups for a more immersive and interactive learning experience. Through virtual reality simulations, students will learn the steps of nursing procedures, as well as enforce critical thinking and clinical judgment to communicate with patients more efficiently.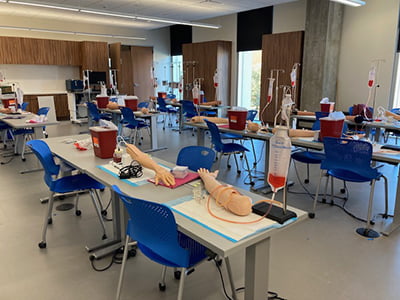 The Smart Hospital was recently endorsed by the International Nursing Association for Clinical Simulation and Learning (INACSL), for demonstrating excellence in the "Core 4" standards from the Healthcare Simulation Standards of Best Practice. This makes UTA one of only 26 universities around the world to receive this endorsement.
"There are new and innovative ways to conduct simulation at the new Smart Hospital," said Jennifer Roye, assistant dean for simulation and technology. "Faculty can now record sessions of simulations and use them within the debriefing process, which benefits the student's learning and understanding. There are new exam rooms to simulate a primary care visit for nurse practitioner students. Additionally, the new space gives high visibility to all students and faculty to preview what others are engaging in within the classes."
The future of healthcare education involves interprofessional collaboration. With the various health-related majors working on campus together, the new Smart Hospital will open doors for each to interact with one another as they would in the workforce. CONHI intends to partner in simulation with the School of Social Work and the athletic training program within the Kinesiology department.
Faculty members are optimistic the Smart Hospital's innovative features will improve and increase research efforts and assist in recruiting more top instructional talent. The facility also houses CONHI's Health Informatics Lab, which is part of a larger research commons area.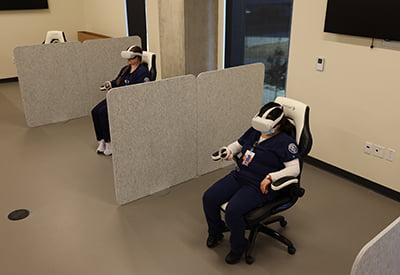 The journey to opening the Smart Hospital's doors to students and faculty was long but rewarding.
"It was pretty hectic, but we did it," said Roye. "The first day when you walked by and saw the simulations in session and saw the students having fun while learning makes all our work worth it. We want people to come and see the fruits of our labor and the building itself, but also see how we are impacting nursing education. Every day there is learning happening to make the building even more attractive."
A formal ribbon-cutting ceremony will be held in the coming months to commemorate the Smart Hospital's official opening.
- Written by Midori Hrinda, UTA College of Nursing and Health Innovation